After Costa Rica, we were headed to Alaska – and had a layover in LAX. This was our first touch down in US soil in 13 months!! OMG!! 
Travel time from Costa Rica to Denali, our first Airbnb in Alaska, was to be 35 hours altogether. Including a few extra hours to wait for the Verizon store to open so we could get me a new phone.   After arriving at 330 am and waiting a couple hours for the rental car place to open, we spent a few more hours outside McDonald's soaking up the WiFi. Then shopping at Target. Some food, and a few essentials that we needed. A few non-essentials too. Ha. We missed American shopping. A bit.  We also stopped in a laundromat to get some wash done. I think that might be the first laundromat we used on the whole trip! Huh! 
Denali
With all that done, the drive to Denali was beautiful and uneventful.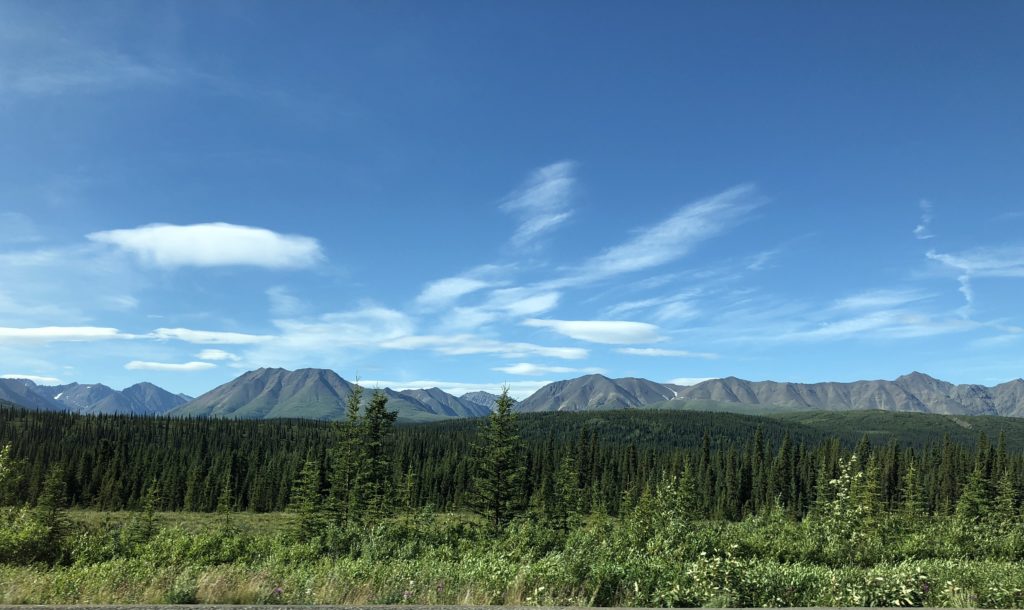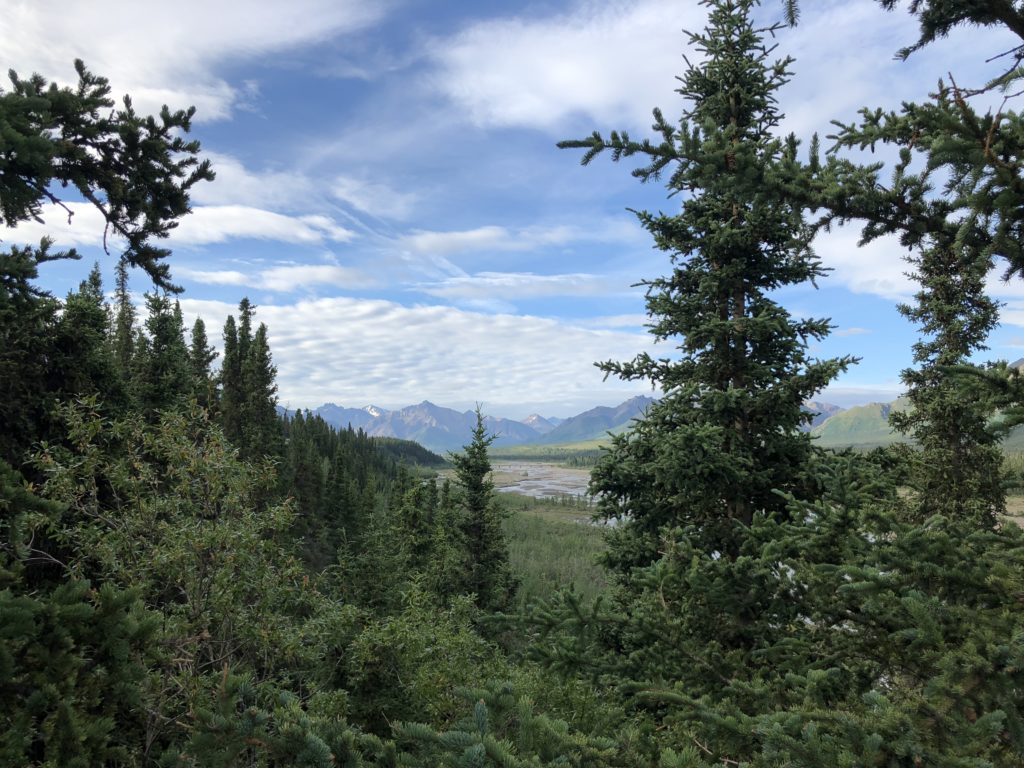 Our Airbnb was a camper trailer on the property of the owners. It was adorable and perfect for us. It probably could have slept 6 but it was nice for just the two of us.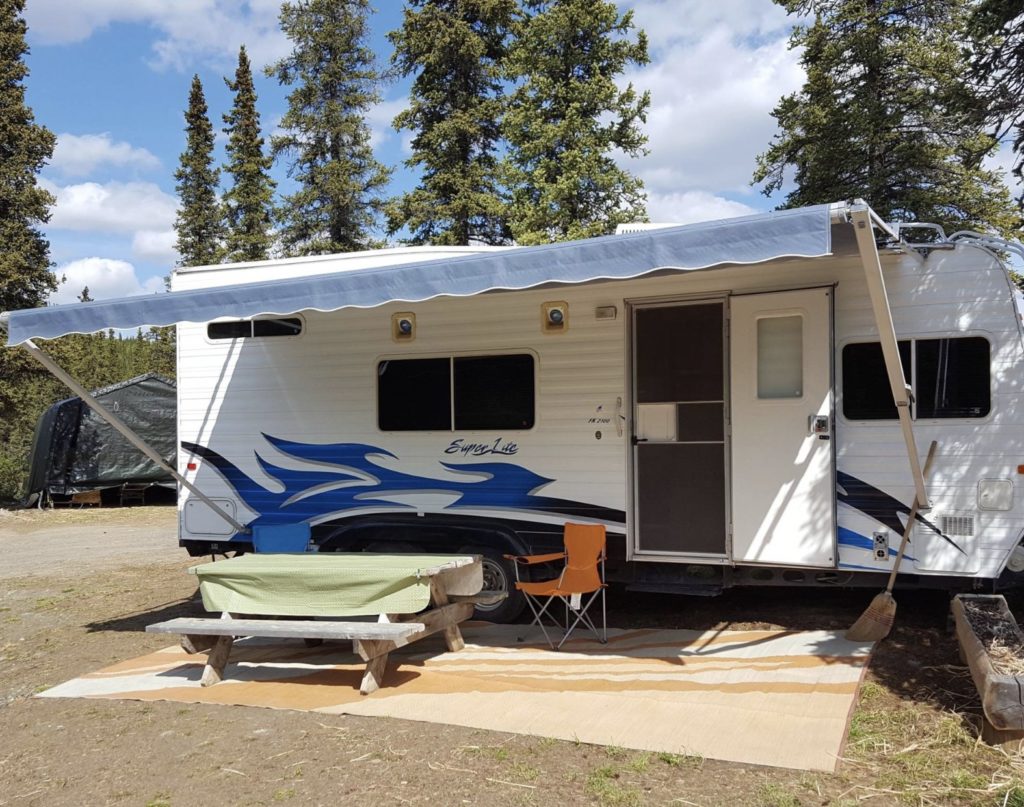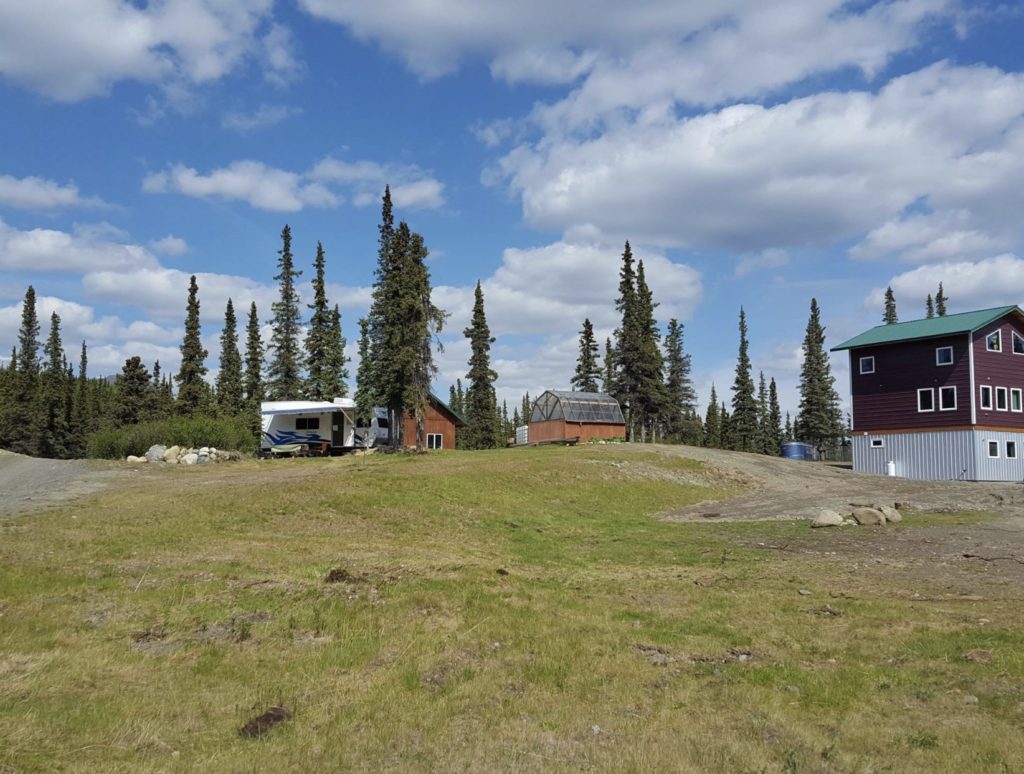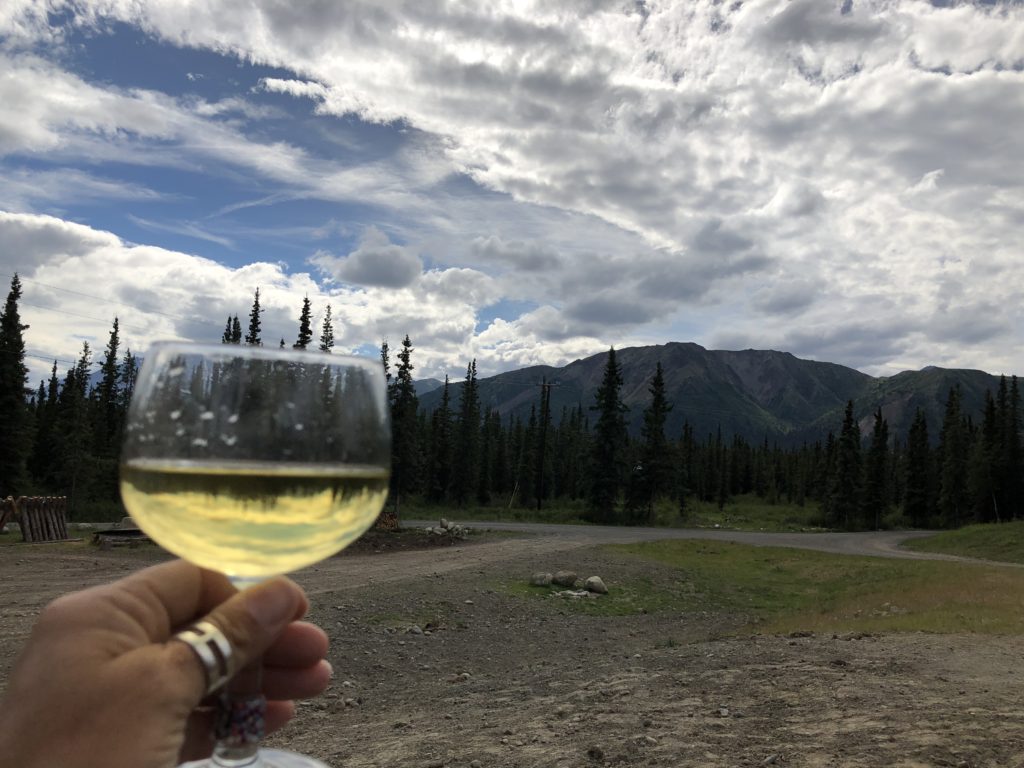 View from the trailer.  
Those hosts had a small greenhouse onsite and we ended up getting some Swiss chard and some rhubarb out of the deal. Awesome. Ha. And Lane loved the chard! Win! HA. 
The next morning, we got up early and rode the transportation bus into Denali National Park. We rode to the visitors center hoping to see some wildlife. We saw some caribou and a marmot, my favorite was the ground squirrels which would poke their heads up and stand on their hind legs sometimes when we drove by. They reminded me of gophers. Ha.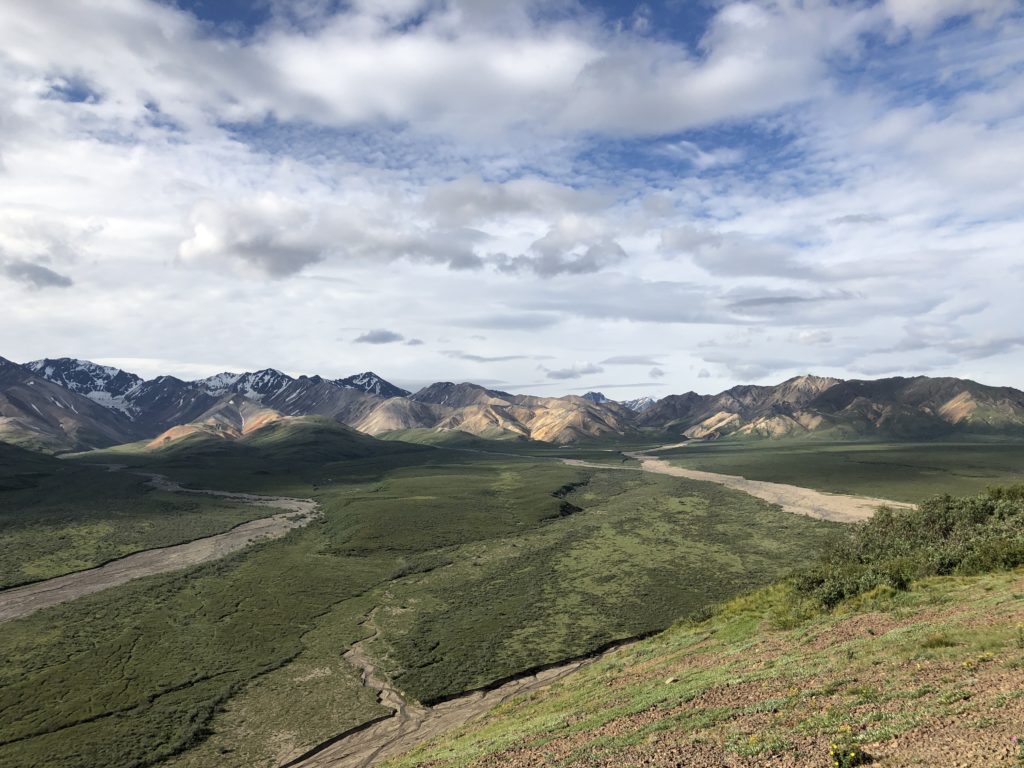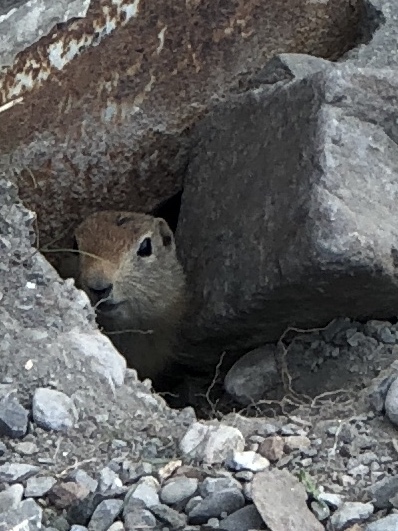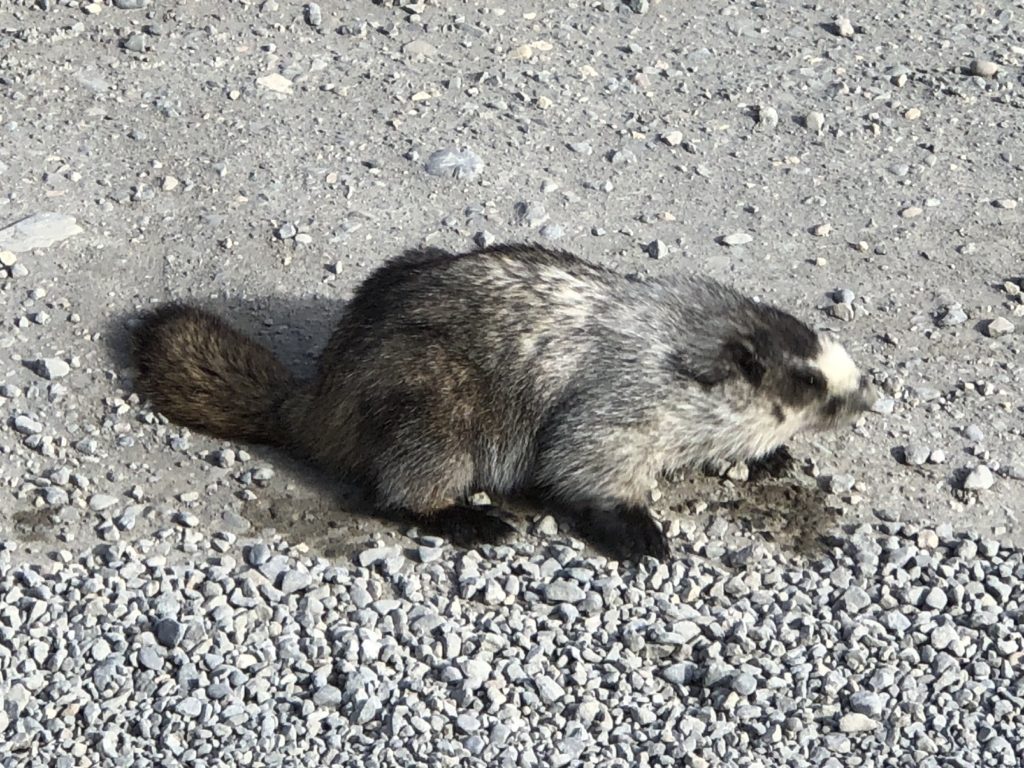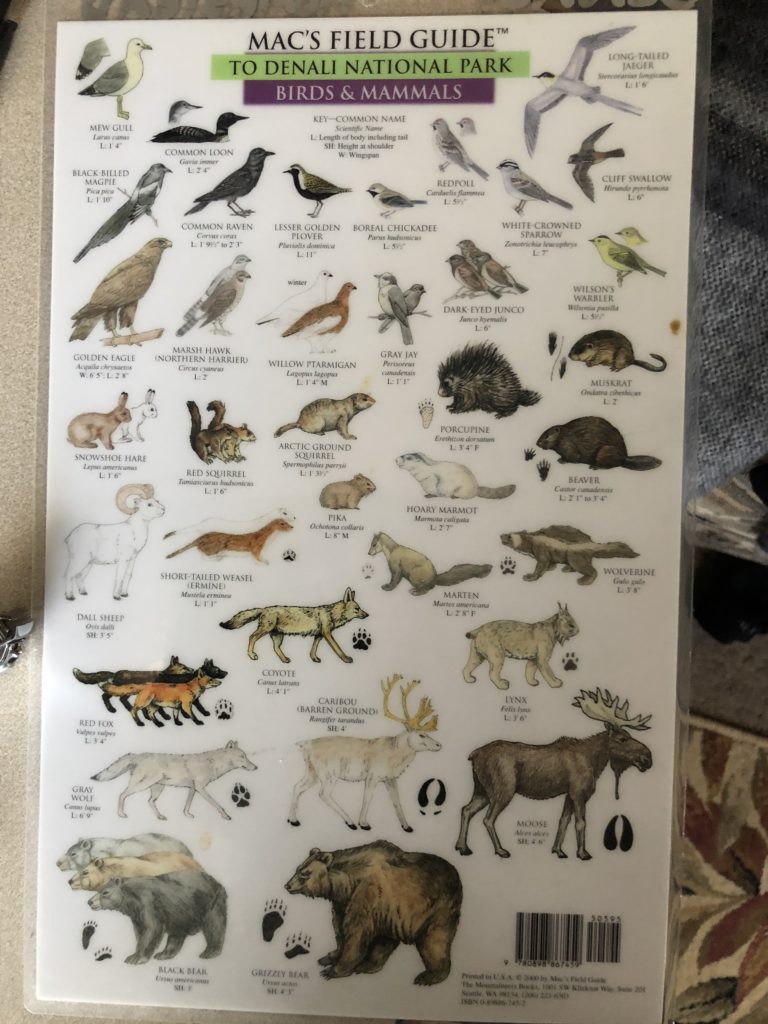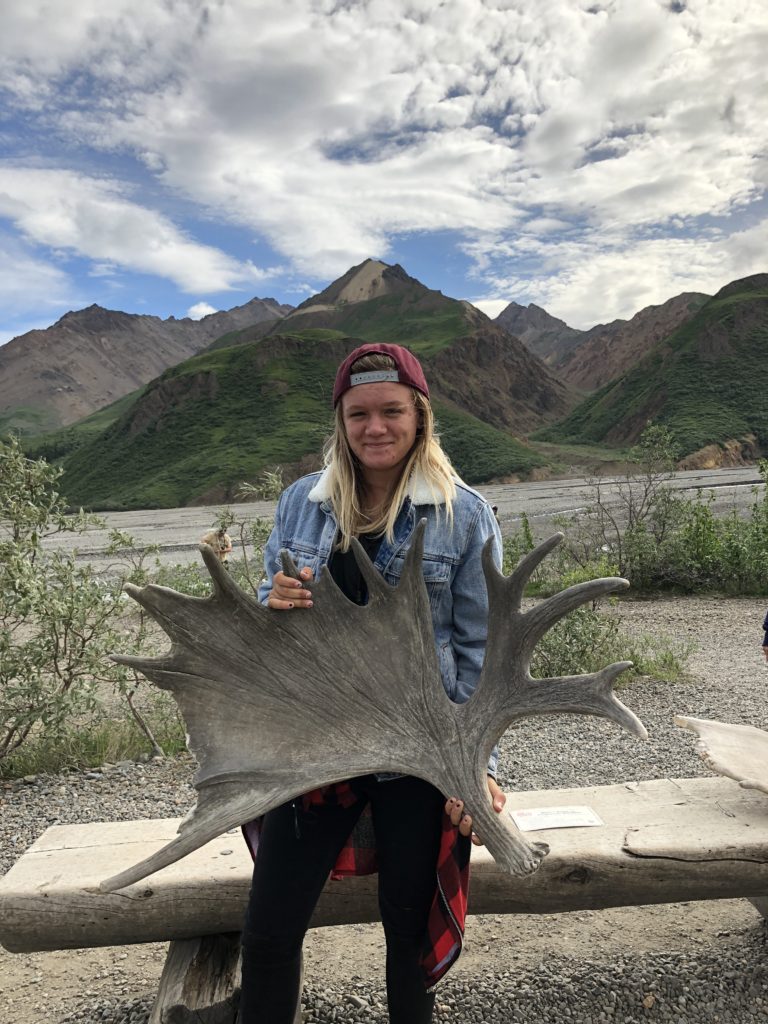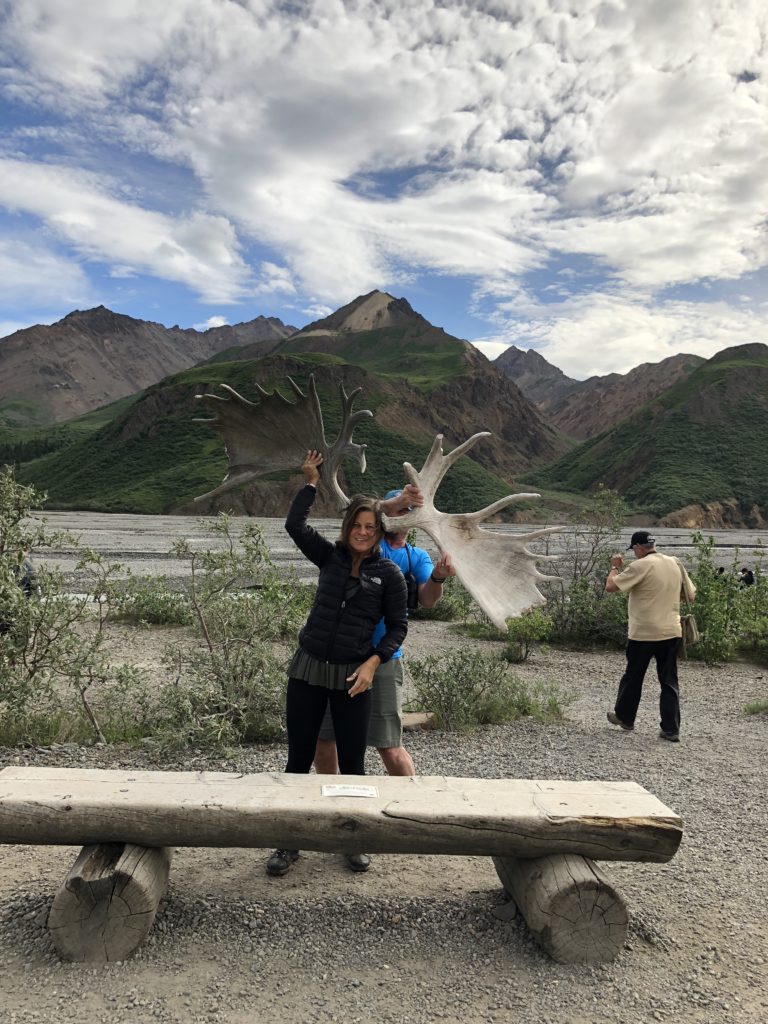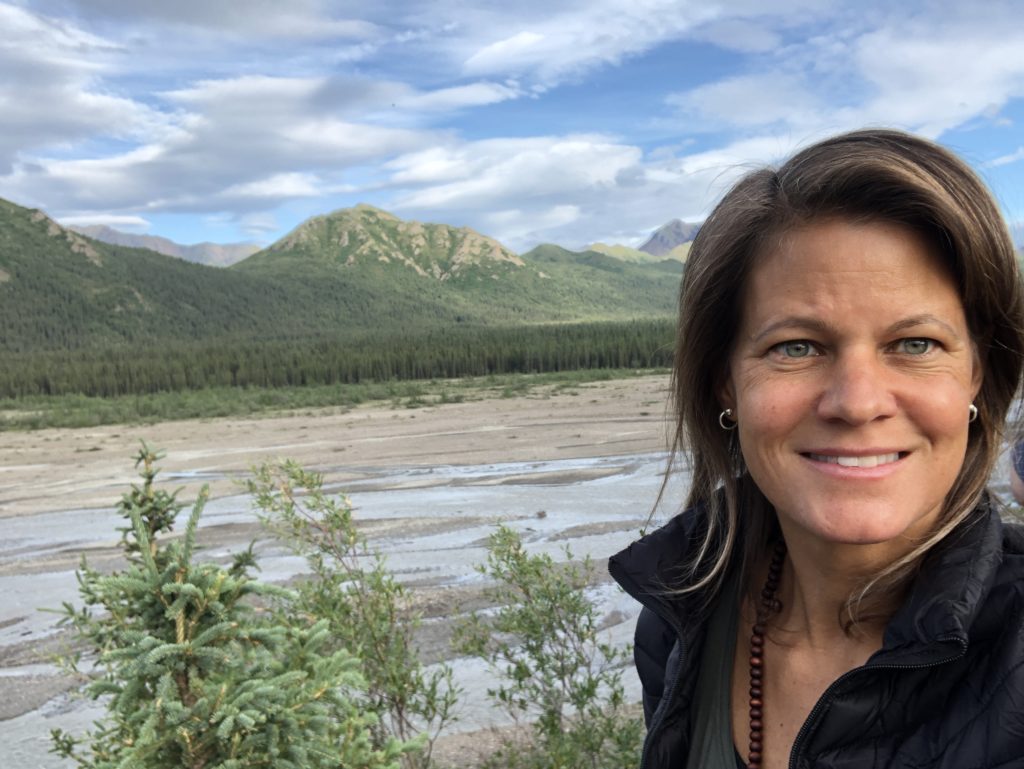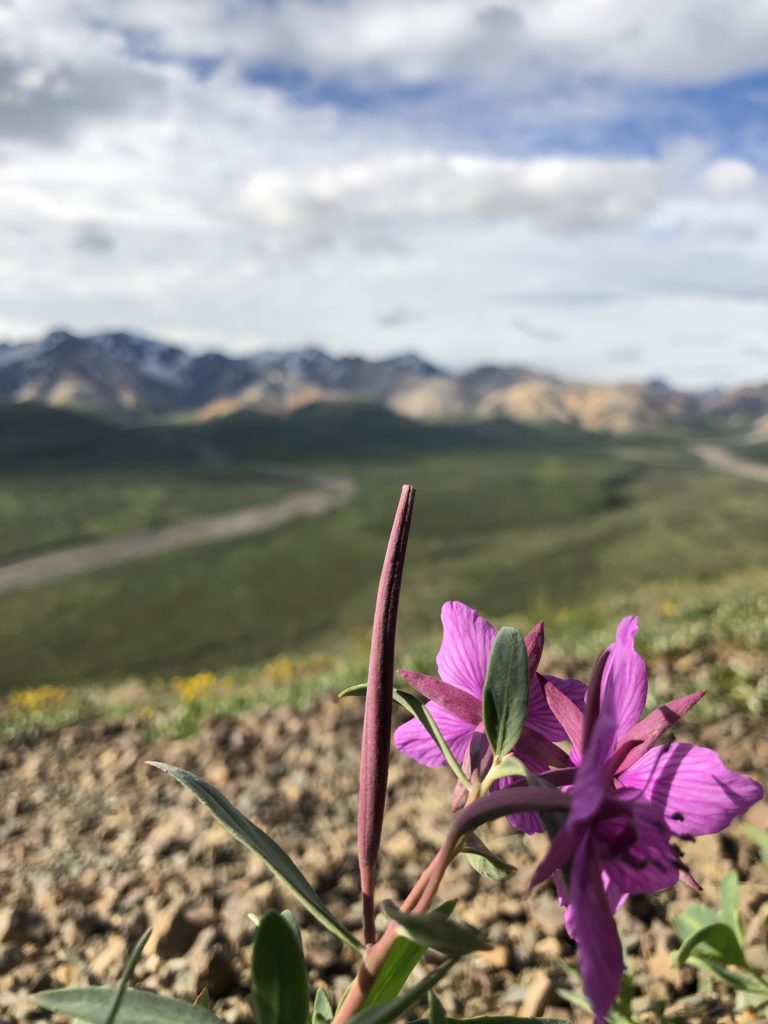 We also saw two grizzly families. Both were a mom and two little ones. One set of Cubs was a year old. The other was this year's cubs. So so cute.  Unfortunately, they were too far away to get a decent photo with a cell phone. But very cool. 
The next day we visited the Husky Homestead where we got to hold puppies and learn about dogs that race in the Iditarod. It was very cool. Now I want to attend an Iditarod!! Ha.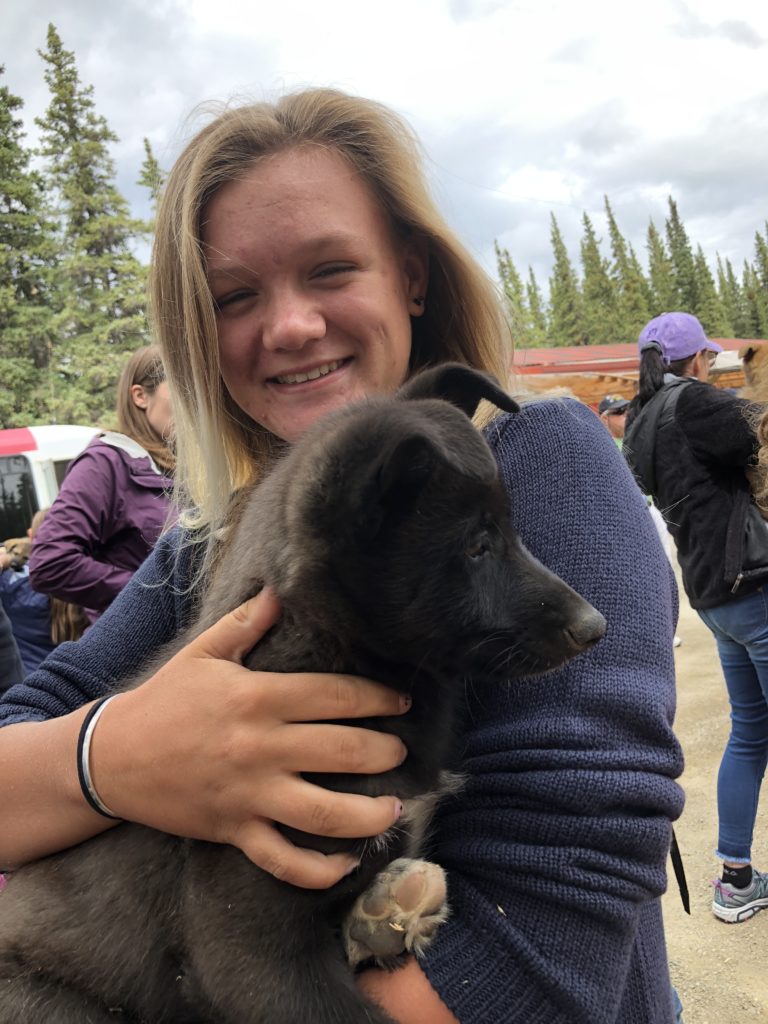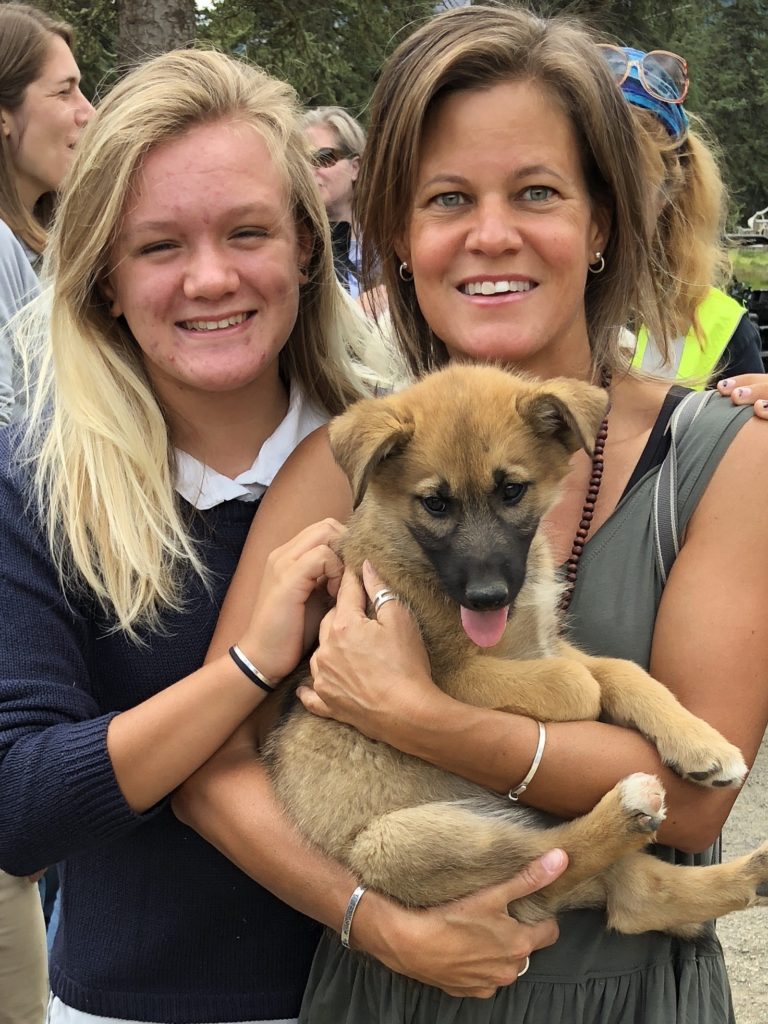 That night, partly seeking Wi-Fi, we ended up at a wonderful restaurant where we had dinner as well as a rhubarb dessert, which was glorious! We were seeking Wi-Fi because, although available in the advertisement for the Airbnb, the fact was we needed to sit outside and near the hosts home to receive a signal. It was not available in our camper. ah well. teenage coping skills.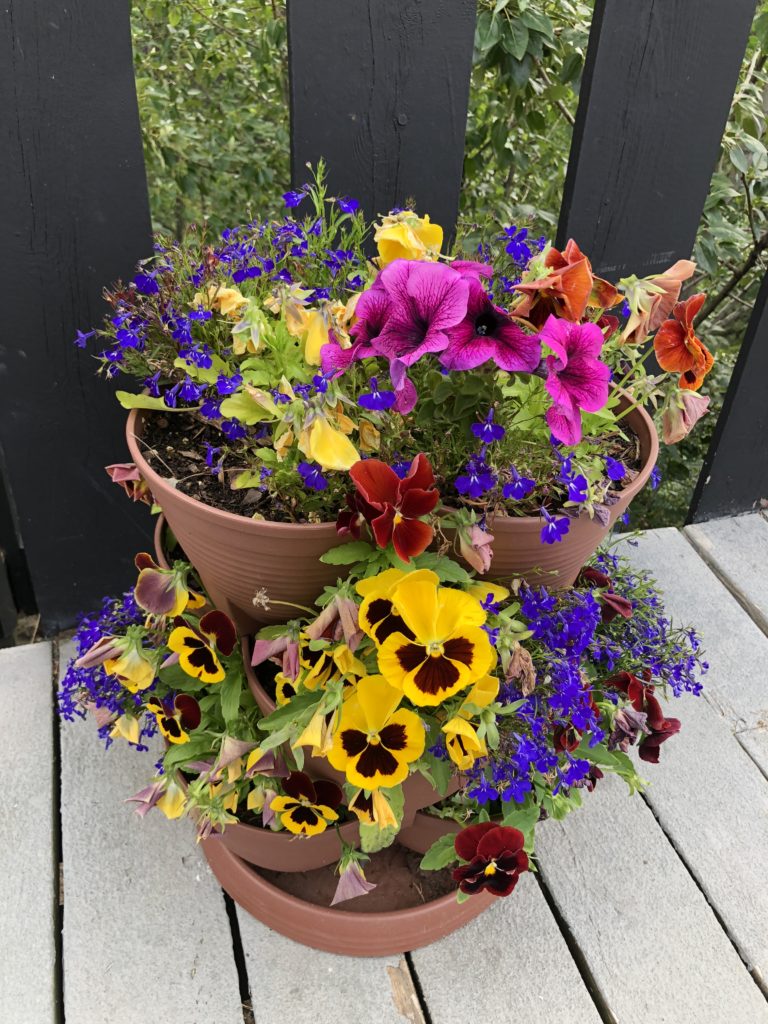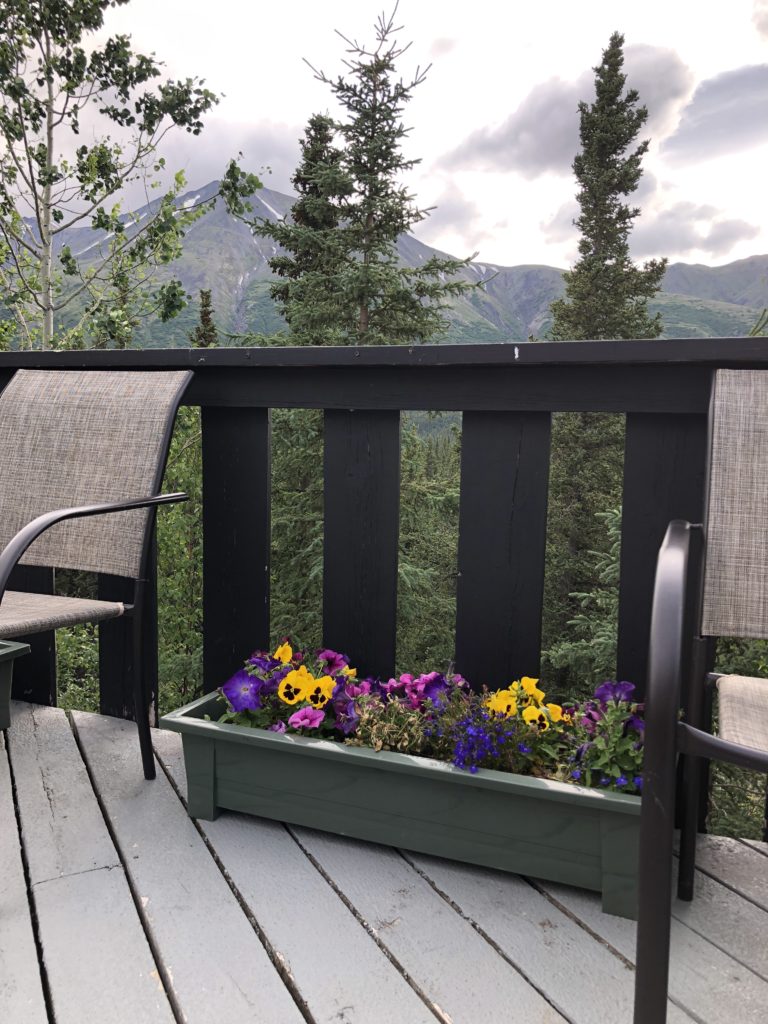 View from our outside dinner.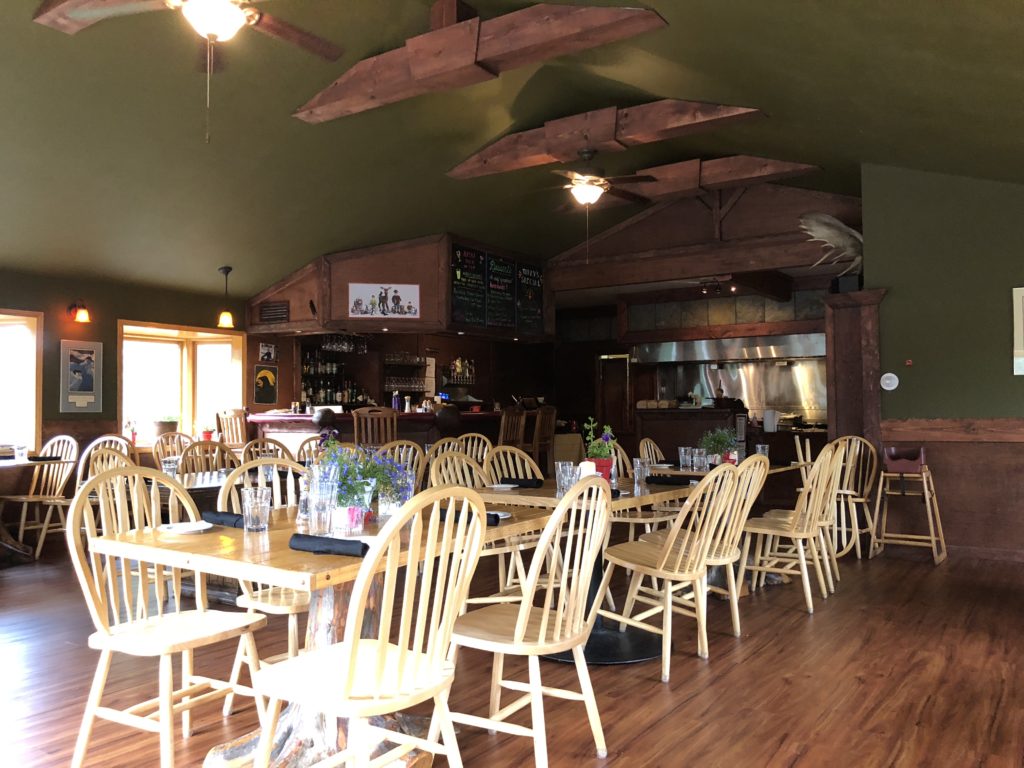 Inside – we moved in for dessert because it started to get chilly!!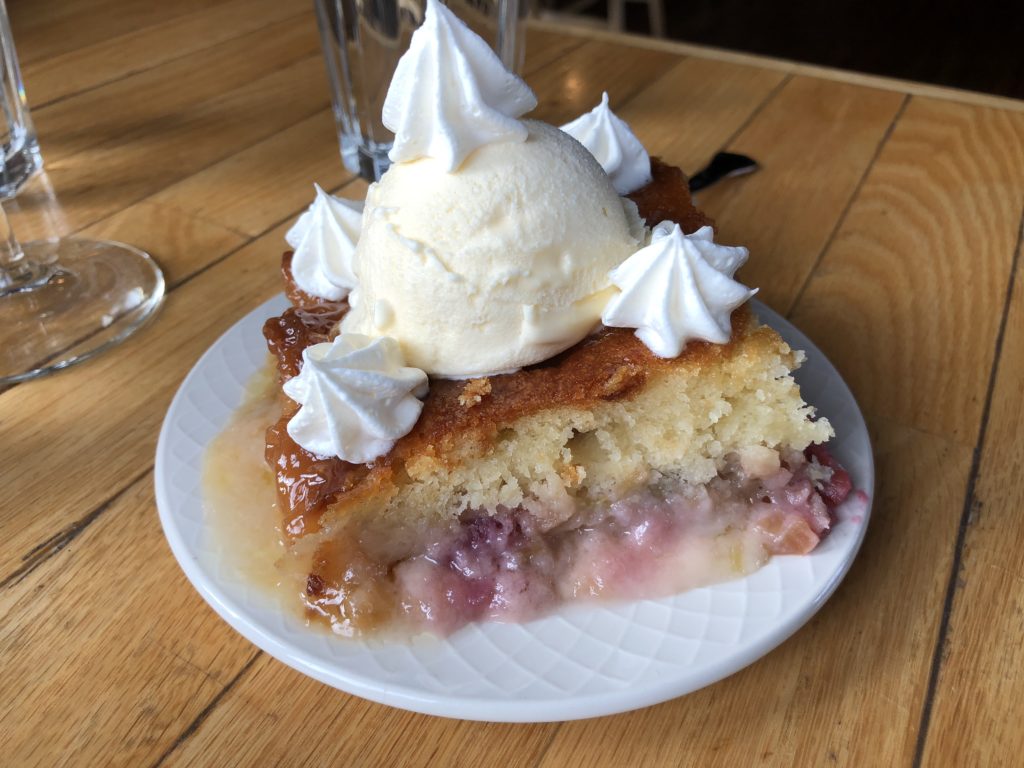 Rhubarb something – was like a bread pudding with rhubarb. so so good!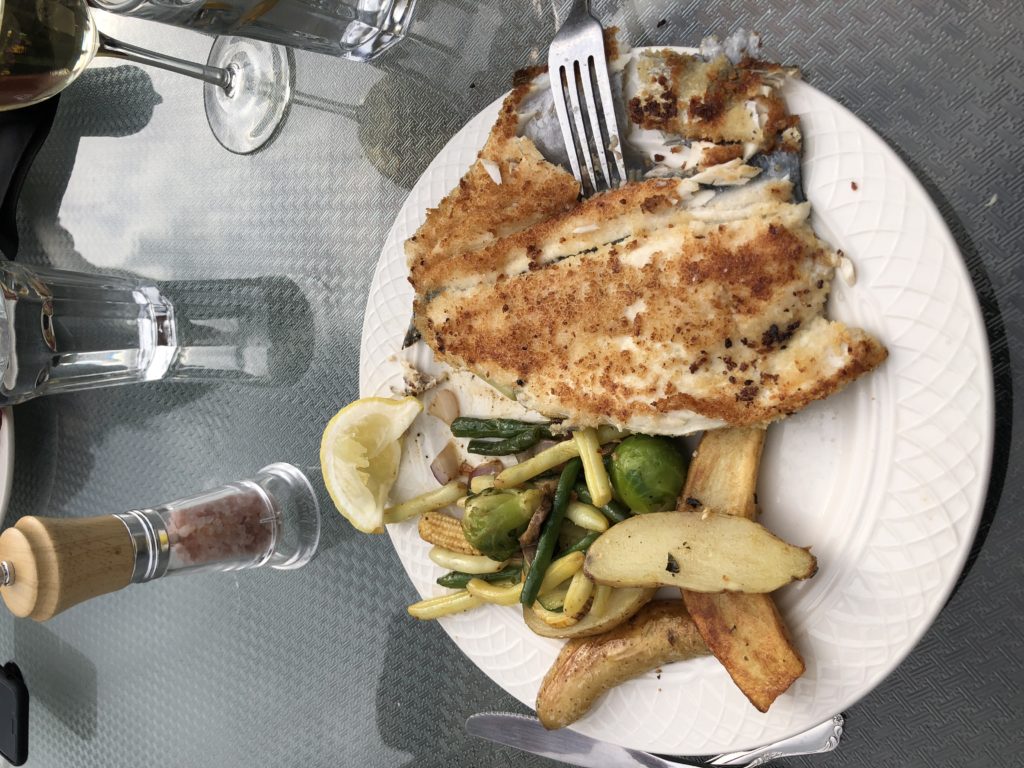 Amazing trout dinner…
Talkeetna
The next day we headed down to Talkeetna. We wandered around this adorable town, enjoyed a lunch at the brewery, and then bought polarized sunglasses in preparation for our fishing trip the next day.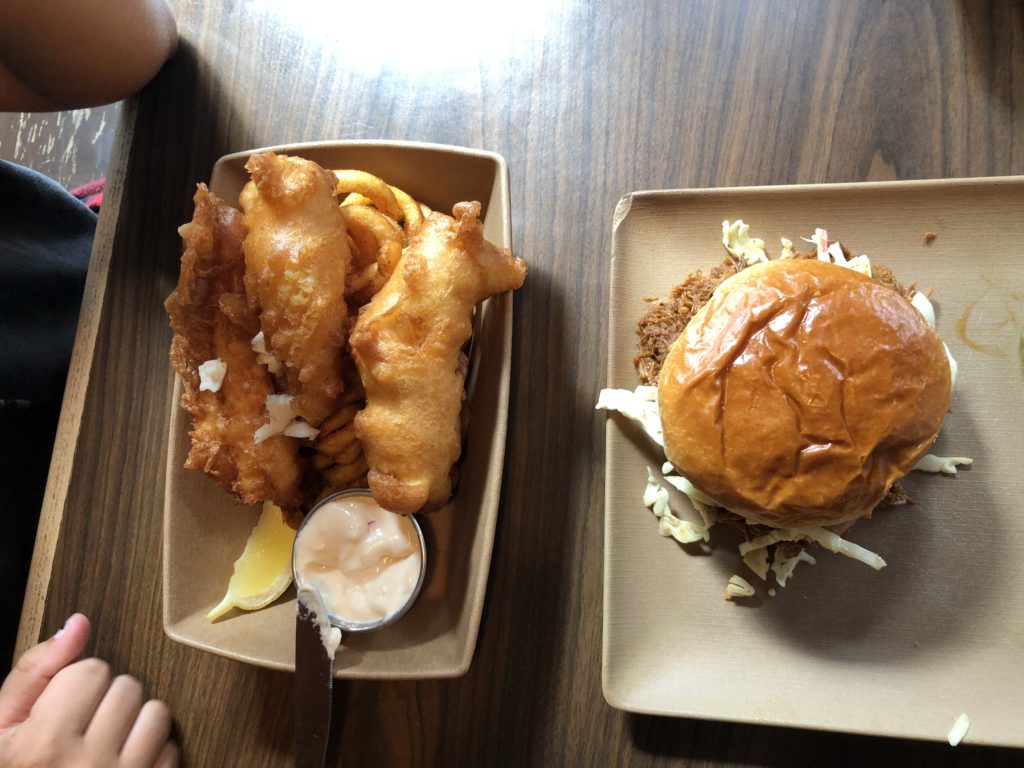 BBQ pork sandwich and halibut fish n chips. SO SO good.
The next day we were up early for our river fishing trip. The much-recommended trip, the Indian River Tour.
Wow!! What a day of fishing that was!!  First, you're told to show up at 7 AM for breakfast, but I didn't expect it to be so lovely! A great breakfast of coffee and juice and eggs Benedict awaited us when we arrived. Next, our fishing guide Josh suited us up with waders and boots and then we embarked on a short car ride with the boat to put the boat in the water. We had a rather long ride up the Susitna River it took about two hours to reach the spot we were looking for, which is where the Indian river merges into the Susitna. 
We hopped out of the boat and fished from the shore. Within the first 20 minutes, we had caught six fish of five different species including pink salmon, tiger salmon, Grayling, rainbow trout, and Dolly Varden!! The catch continued to be amazing with nearly every cast yielding a fish or at least getting a bite. We were exhausted (but happy) from pulling in probably 40 or 50 fish that day! What's not to be happy about? Fish and beautiful weather. It was a glorious sunny beautiful day with the air just cool enough, and the water, of course, was quite cool, keeping us from being hot.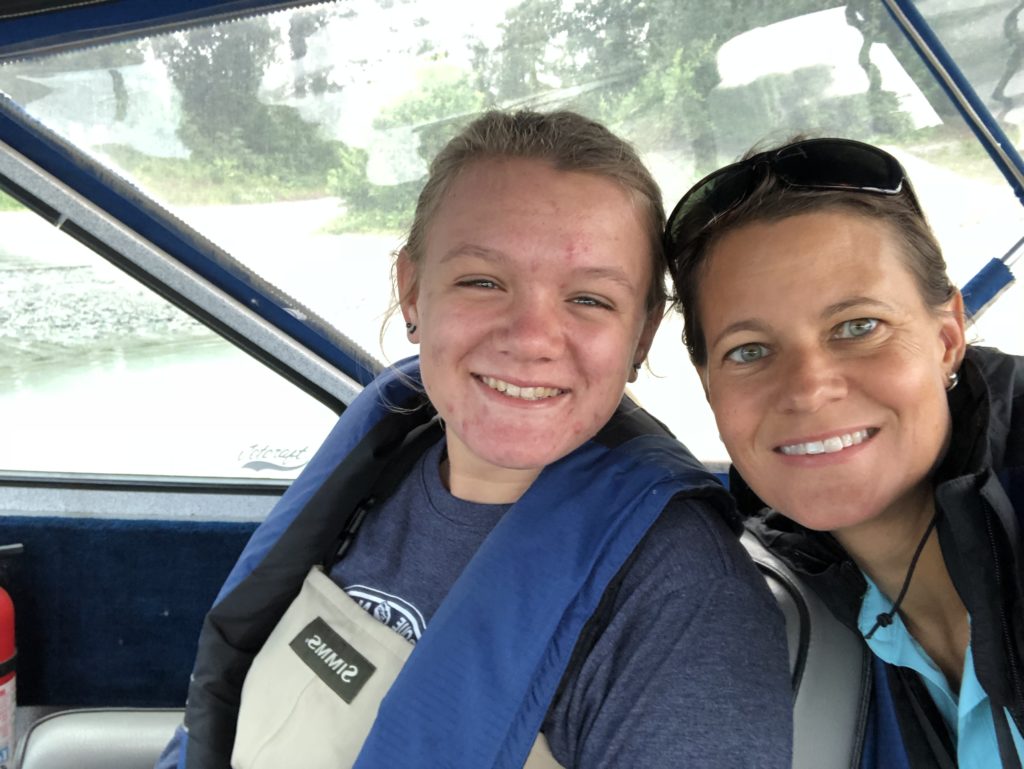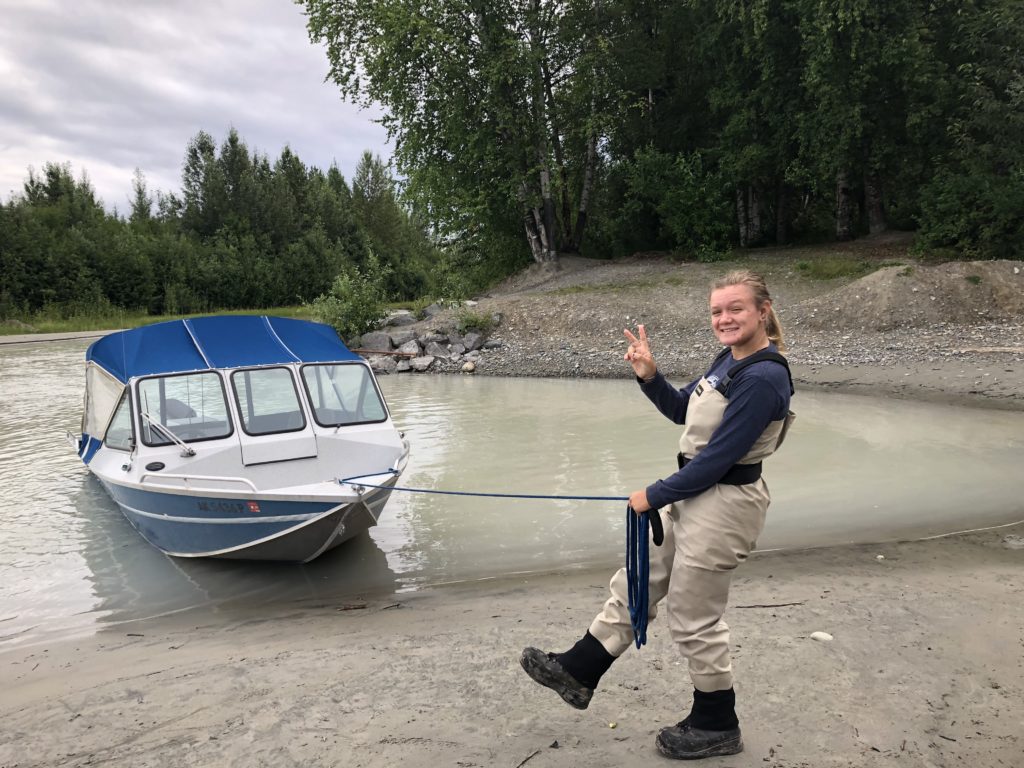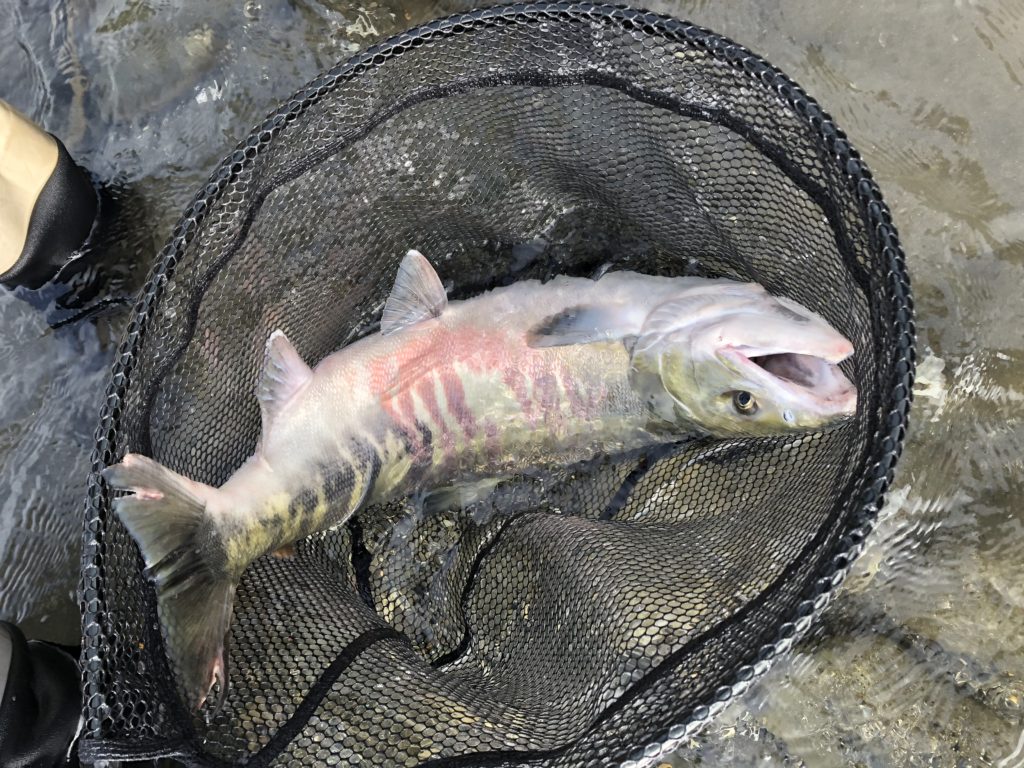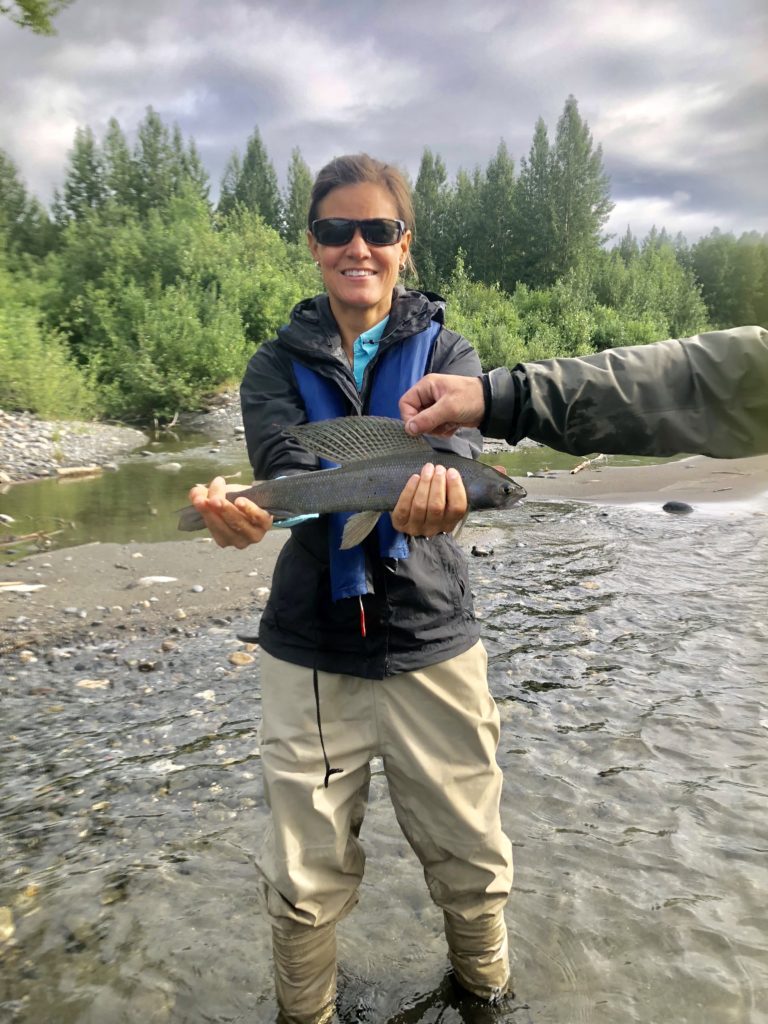 Above, grayling. Josh was nice enough to hold up the dorsal fin. This is actually pretty big for a grayling. They don't get that big I guess.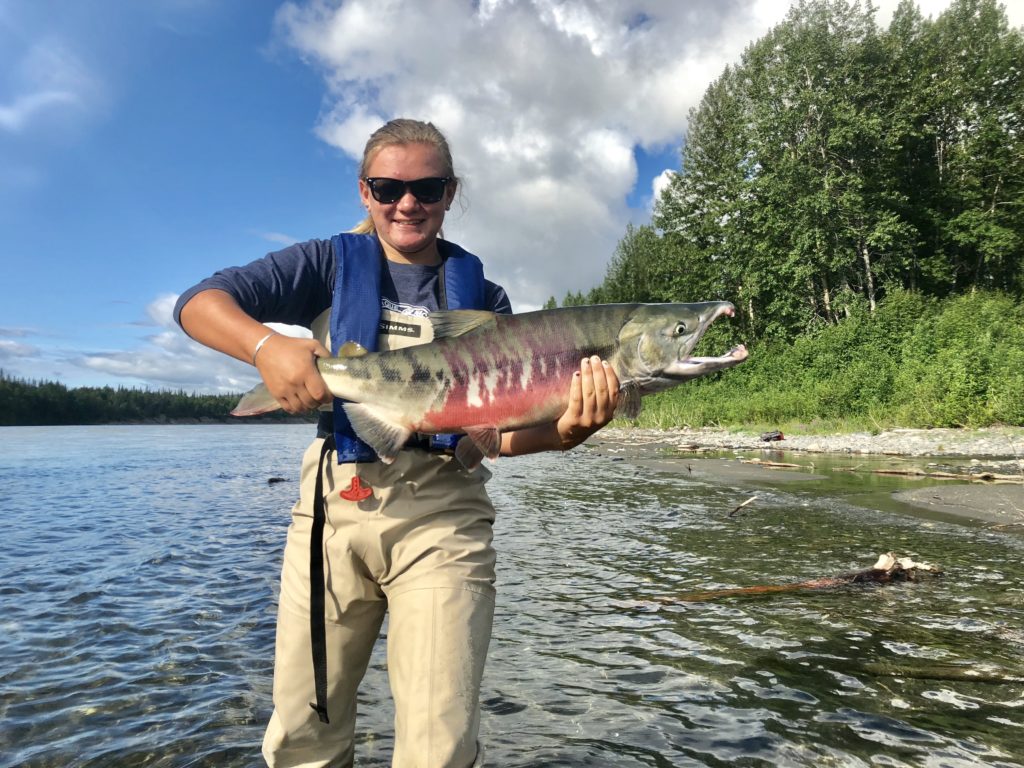 Tiger salmon. NICE one Lane!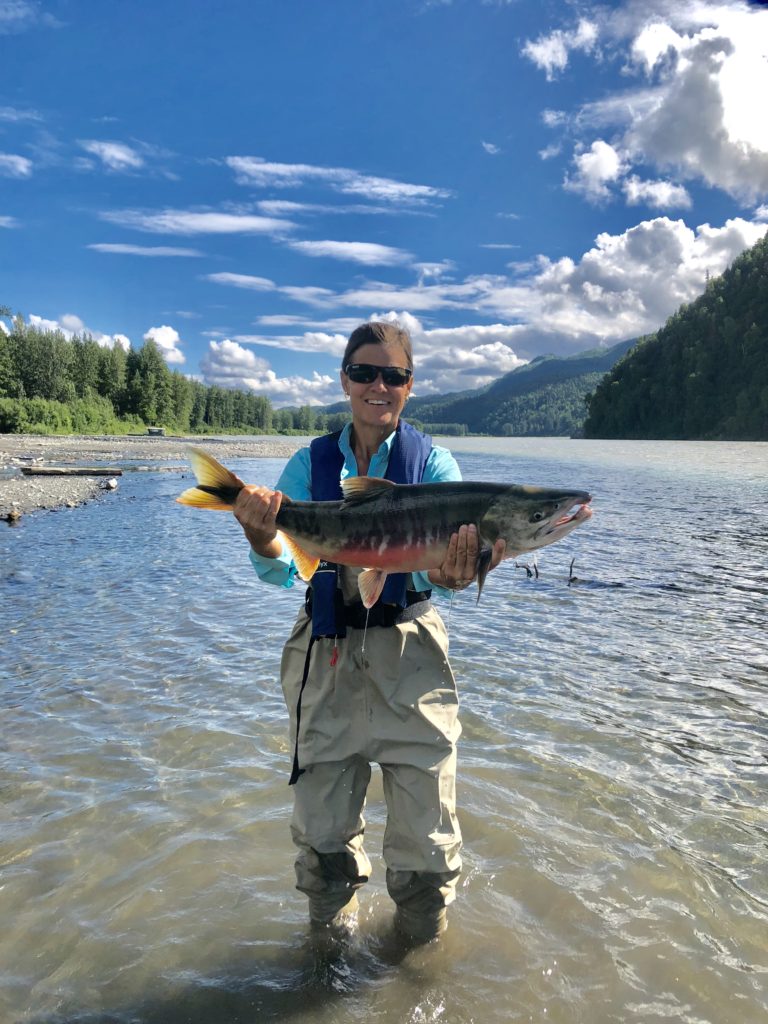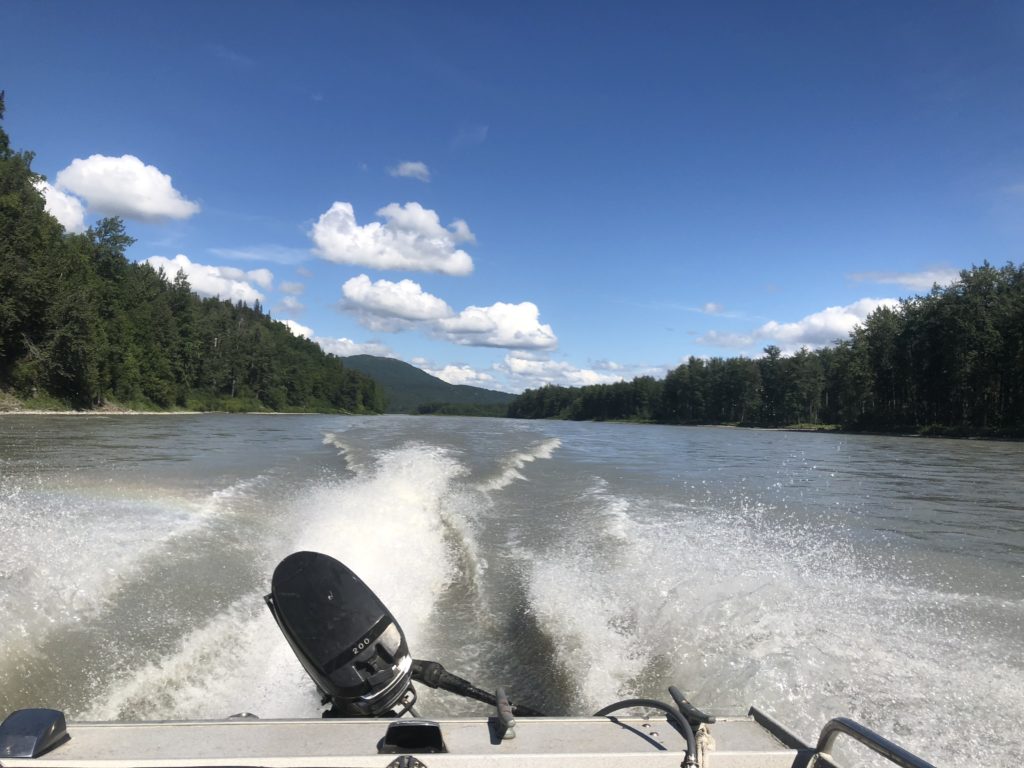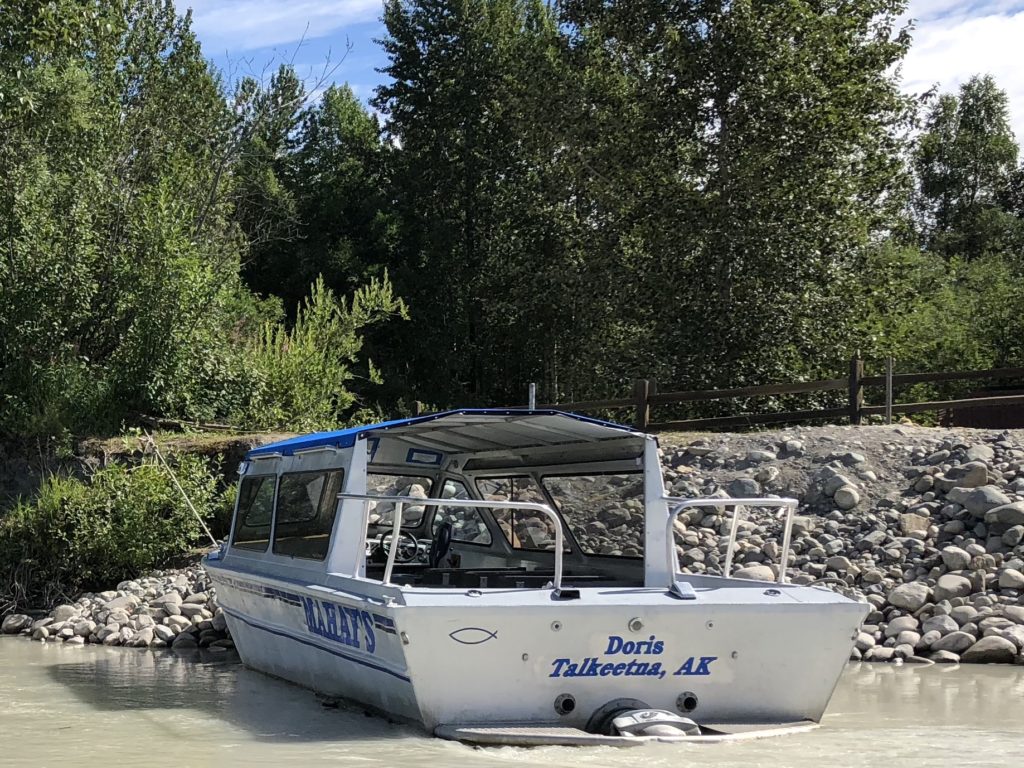 Saw this boat as we pulled back into the boat ramp. Doris, my mom, is with us always, and sometimes she chooses to remind us.  On this day, of all others, it makes sense.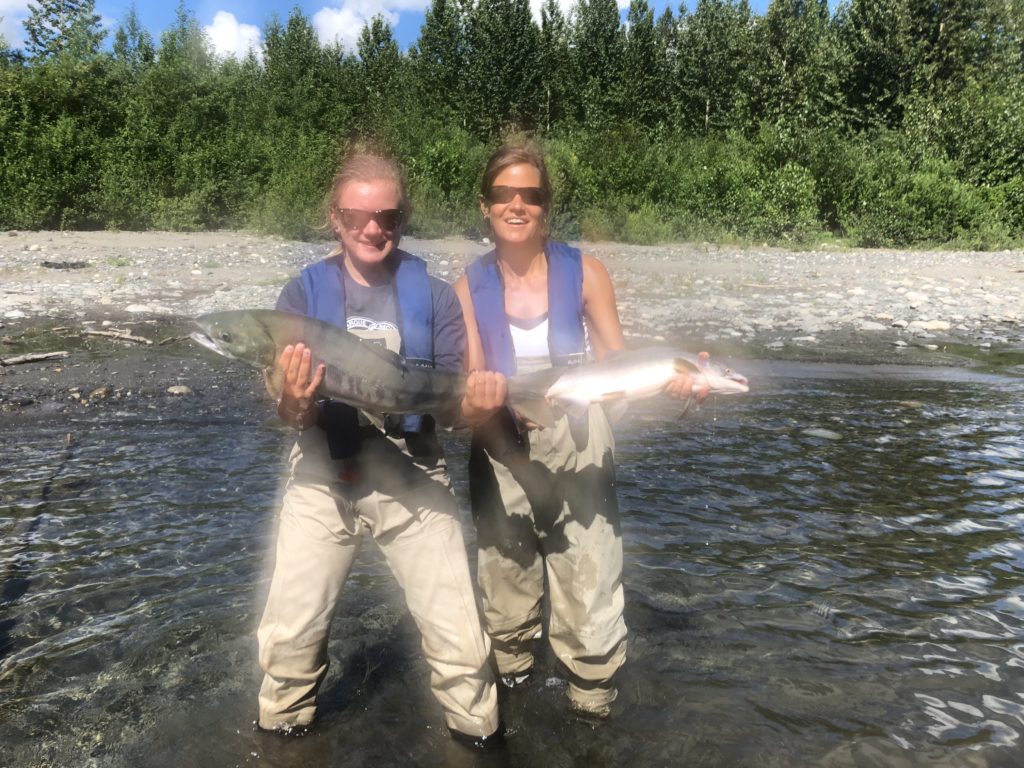 This photo is a little blurry. Lane likes it because her fish is bigger than mine. HA. In the iPhone 'live photo' version, Lane's fish wiggles and wobbles and eventually jumps out of her hands. She looks at the camera with empty hands and LAUGHS and it's literally the greatest photo ever. It represents the joy of the day, the carefree attitude, and her love of fishing. It's a truly epic photo and I tear up just thinking about it.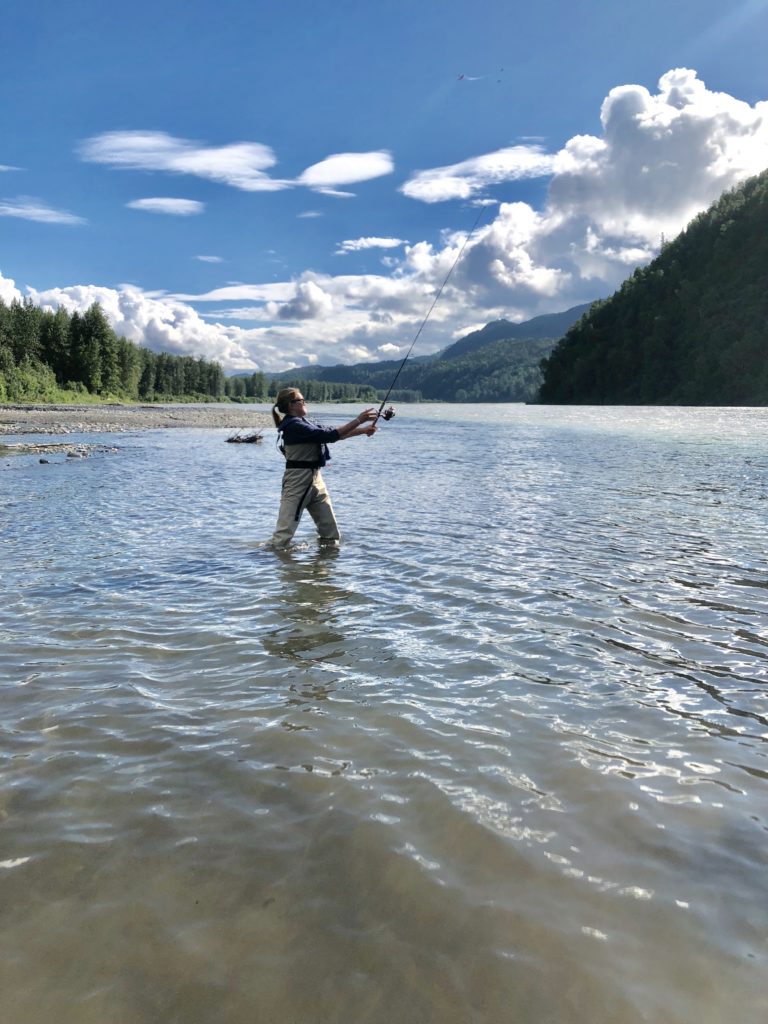 Is this great or what? If you look near Lane's reel, you see the 'seam' – where the waters come together. The clearer water on the left and in the foreground is the Indian River. In the background/right is the Susitna. The fish like the 'seam' where the water from one river has met the other but has not yet mixed together. In this 'seam'water, we could many times SEE the fish. SO SO SO SO COOL.
The return trip on the boat was just as pleasant as the one up. Even though, at times, Josh advised us to hold on tight. Parts of the river are difficult to navigate and some of them are shallow. There was occasionally a risk of running aground. But we skated through successfully and without any issues. Upon returning to the B&B, not the one we were staying in, the host again greeted us and started to prepare dinner. Laney, of course, had selected steak and I selected salmon. It was a wonderful home-cooked meal including some broccoli and some couscous.  Our host also provided wine and soft drinks. It was a lovely evening just the three of us having dinner. The view was spectacular.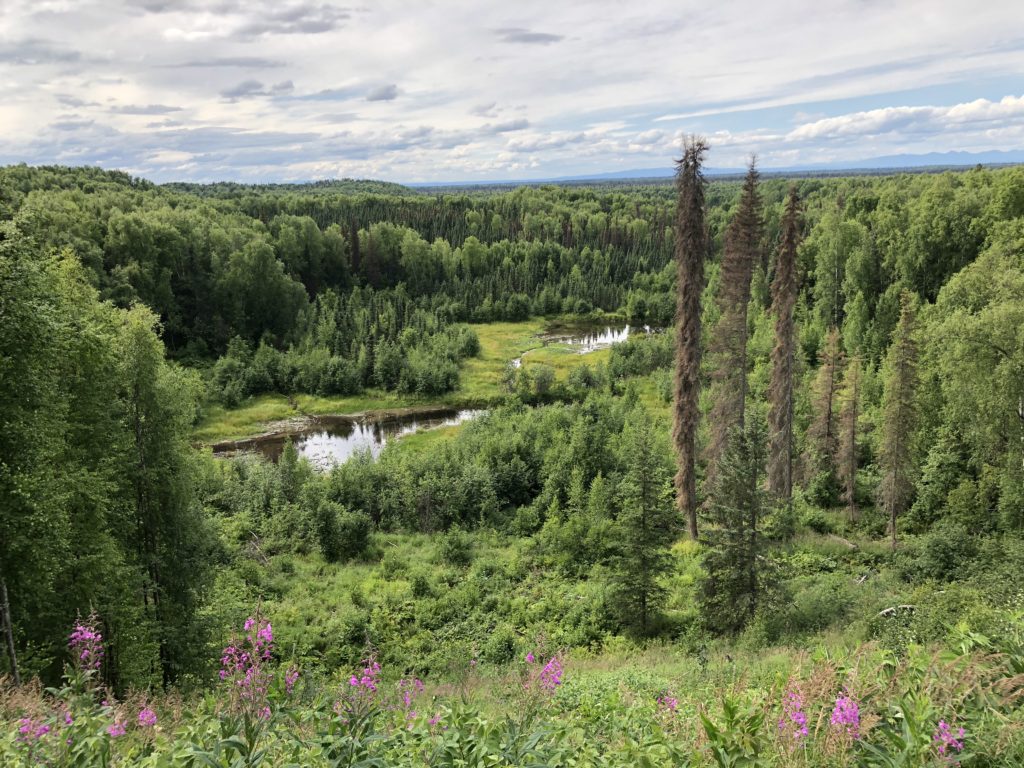 Also while in Talkeetna, we went on an ATV tour. We visited the original homestead house of a family who established themselves here back when the Homestead Act was in place. They drove for 5 days in a van with 5 kids!! (with a camper built onto the pickup – made of plywood!). They quickly put together a makeshift shelter for the winter and managed to survive, though not in comfort for sure.
Now, there is a lovely house by the river that we visited, owned by one of the children of those original pioneers. We panned for gold, shot an elephant rifle, and enjoyed a nice meal there.
Getting there and back was half the fun, though, on small backwoods roads. Going there and getting back we had to cross a bridge, on the 'pedestrian/ATV' lane, and I swear there weren't 6 inches of clearance overall! Yikes.
That's Lane ahead of me.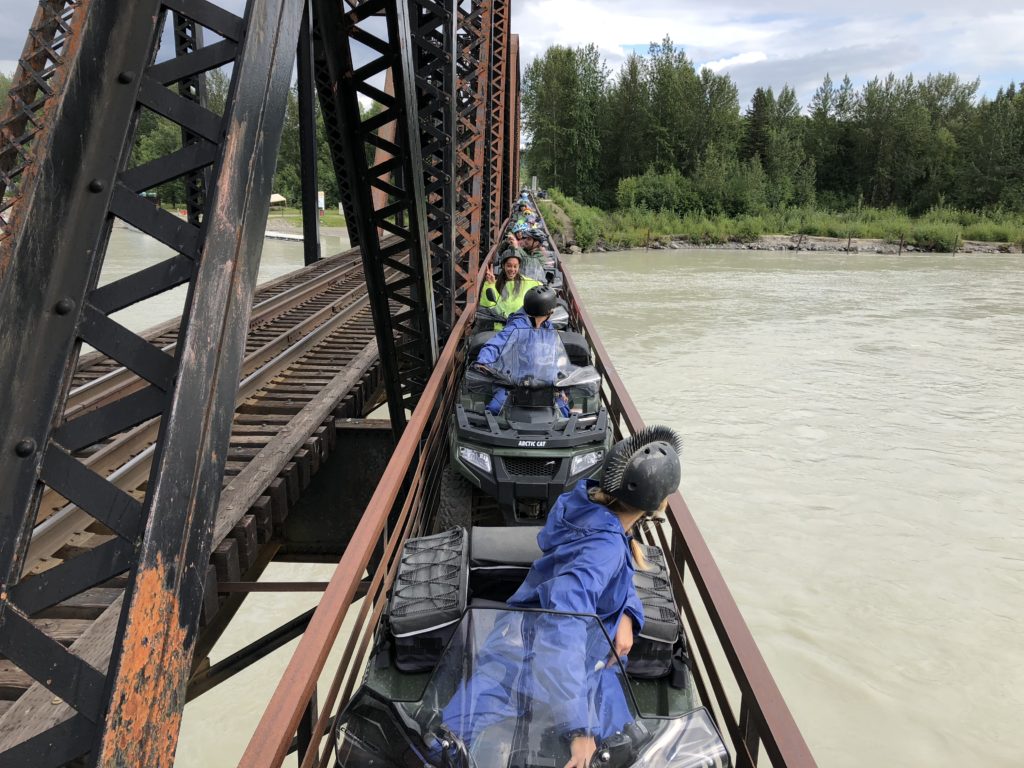 Little tight, right?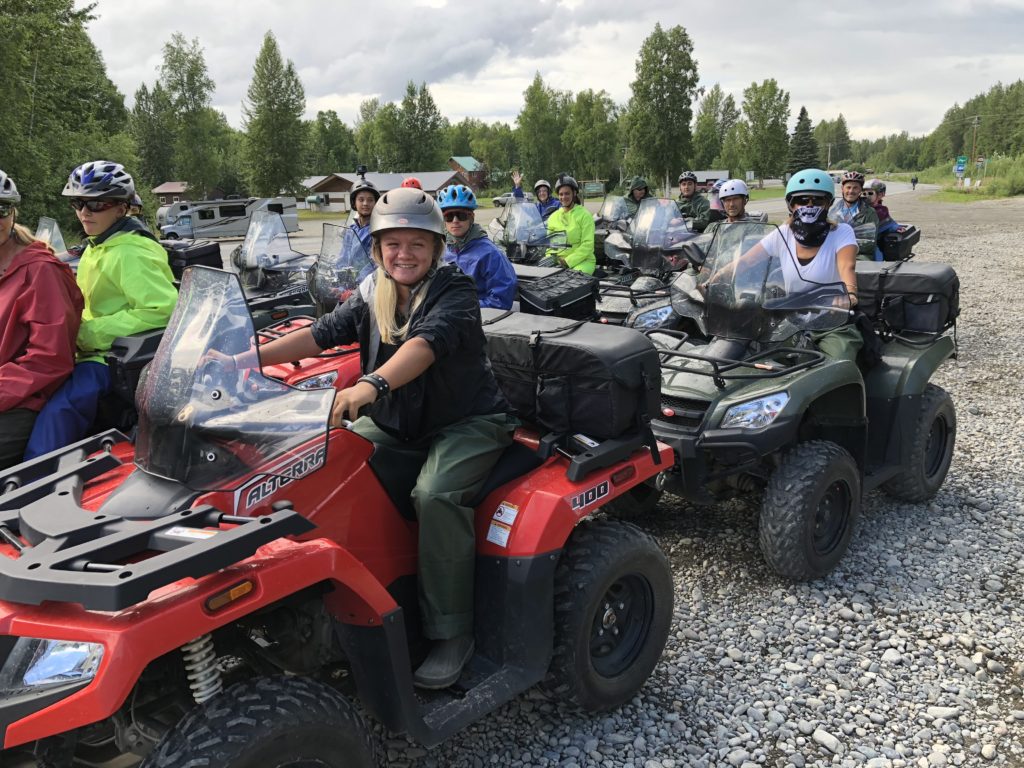 Getting ready to go!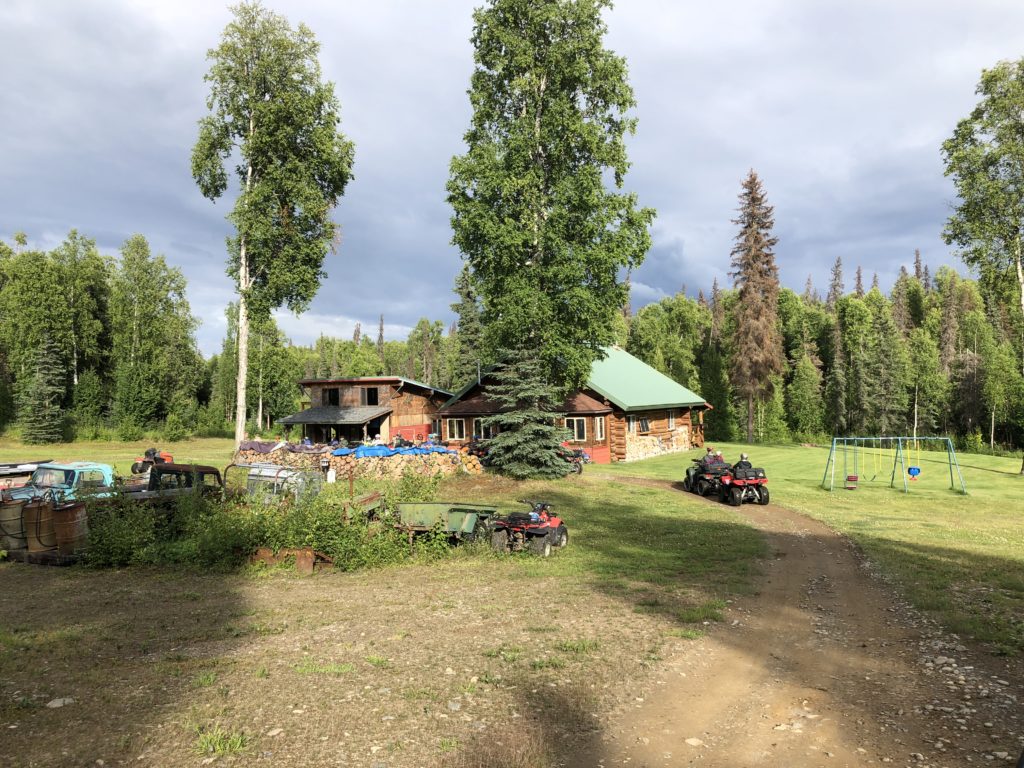 Approaching the house – what a beautiful home, space, and view.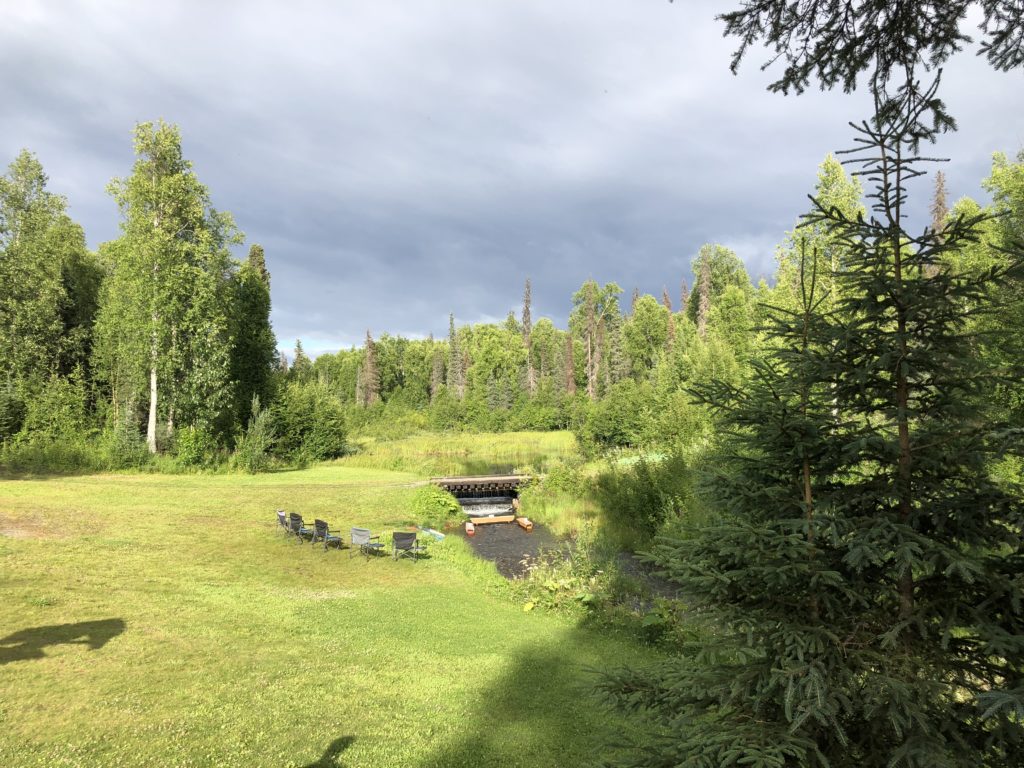 View from the porch to the gold-panning spot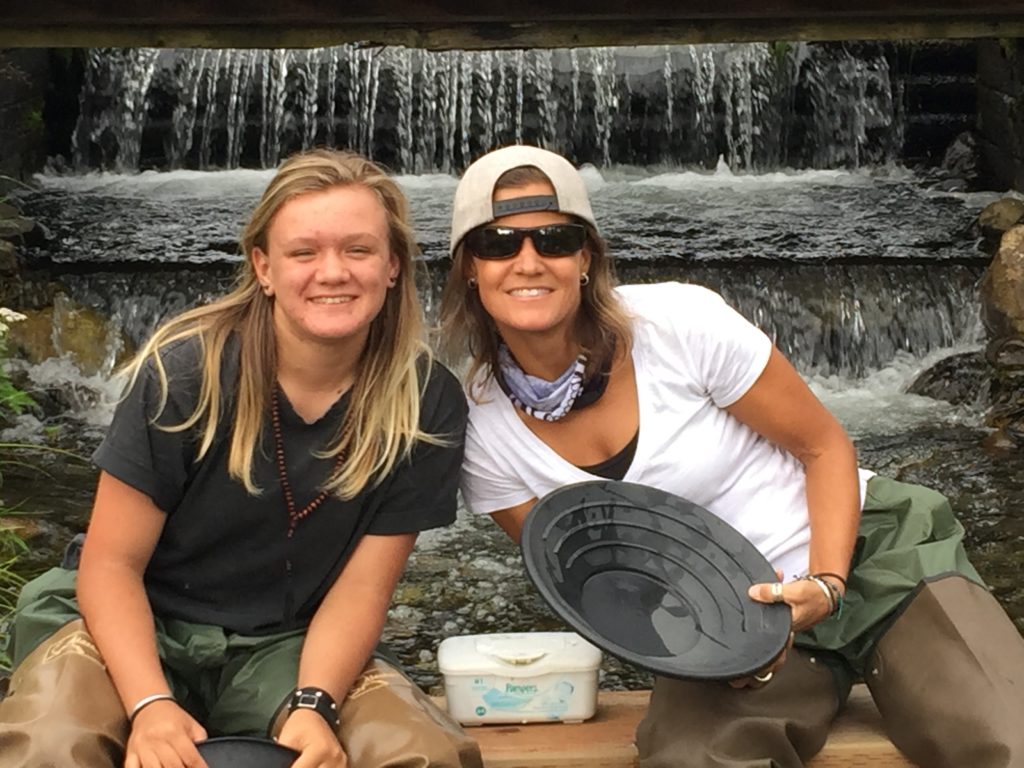 Panning for gold! Yes, we found some. Tiny pieces and flecks. HA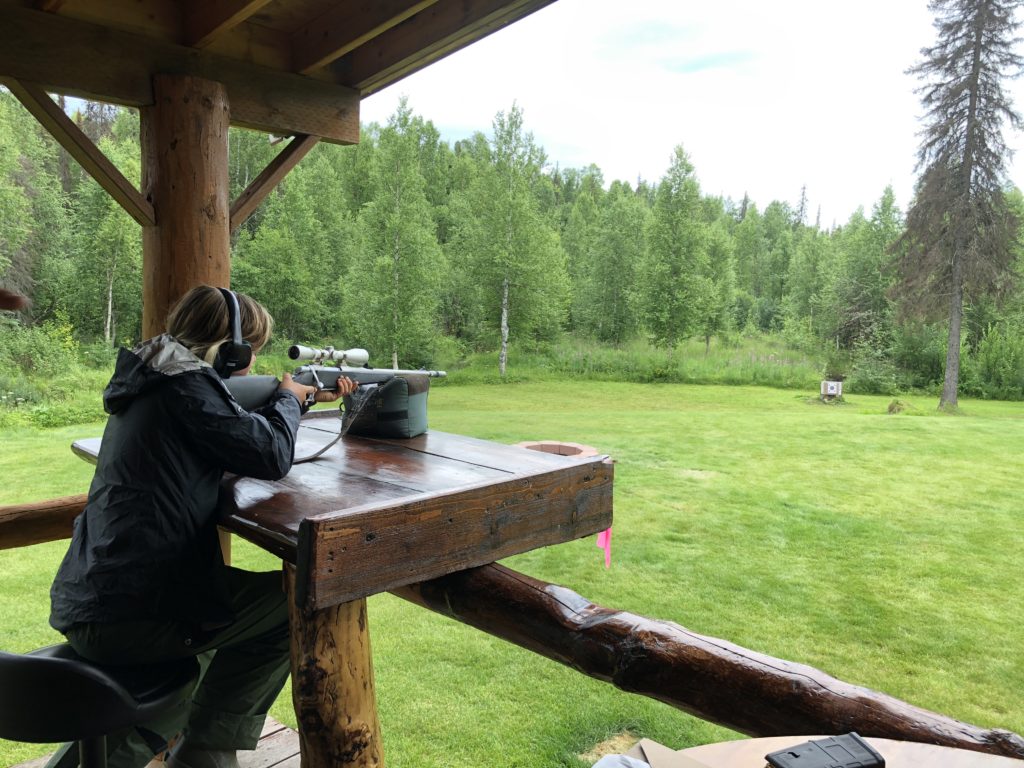 Me, lining up the shot. HA. BIG gun, called an elephant gun. I don't recall the name or caliber.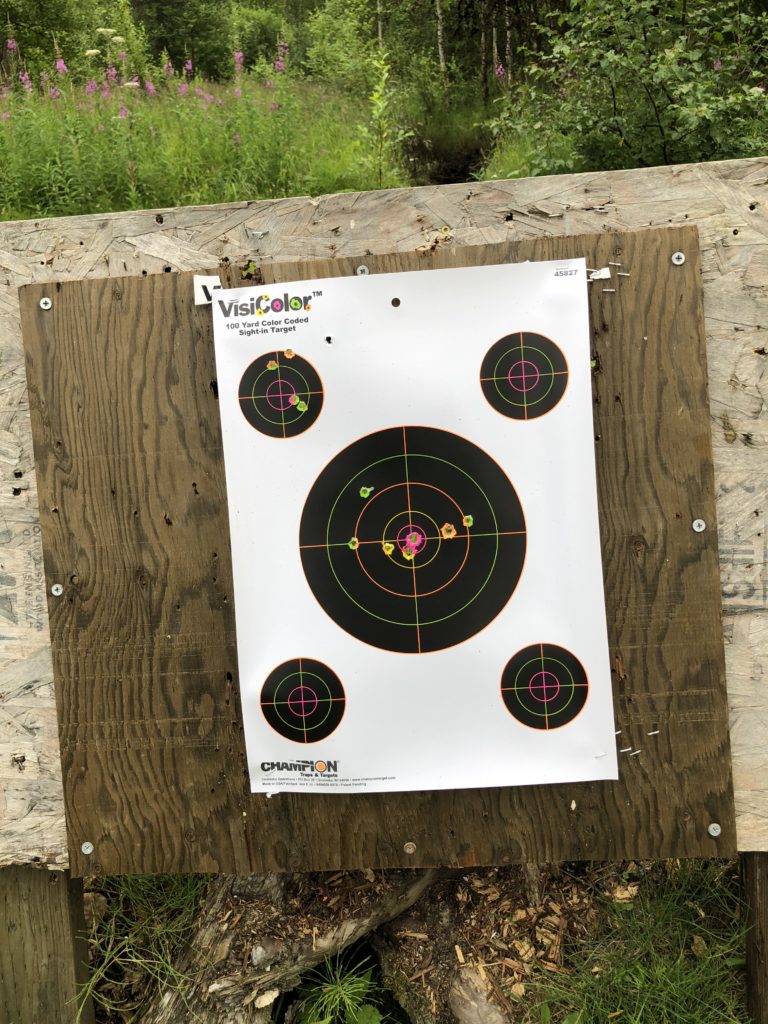 Everyone got ONE shot with the elephant gun (if you wanted more shots, you could have used a smaller gun, but, hey, why?). HA. MINE is the pink one dead center. YAY! WIN! Look out world!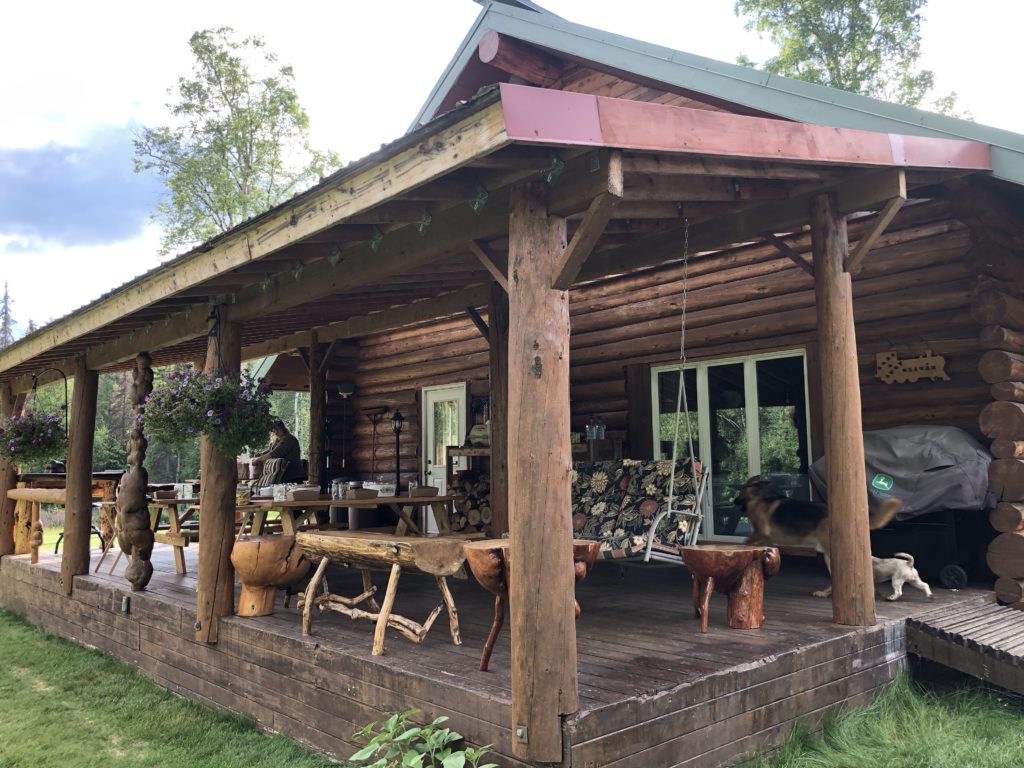 Gorgeous porch on the back of the house, facing the creek.
I was so completely satisfied with the experience and overall really loved Talkeetna. In retrospect, I wish we had spent only one night in Denali and instead spent additional nights in Talkeetna. Oh well, lesson learned. I expect I will go back for some more fishing 🙂 
Homer
After Talkeetna, we were headed to the fishing town of Homer Alaska. Homer is the capital of halibut fishing in Alaska – An adorable little town where we stayed in an adorable little cabin. We had not booked a fishing trip there so we merely enjoyed the small-town ambiance, had dinner and explored Lands End which is a lookout point in Homer. I enjoyed a dinner out at a steak and seafood place where I had Alaskan King crab legs. They were enormous, of course, and delicious! Not exactly discounted in price, however. Perhaps I should have gone somewhere else but it was lovely and I met some lovely local and traveling people.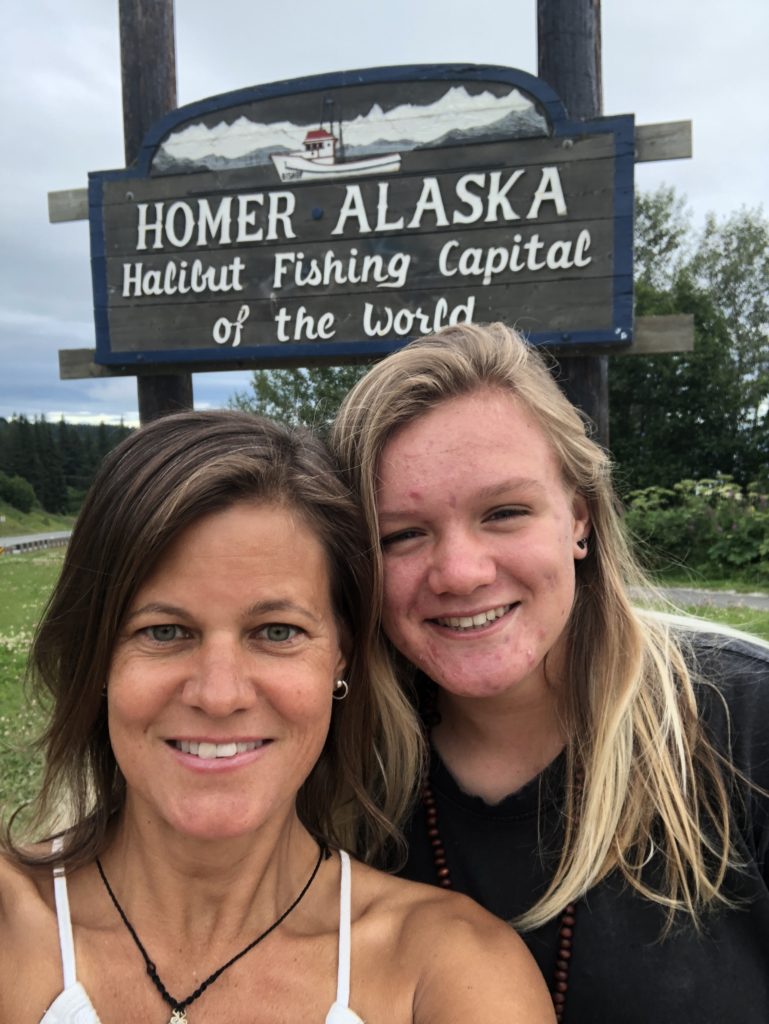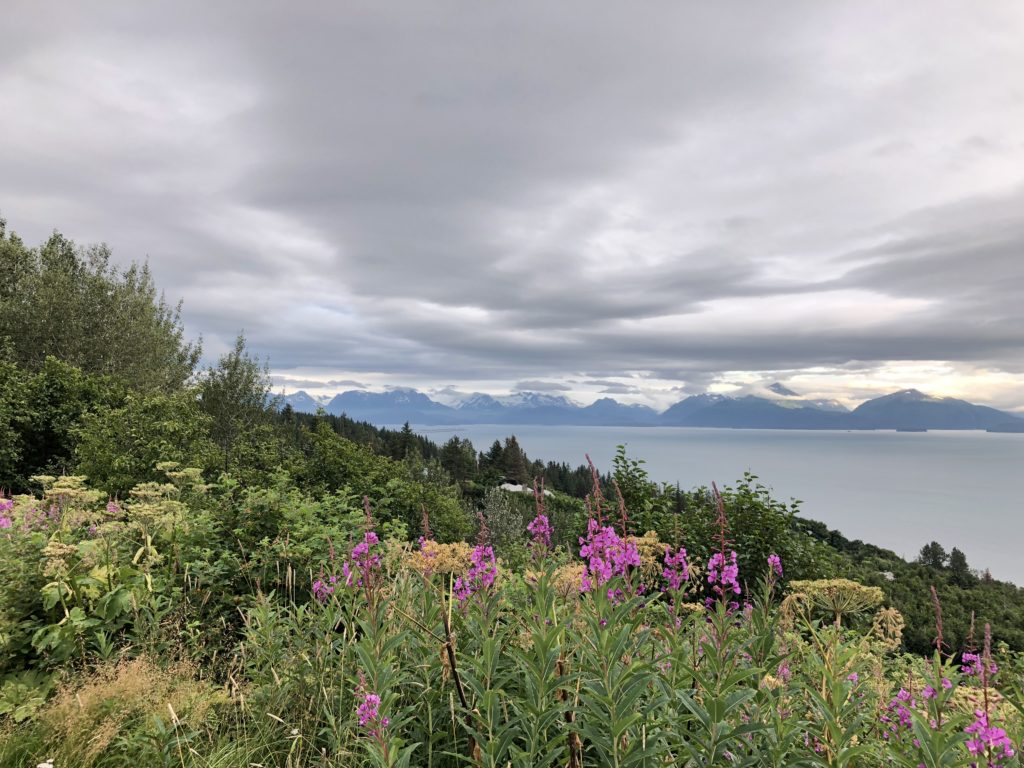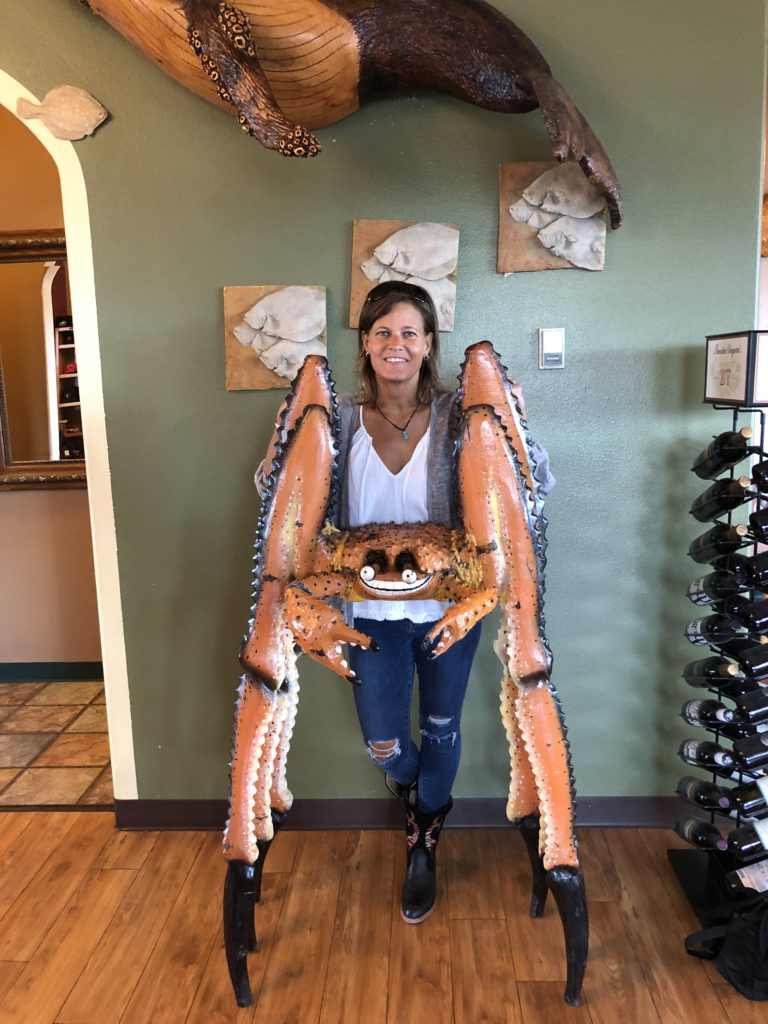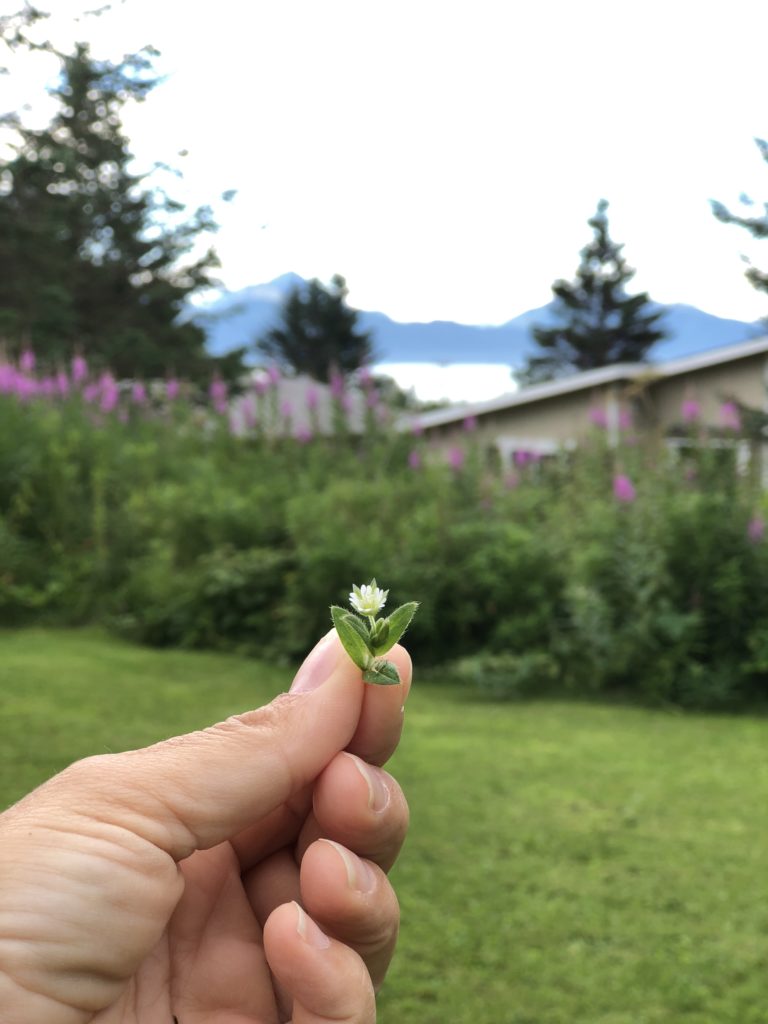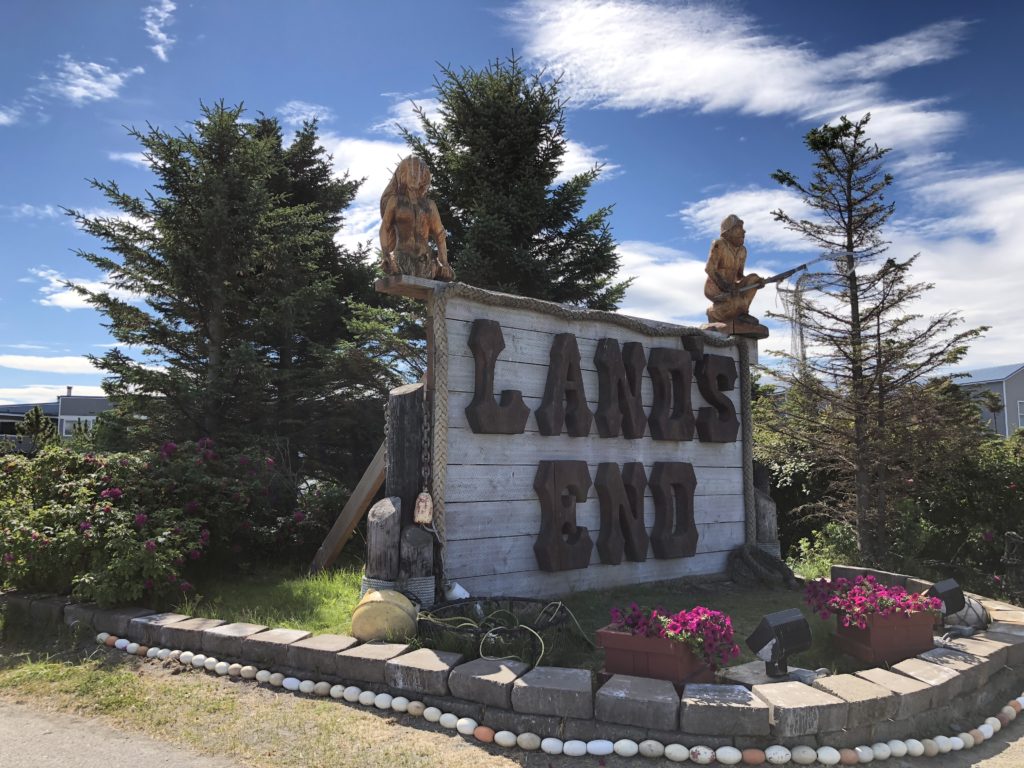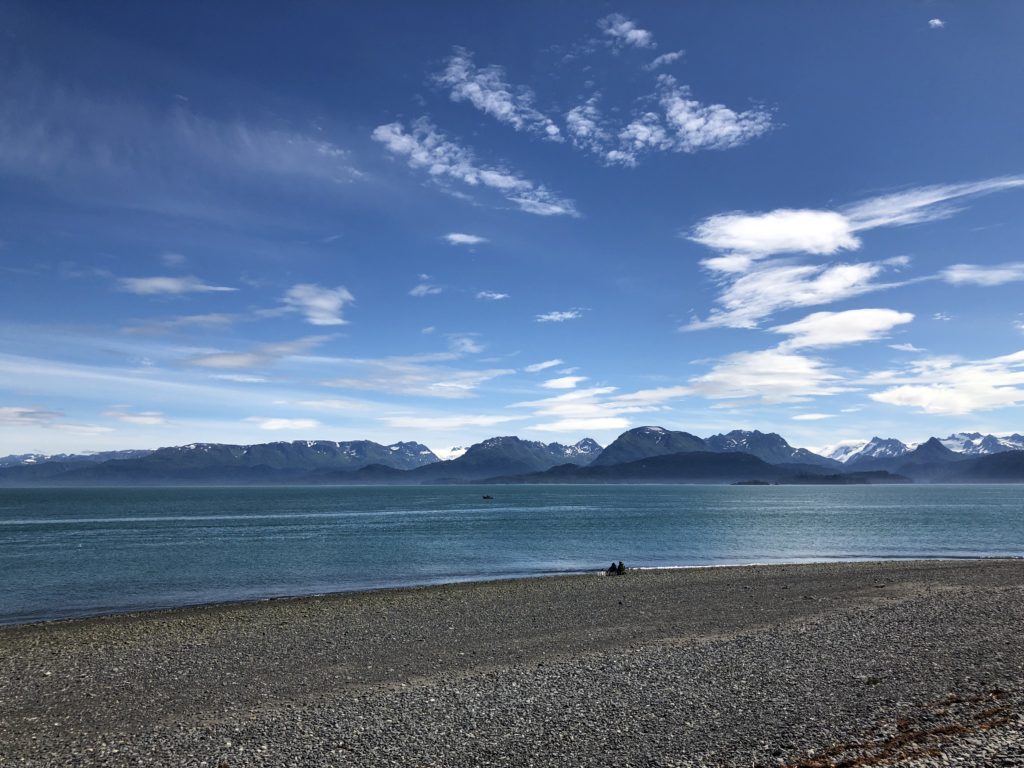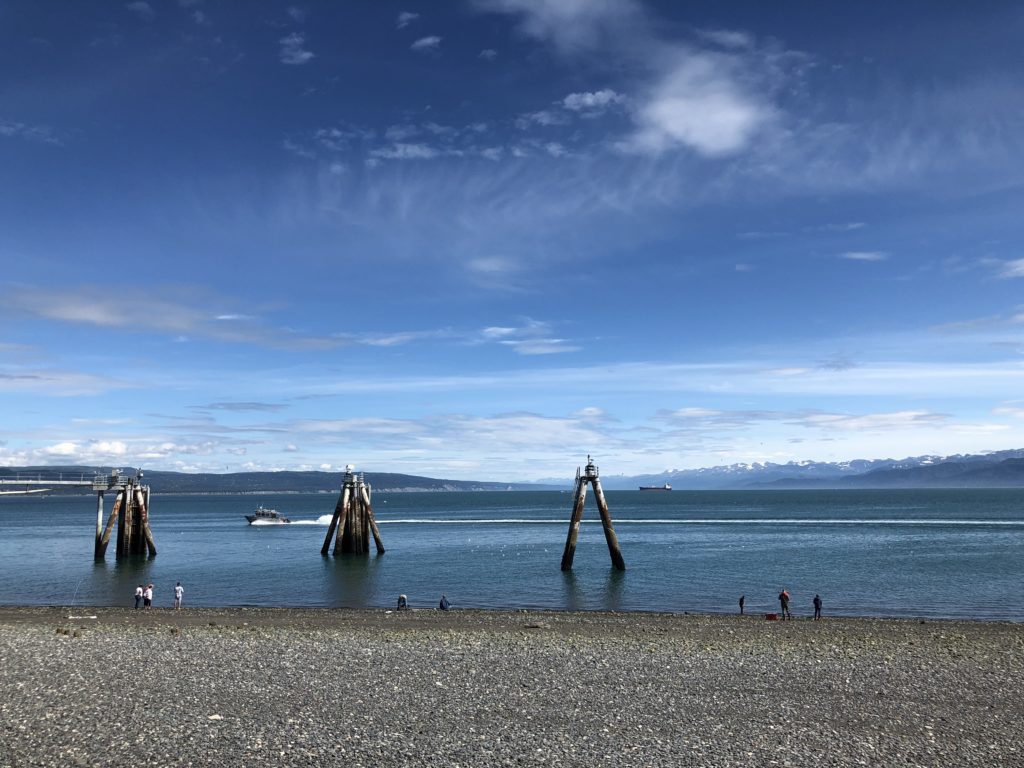 Seward
Our next stop was to be Seward Alaska. On the wat there, I spotted a beautiful serene lake through the trees. With an eye-roll from Lane, I pulled over for photos. HA. This happened a lot in our travels (me stopping, her eye-rolling). This time, though, she had to admit it was awesome.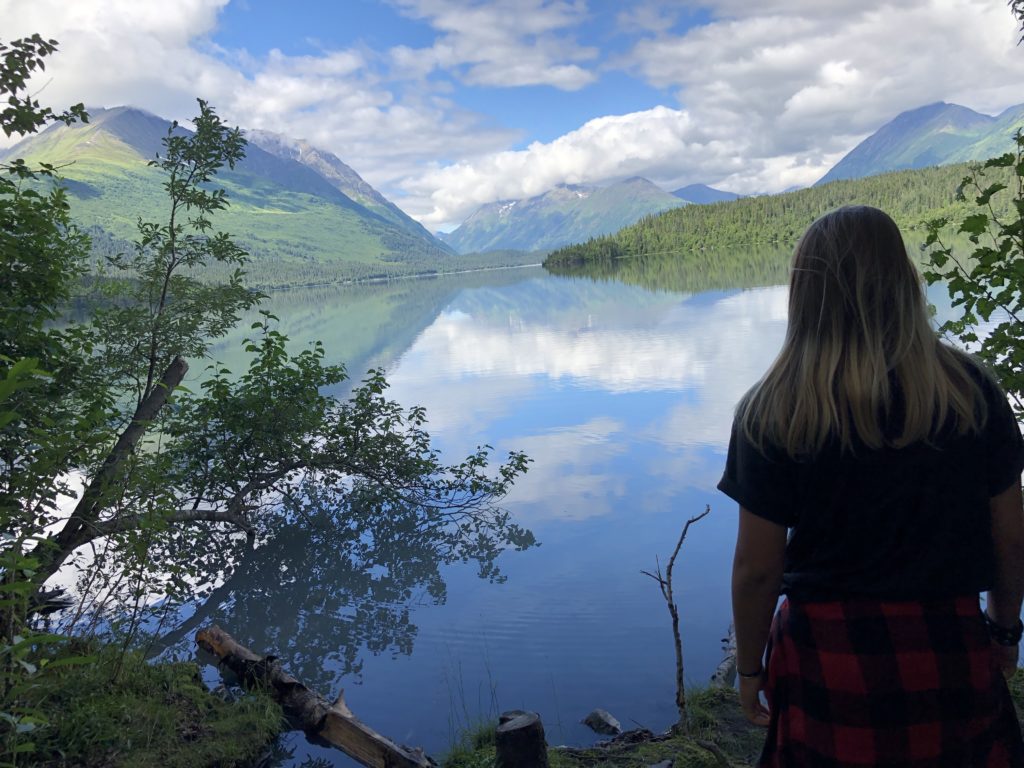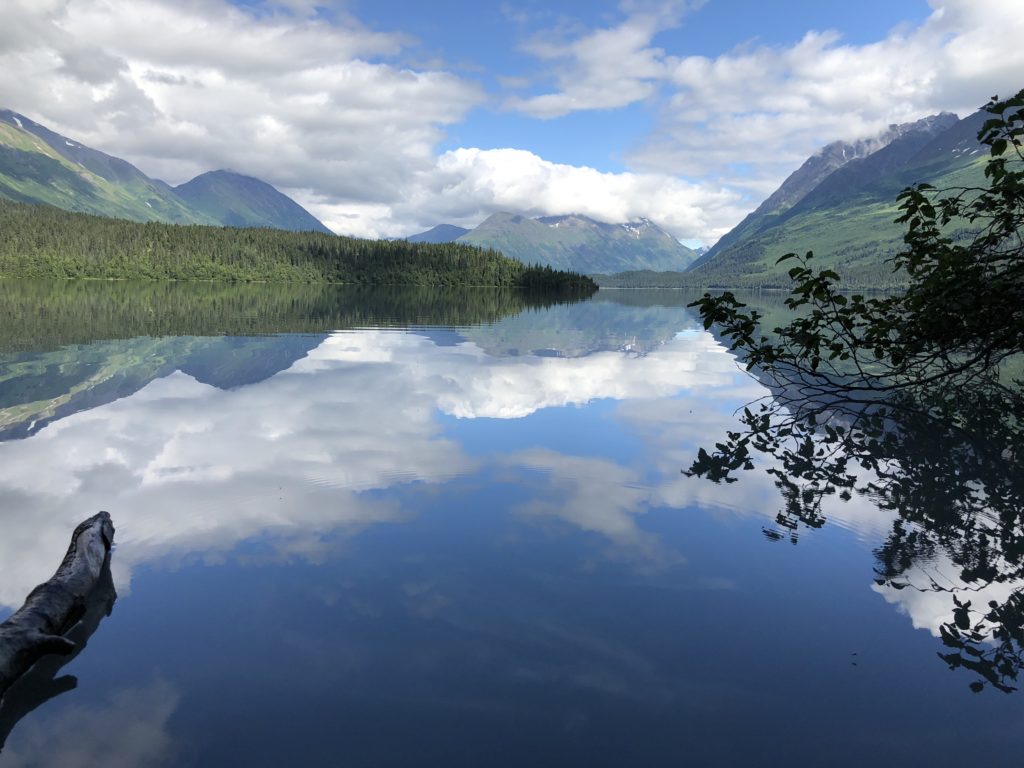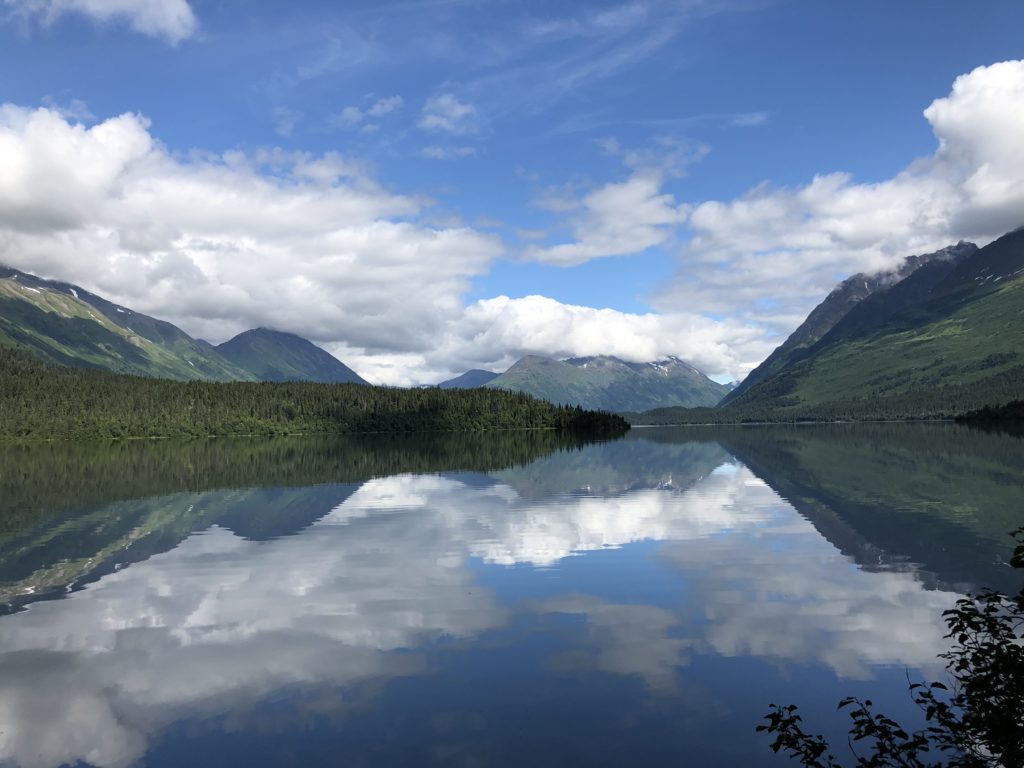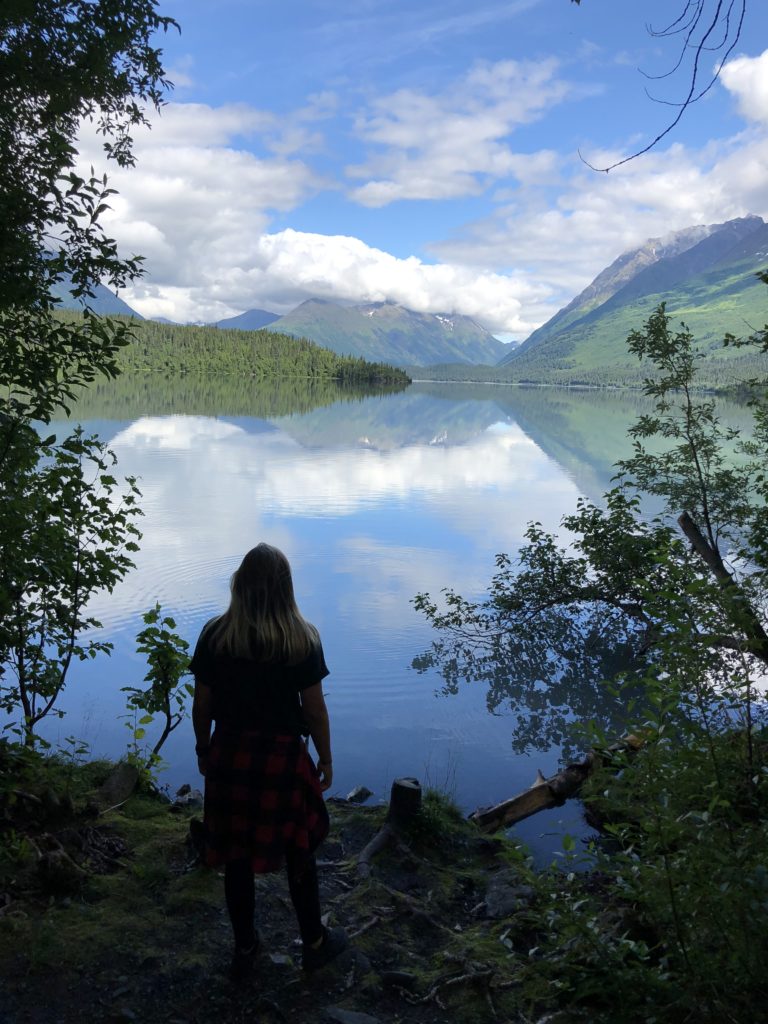 Seward is also a halibut fishing Mecca and here is where I had booked us a trip. Our Airbnb here was to be a room shared with some local people who happened to be guides for the exit glacier tours. I very much wanted to book one of these ice climbing tours (they will drop you into holes/caves in the ice!!) however the weather didn't cooperate for that – just as it didn't cooperate for fishing. Net-net, we did not get to go halibut fishing. Instead, we booked a river fishing tour on the Kenai River which is a stunningly beautiful river of ice blue colored glacier water. This was to be a fly fishing trip, which Laney and I have zero experience on. Our fellow fisherpeople on the small boat was a couple – of which the woman also had no experience – perfect –  we were quite comfortable.
Well, our fears were unfounded – turns out, Laney is a natural! Her first try at a fly rod she pulled in an enormous rainbow trout!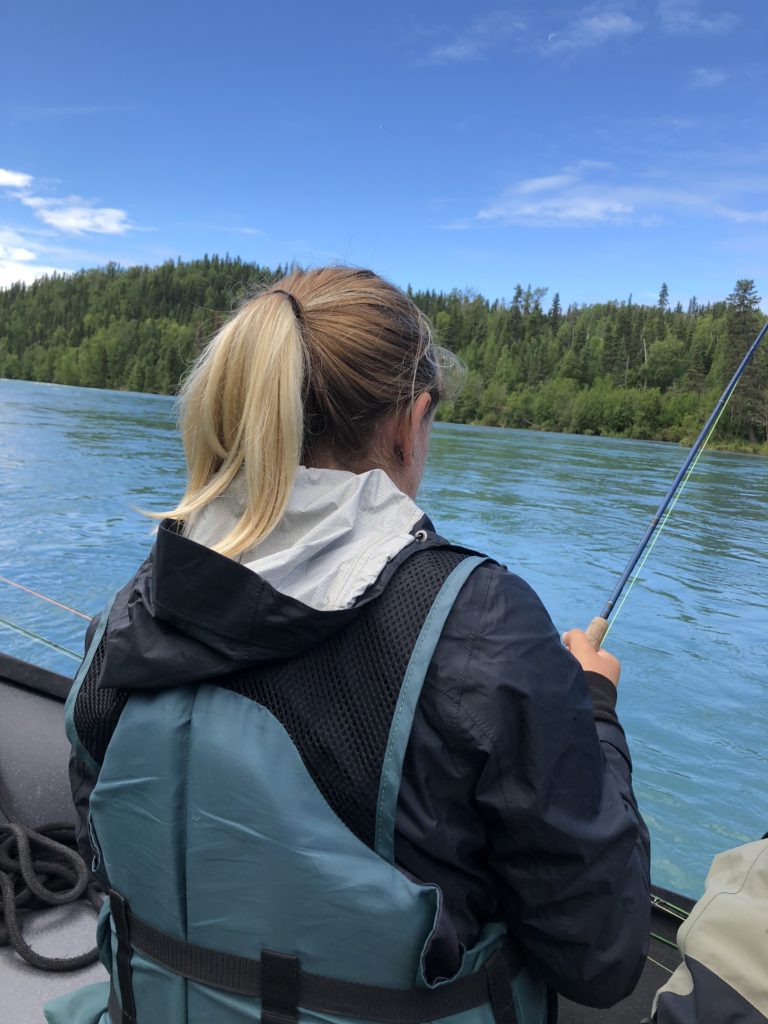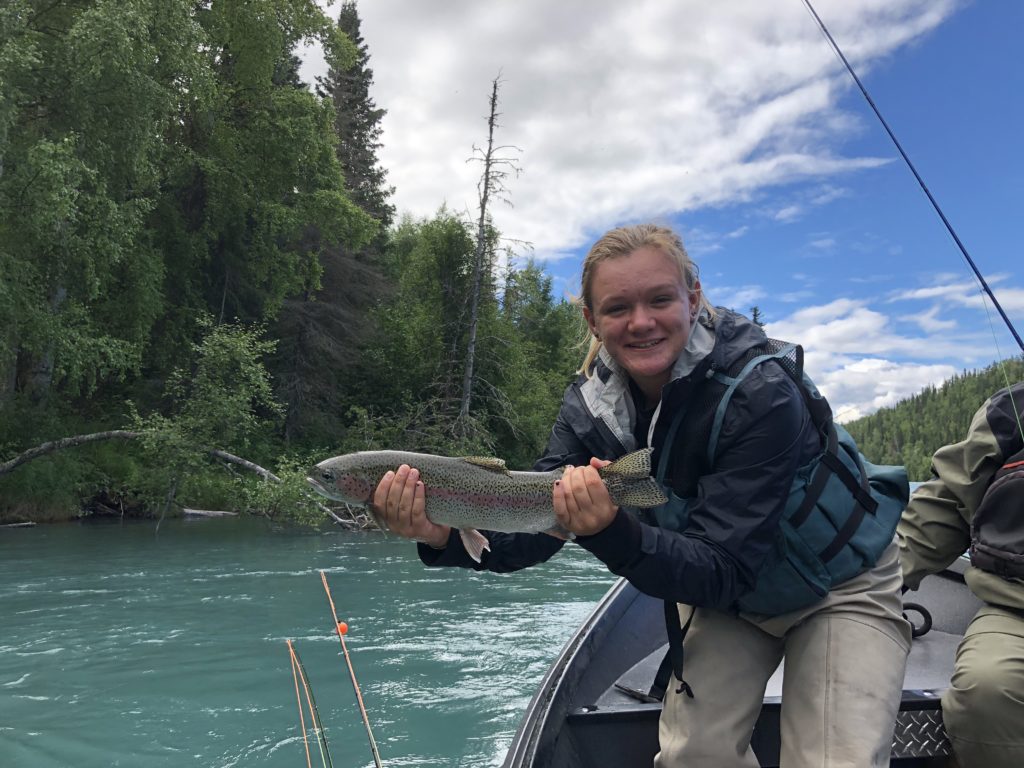 The rest of the day wasn't exactly big on catches as the previous trip was, but nonetheless, it was a wonderful day. This scenery is to die for, and we saw quite a few bald eagles!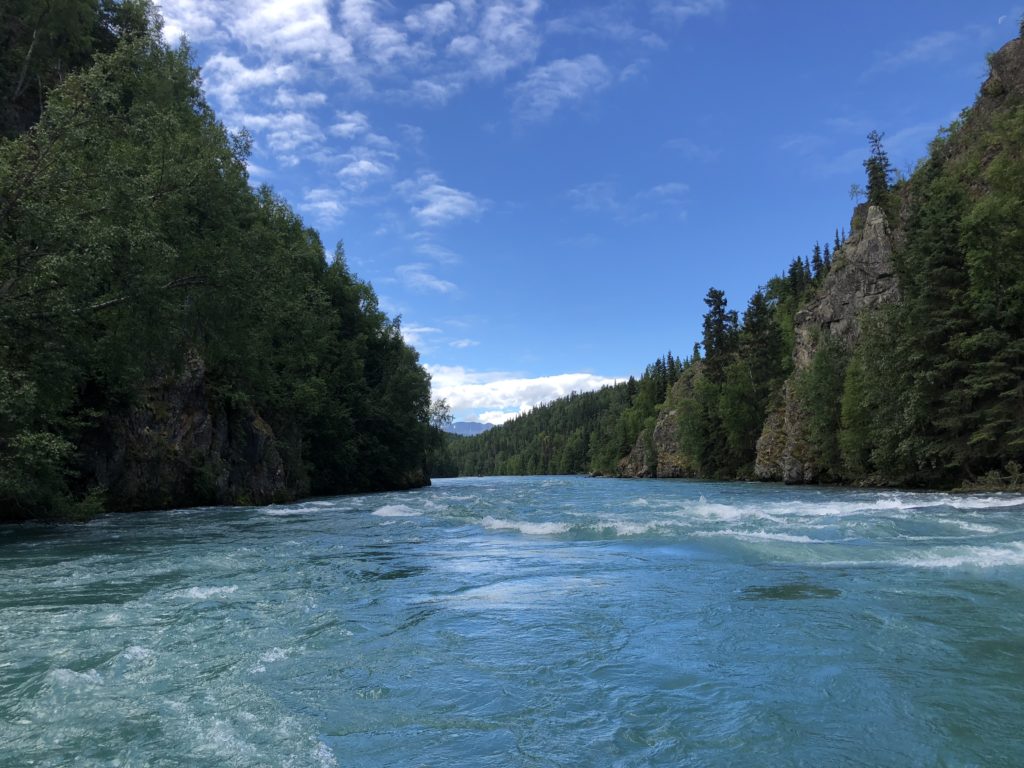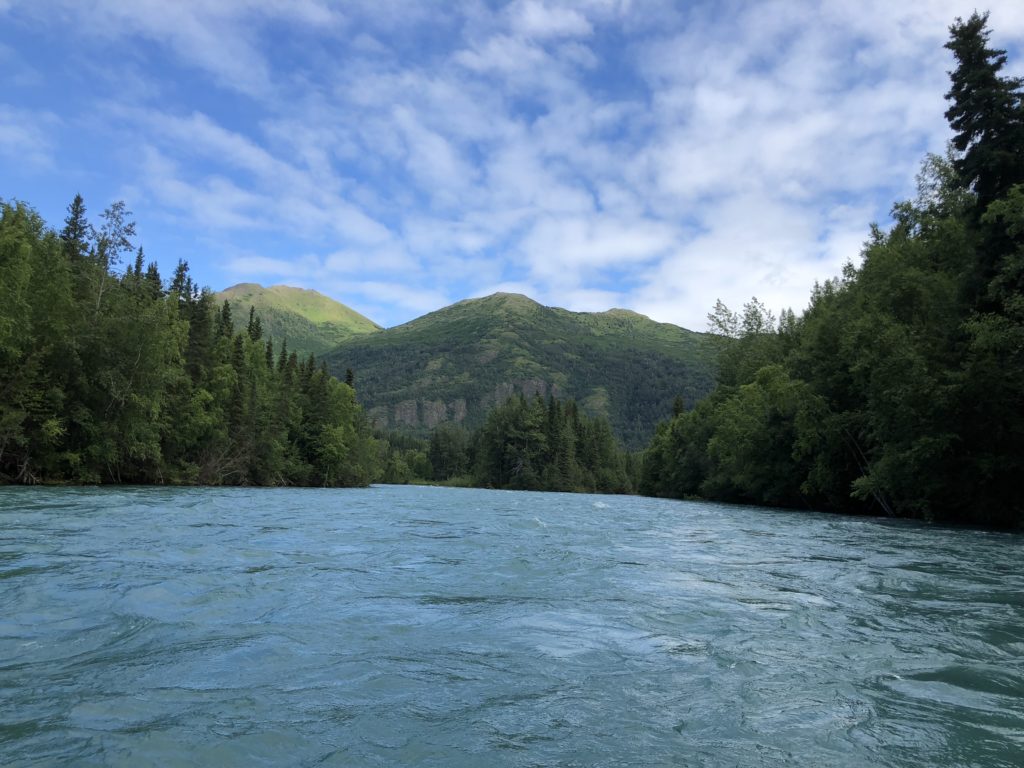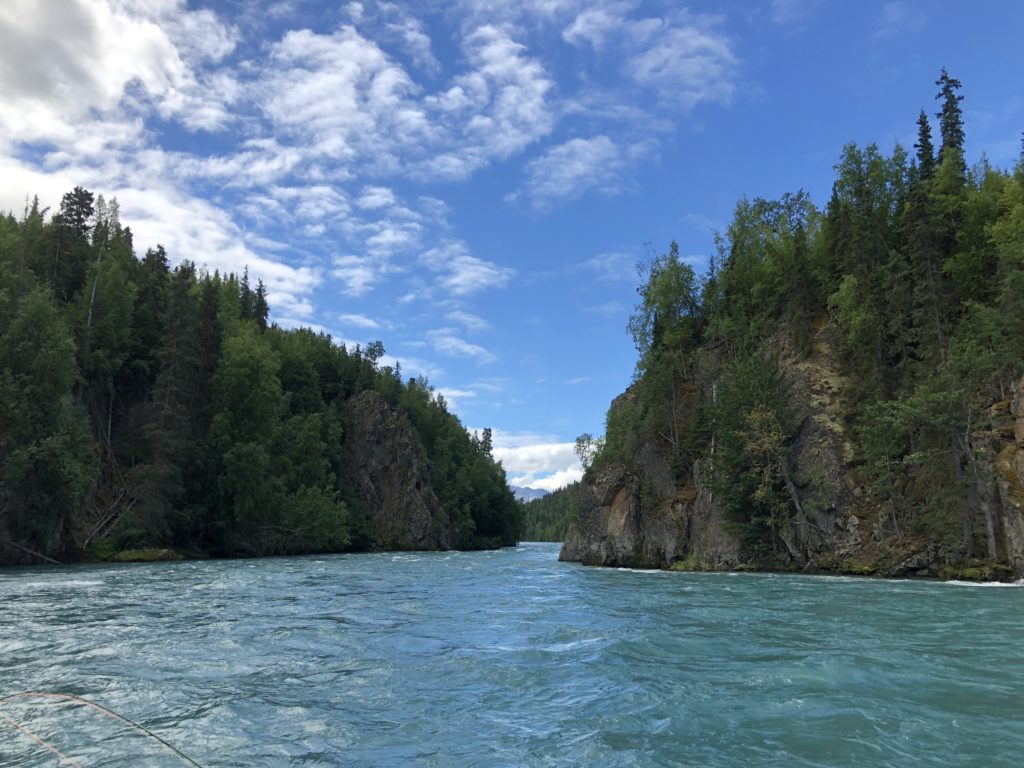 I don't think I will ever get over the blue glacier water – in New Zealand or Alaska. It's unreal!!
Our last full day in Seward we spent looking around the waterfront and going to a nearby sea life museum which was quite nice. We also drove up to take a quick look at the exit glacier which was gorgeous. We picked up a couple college boys making their way back from the glacier to town. We got to hear how these two, who go to college in PA and live in CA, spent the summer in the commercial salmon industry. I love meeting these young travelers – so eye-opening for Lane to see what creative options there are for summer jobs!! I never would have dreamed, but she will!!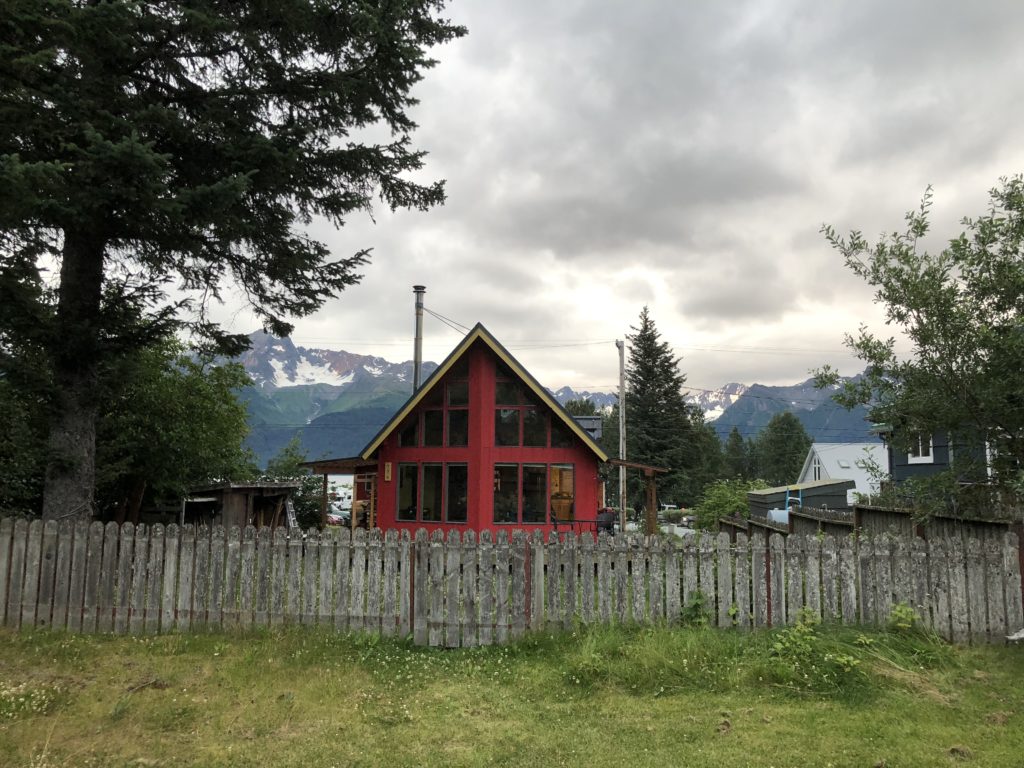 There are some really adorable houses in Alaska. I loved this red with the background of mountains.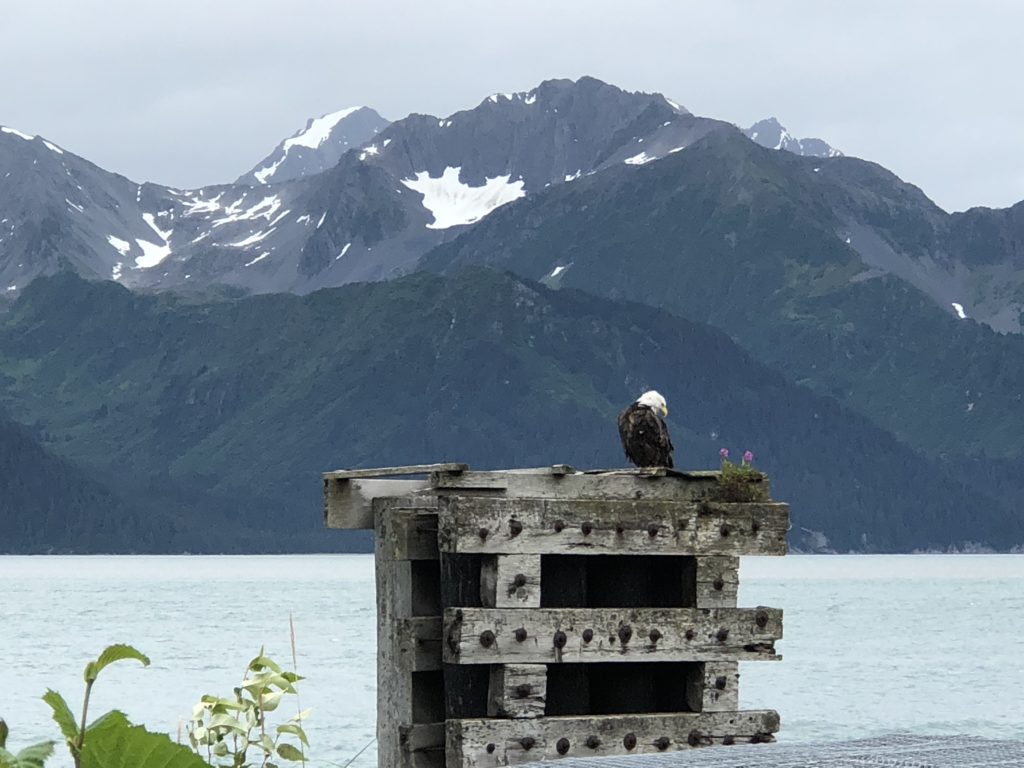 Lots of bald eagles in Seward.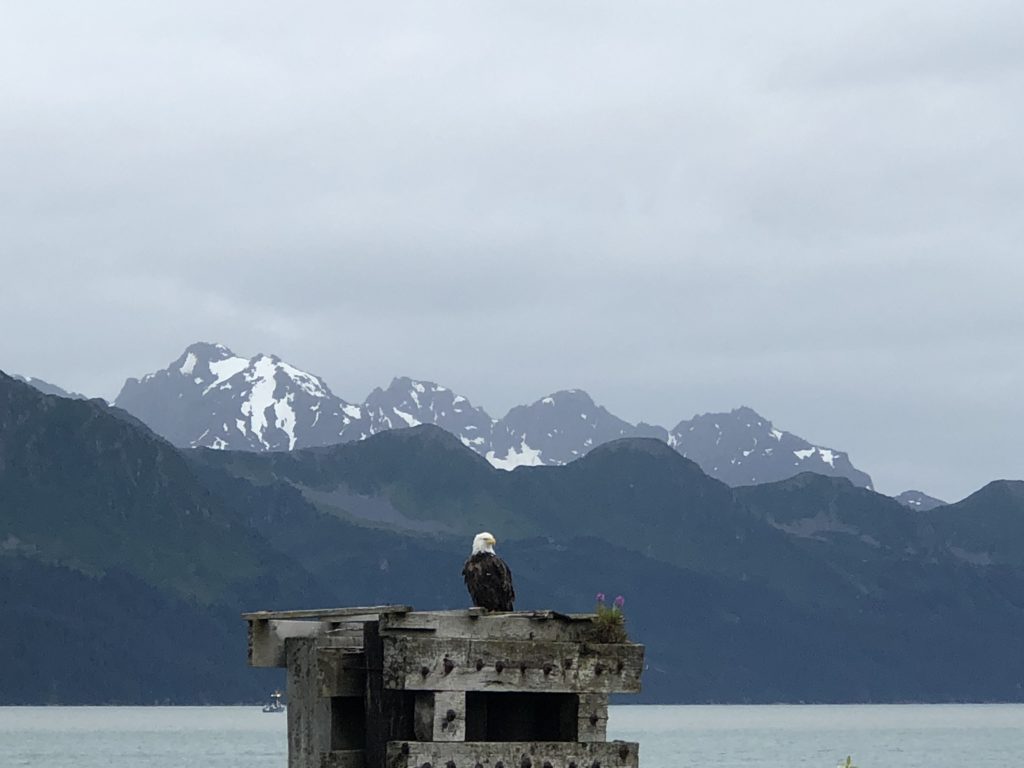 How majestic is this? WOW. Wish I had a better camera.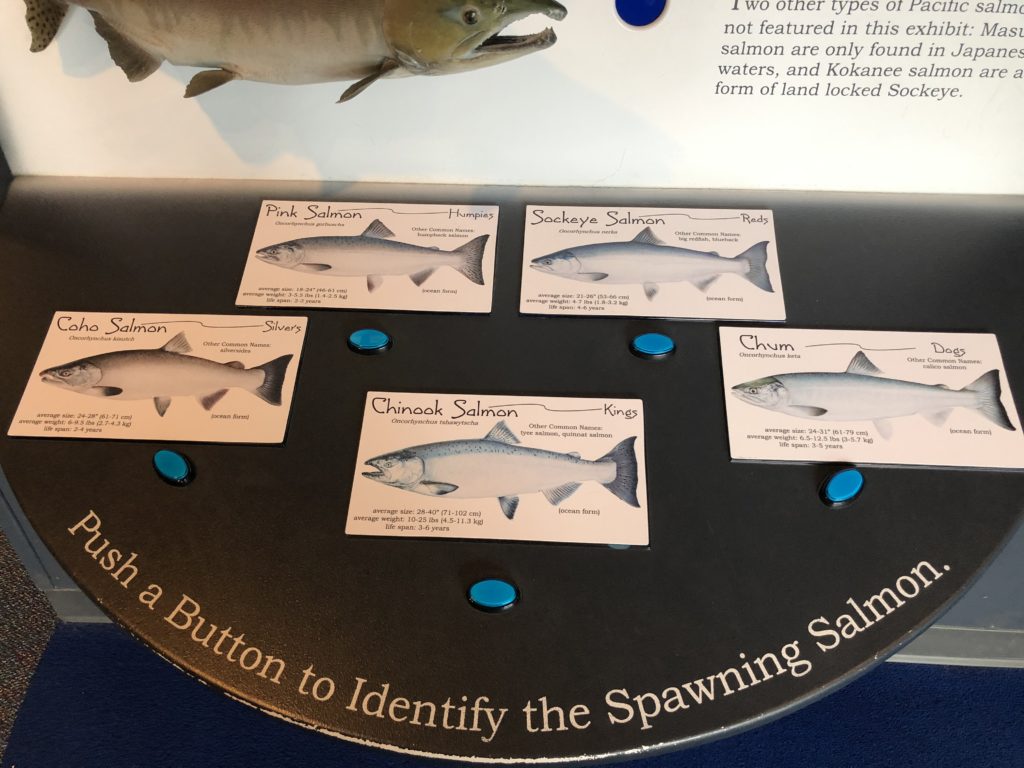 So I found this fascinating. I had no idea the transformation was so dramatic. Above, salmon in the ocean. Below, the same species of salmon, in the river. CRAZY transformation!!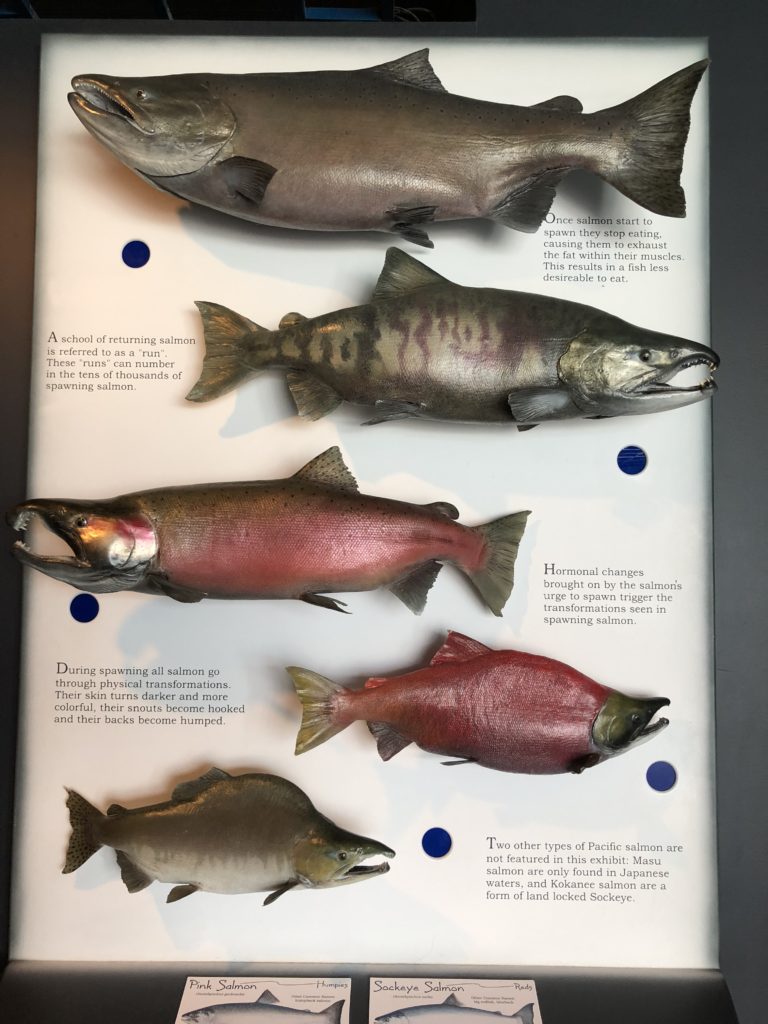 I can't name them all but the bottom one is the pink salmon, with the hump. The next one up with the red body and black face is sockeye. The striped one is Chum aka Tiger salmon. I am pretty sure the top one is Coho salmon, which leaves the middle one to be chinook.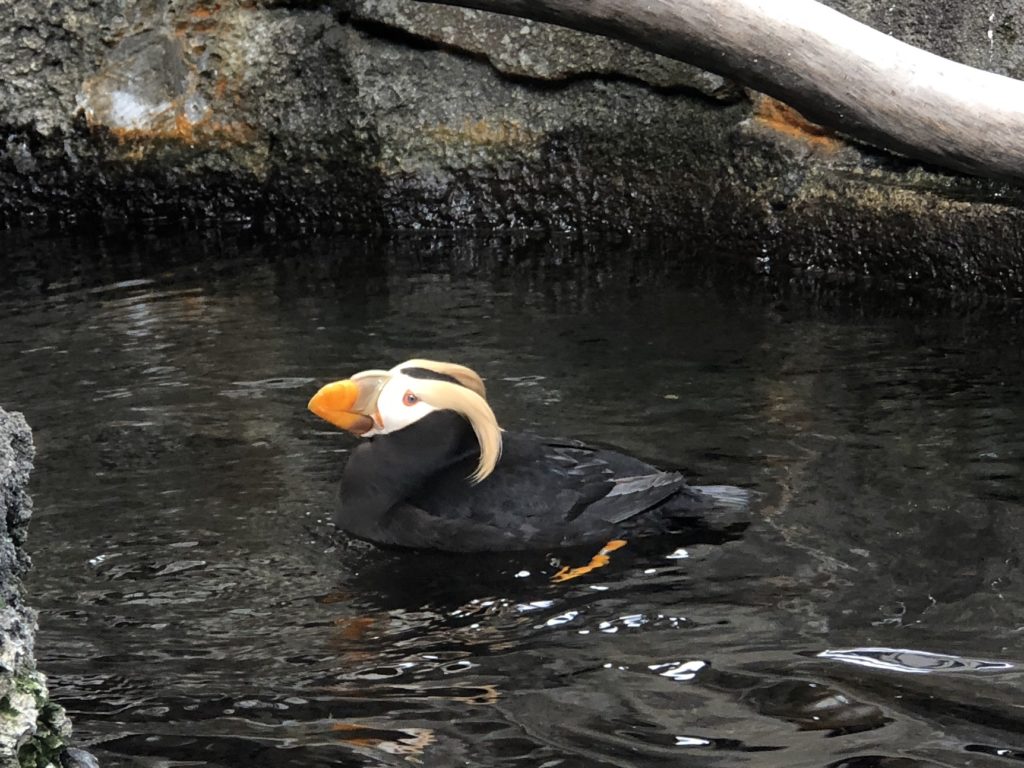 Love seeing these puffins.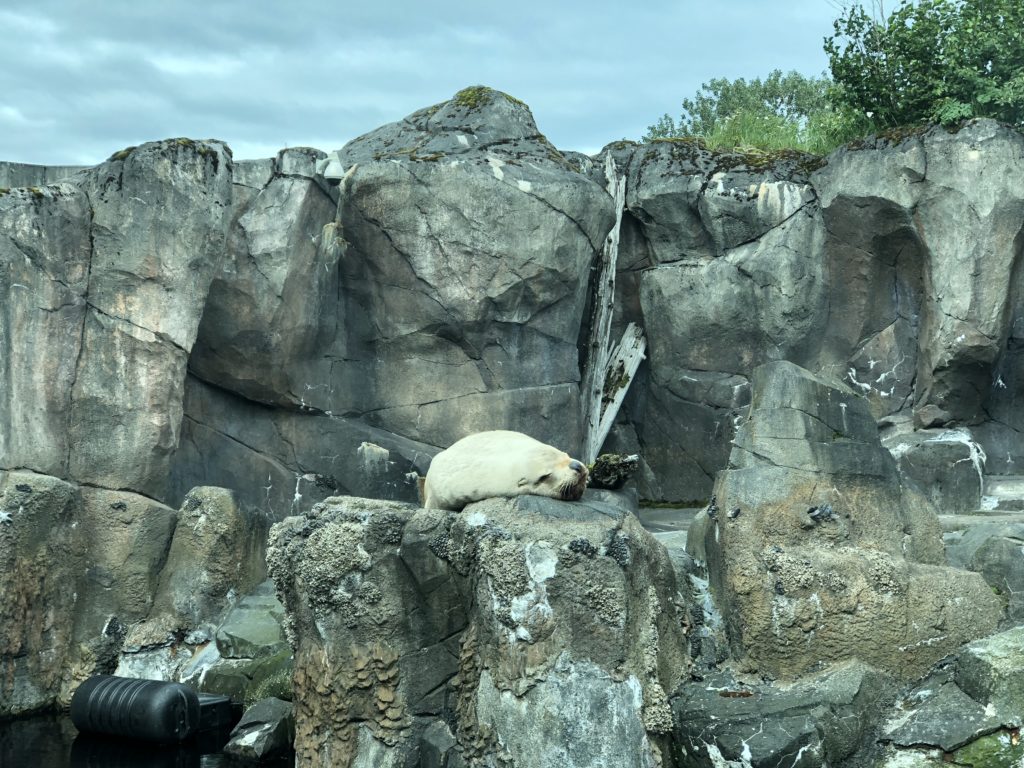 Enormous seal at the sea life center.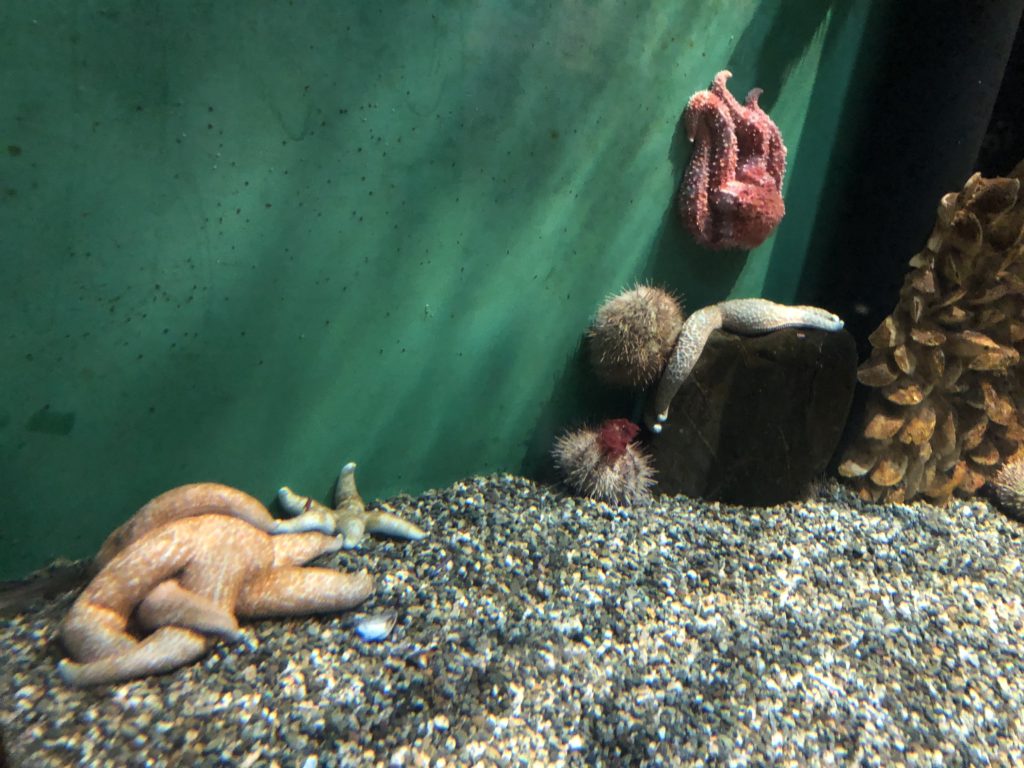 Bottom left of this photo, sea stars (aka starfish) entangled.  Starfish orgy. HA
We also walked around the marina, which was beautiful. Occasionally, we spotted an otter napping in the water. SO SO CUTE.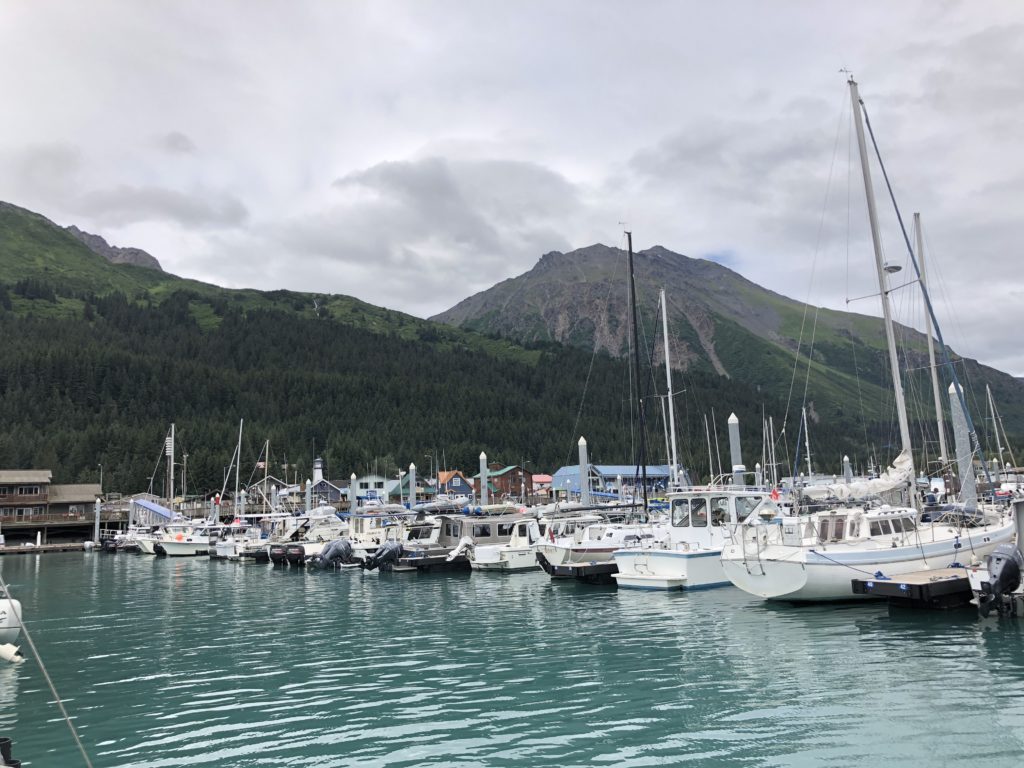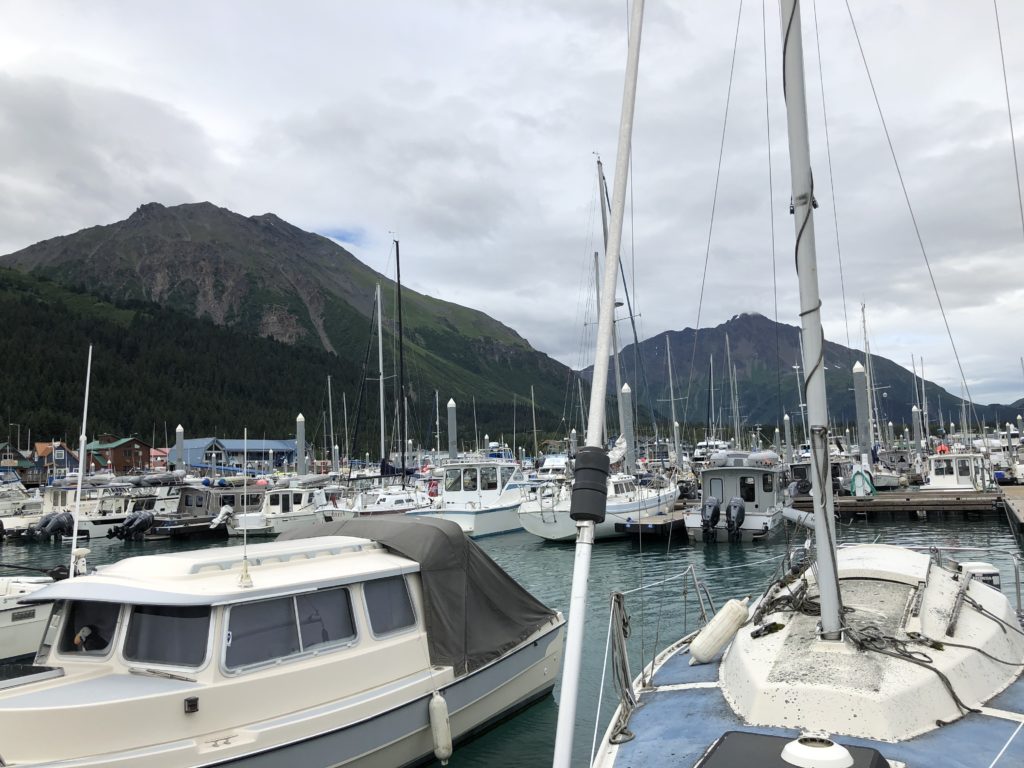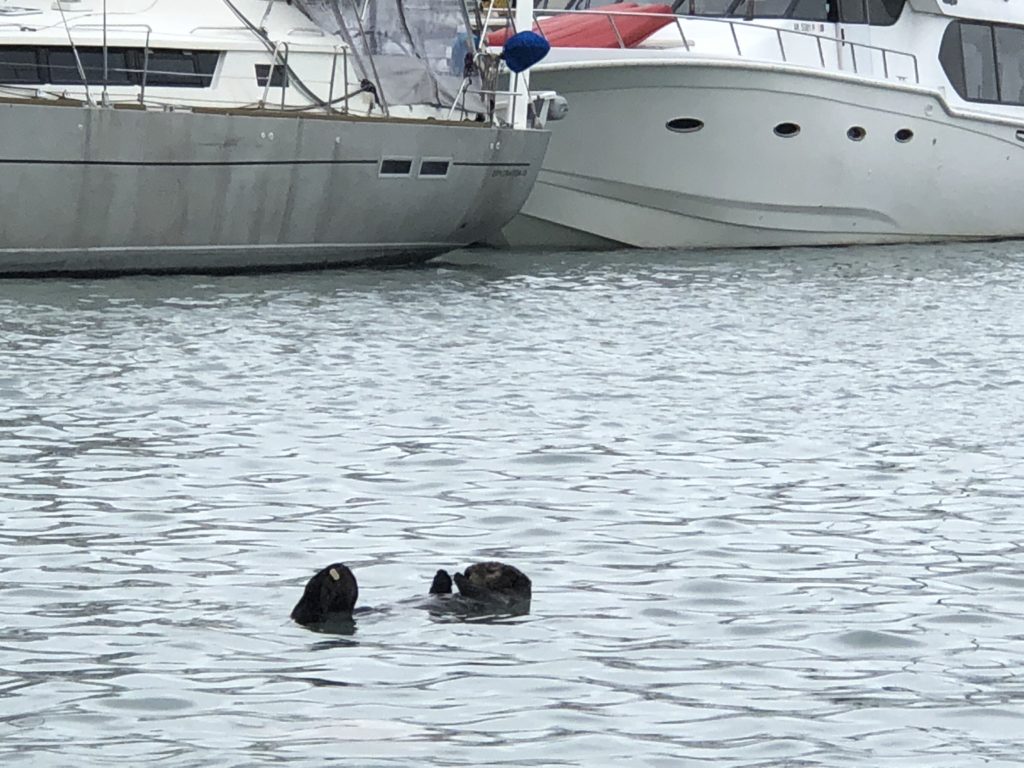 While in the house in Seward I managed to make time to cook rhubarb cobbler which our host and his girlfriend thoroughly enjoyed both after dinner as well as late night! Haha. They were kind enough to take me along in the First Friday downtown celebration where free wine and cheese are served and local artists show their works. I met quite a few other guides of all kinds there, most of them are summer-only residents and they tend to winter somewhere south like San Diego or Montana. Mostly a group of free-spirited young people following work and weather and enjoying the best of both. What a life!!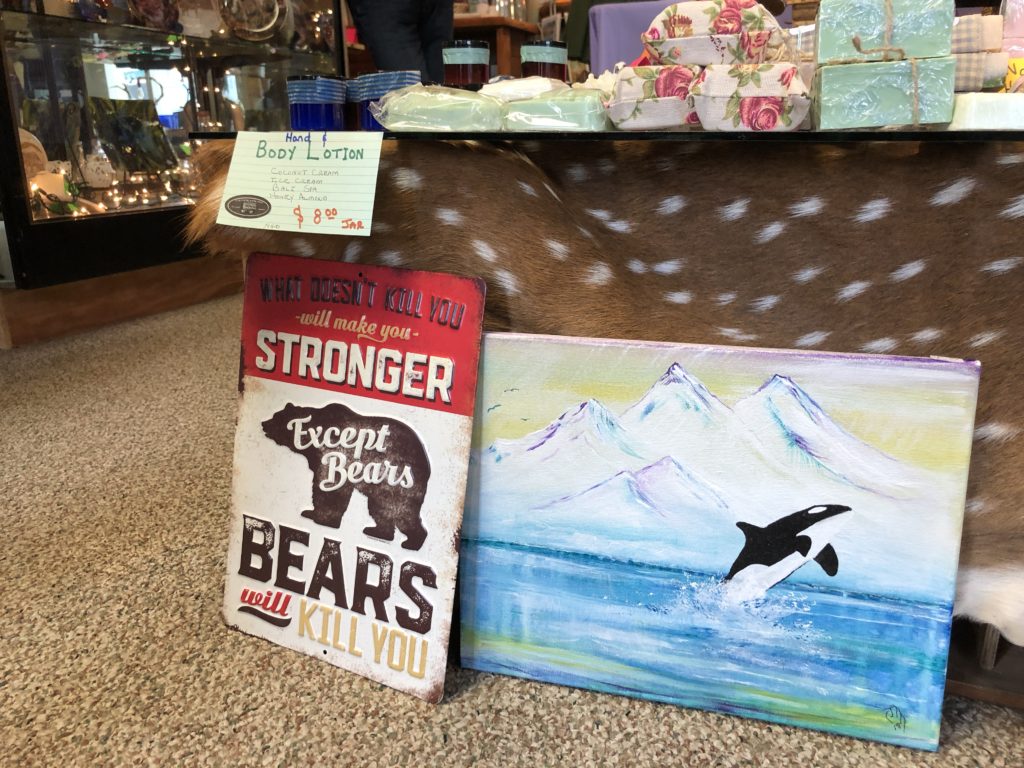 I loved this sign…. ha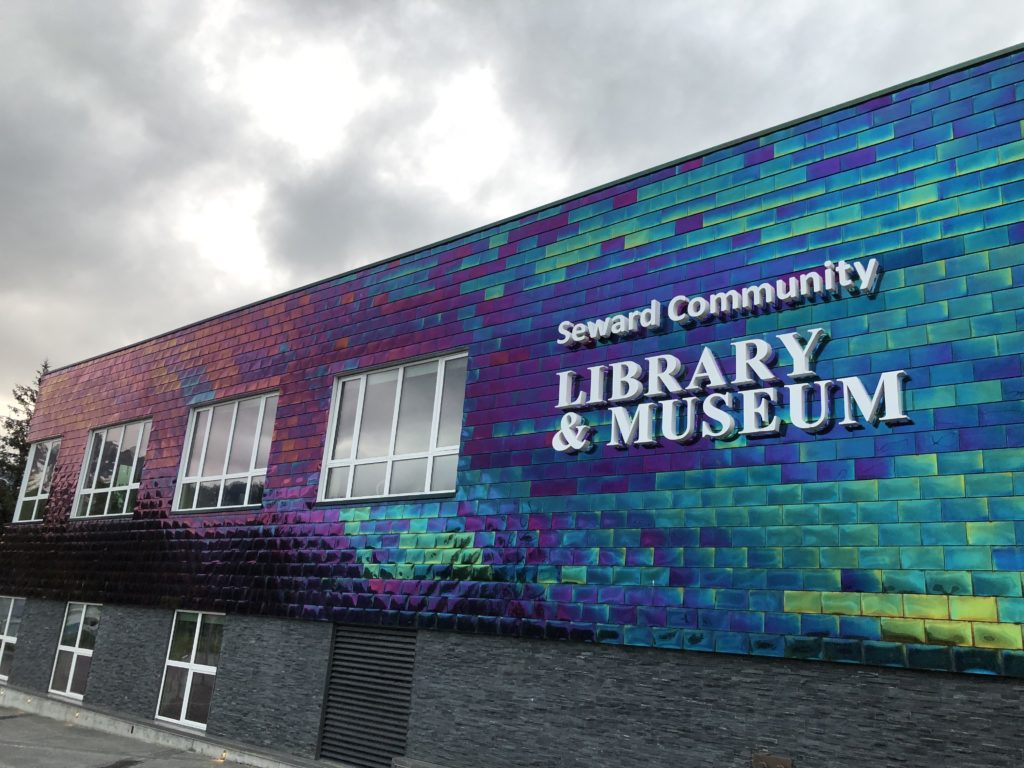 Crazy cool paint on this library!!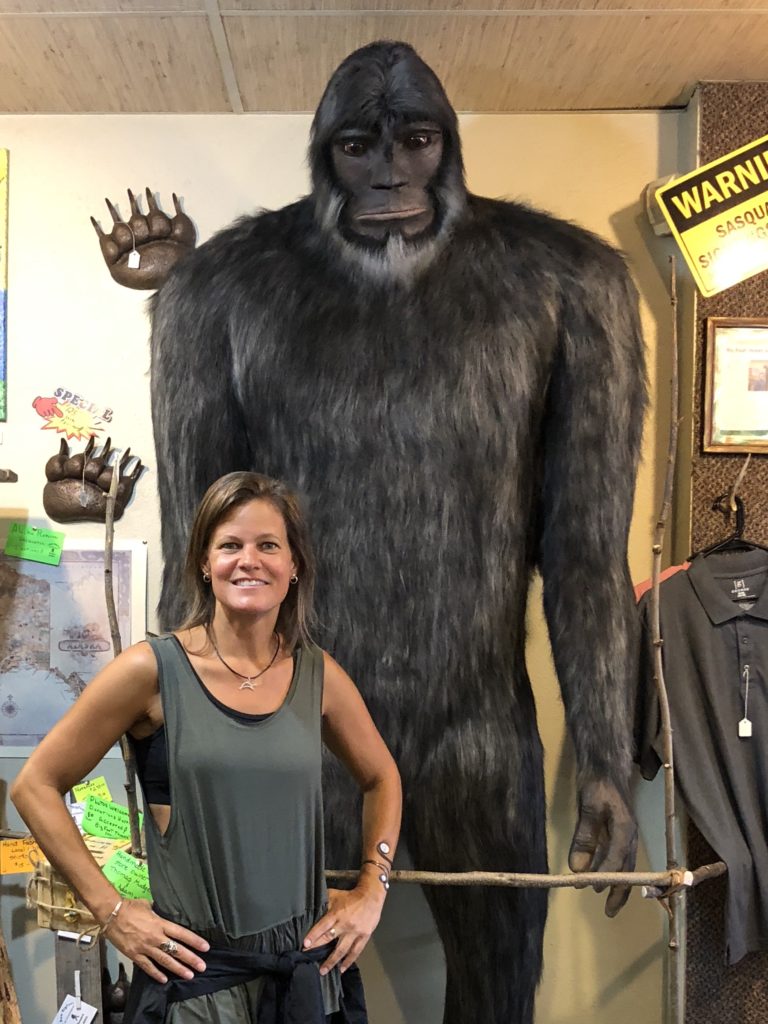 Big Foot handmade by the store owners. Very cool.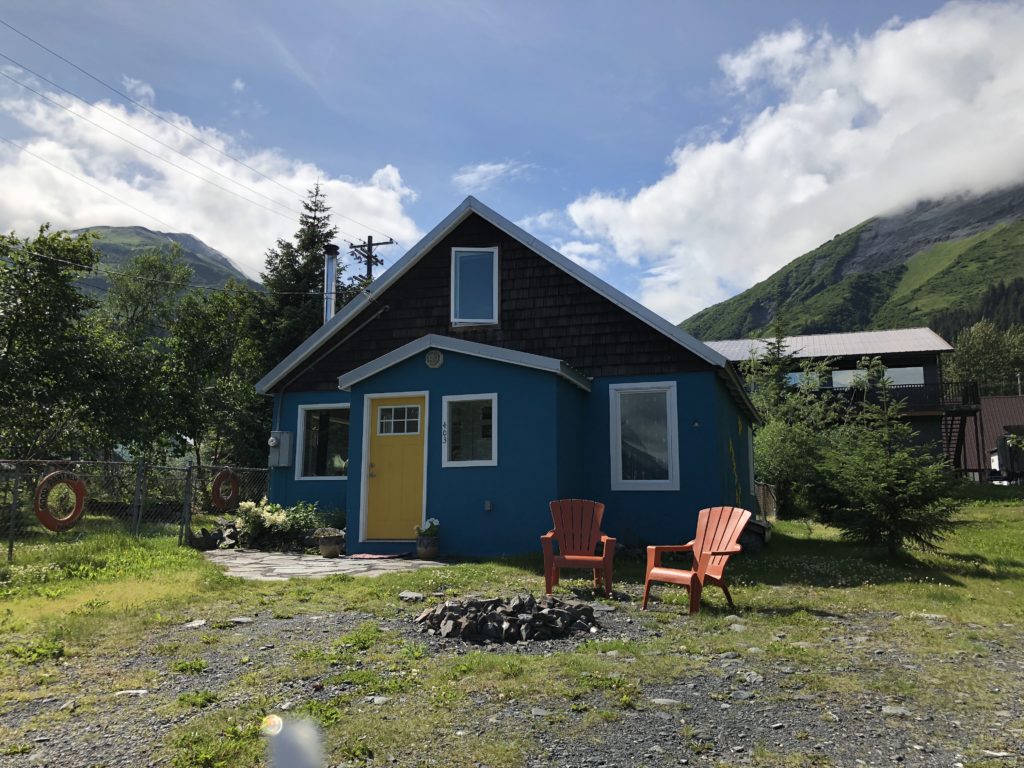 The house where we stayed in Seward. ADORABLE right? I spent a great couple hours sitting in one of those chairs on a beautiful sunny afternoon. The weather in AK was amazing. Hot sun, cool shade. Crisp, pine air. Just perfect.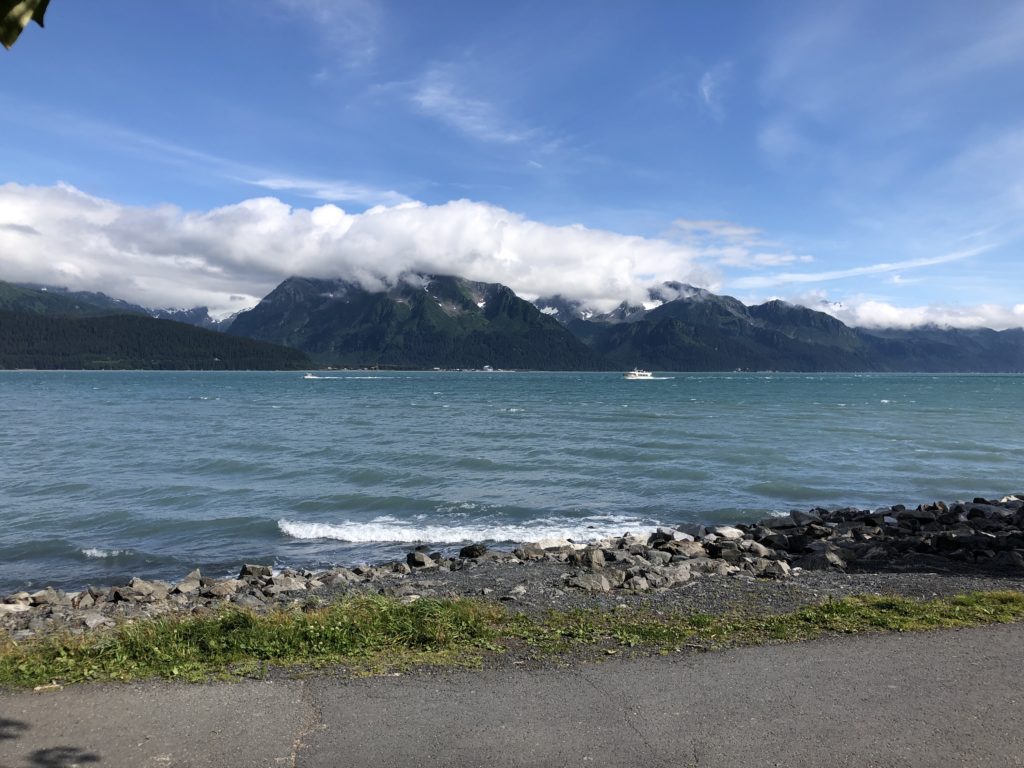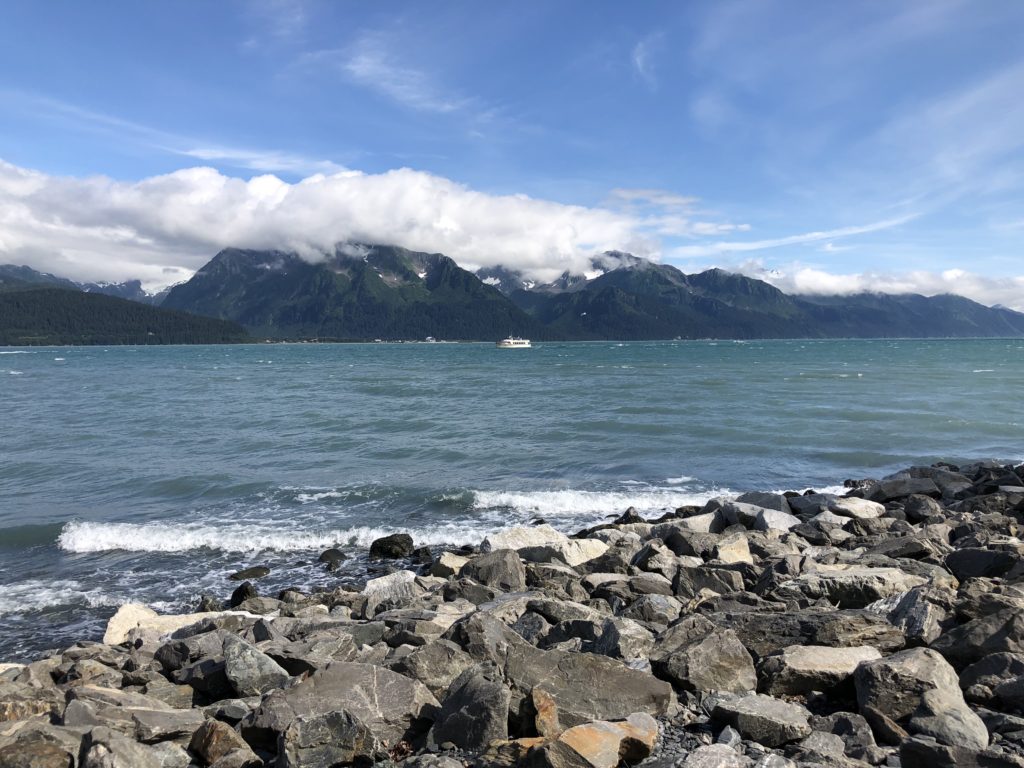 The waterfront near our Airbnb in Seward. I saw an otter here on the first day but didn't catch a photo. 
The morning we left, Jack, our host, left us a 4-leaf clover that he had found in the yard the previous day. So sweet. I've kept it in my journal ever since.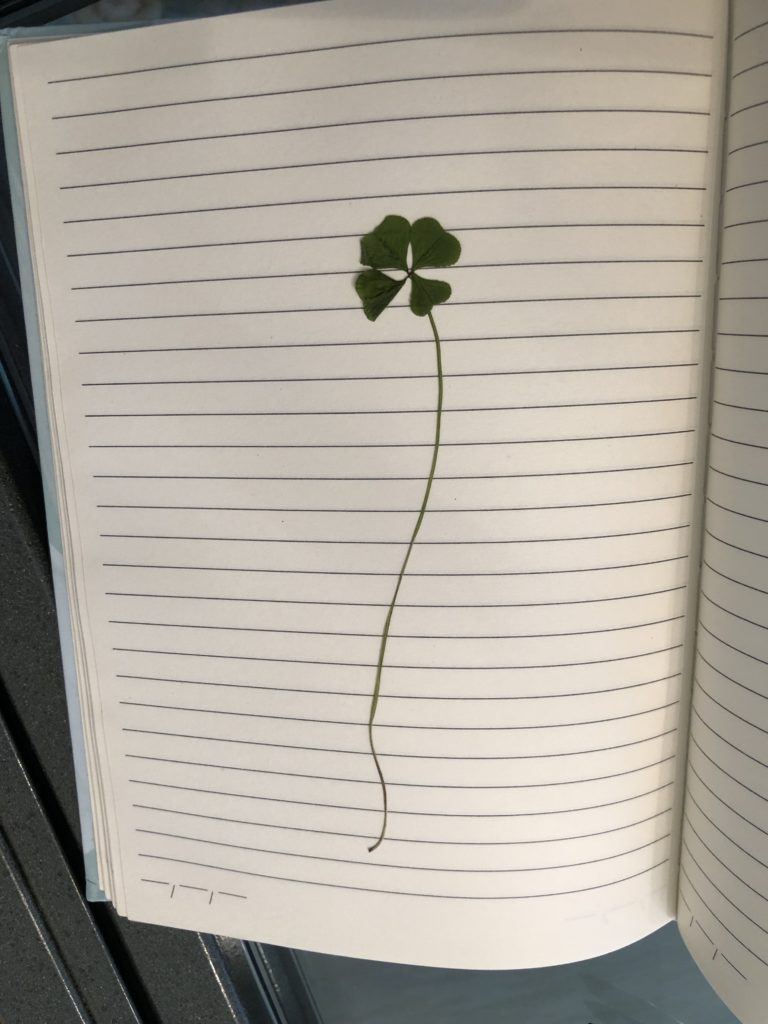 Our travel time was slowly coming to an end – and unfortunately our time in Alaska also nearly over. I had not achieved my goal of seeing a moose in the wild so on the way back to Anchorage we stopped at the Alaskan Wildlife Conservation Center and saw all the animals! Not the same as in the wild, but it was a wonderful experience. I think my favorite was something unexpected. This gorgeous porcupine –  we watched him/her eat – so adorable.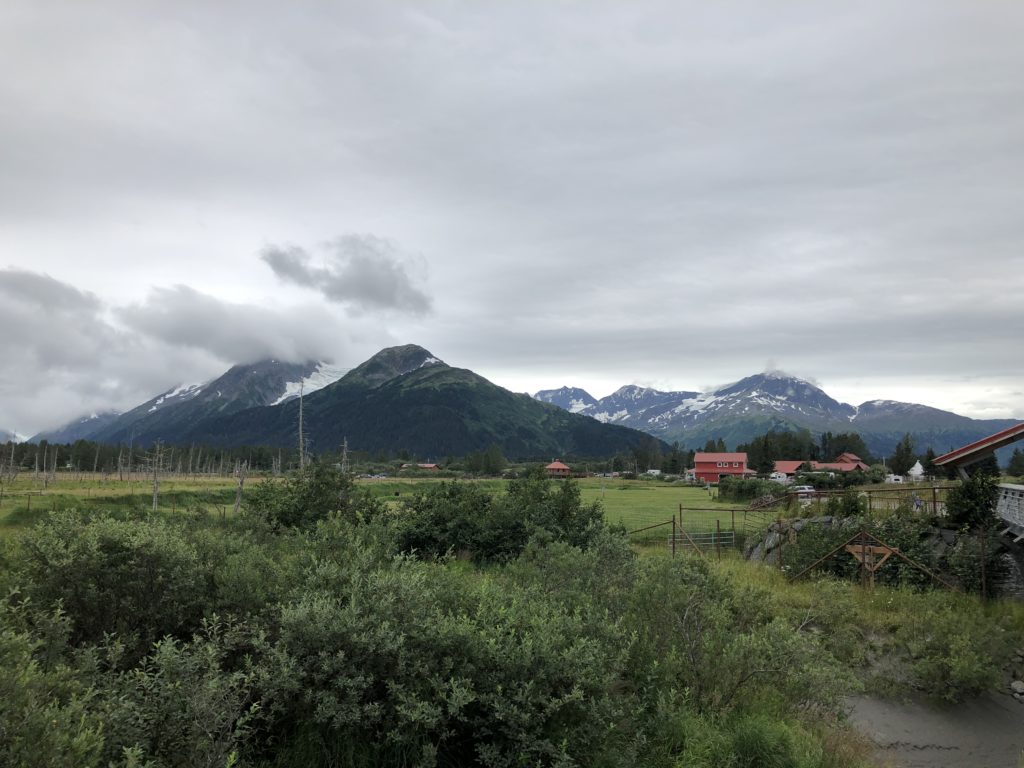 View at the AWCC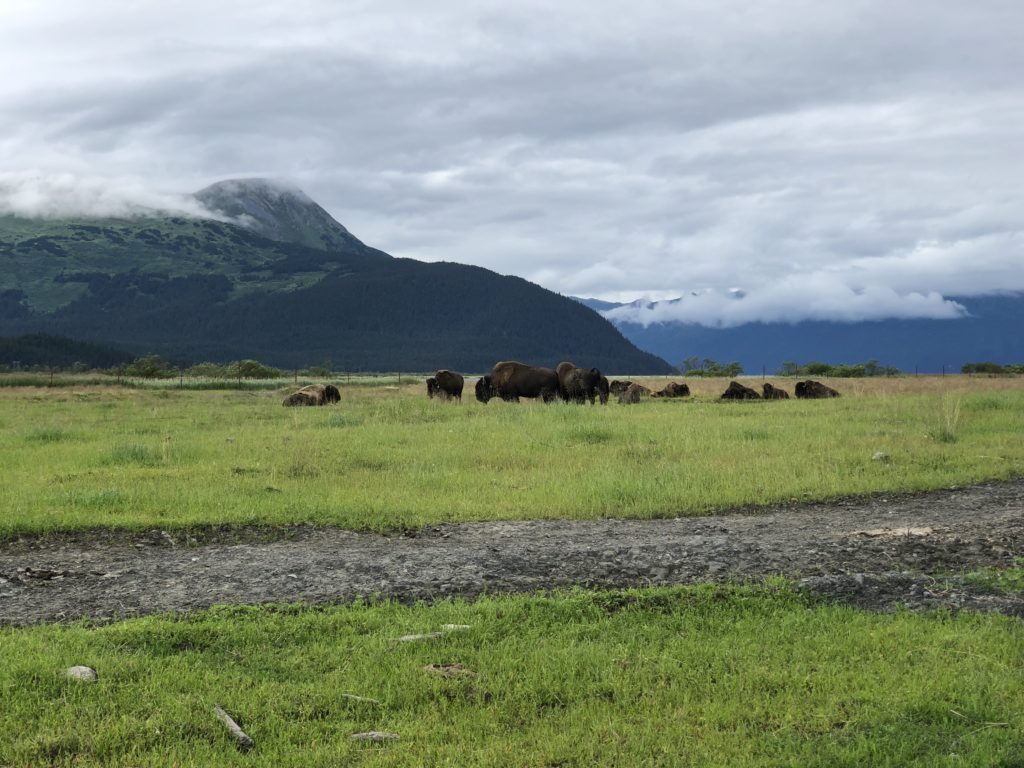 Bison in the field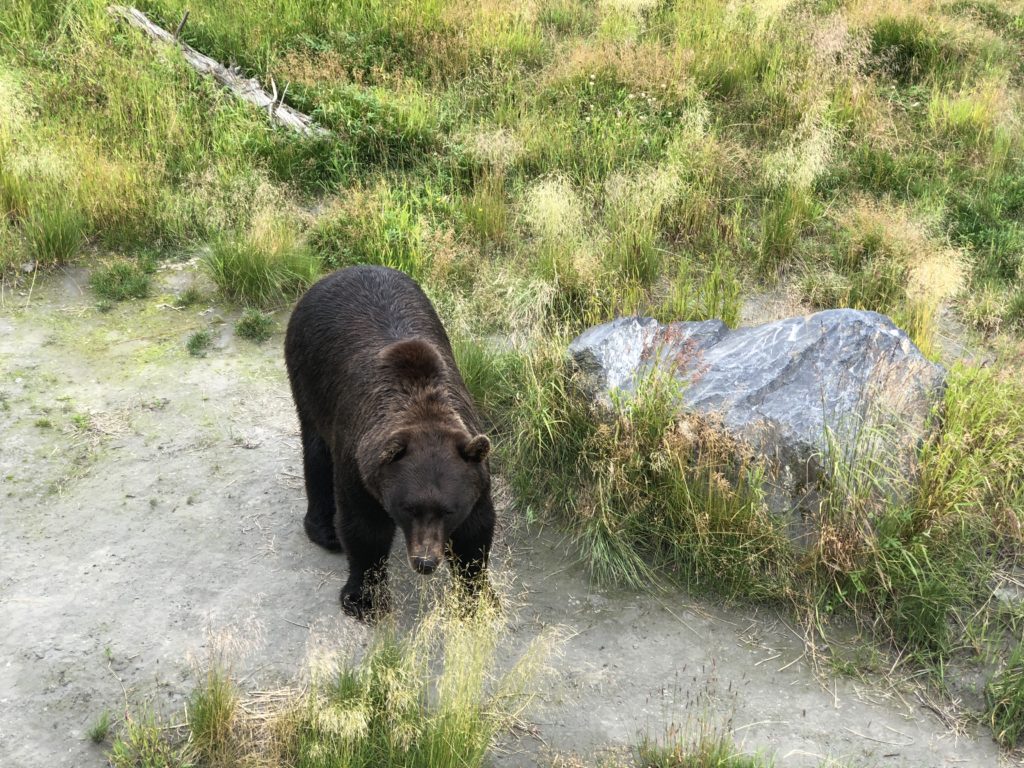 Brown bear at the AWCC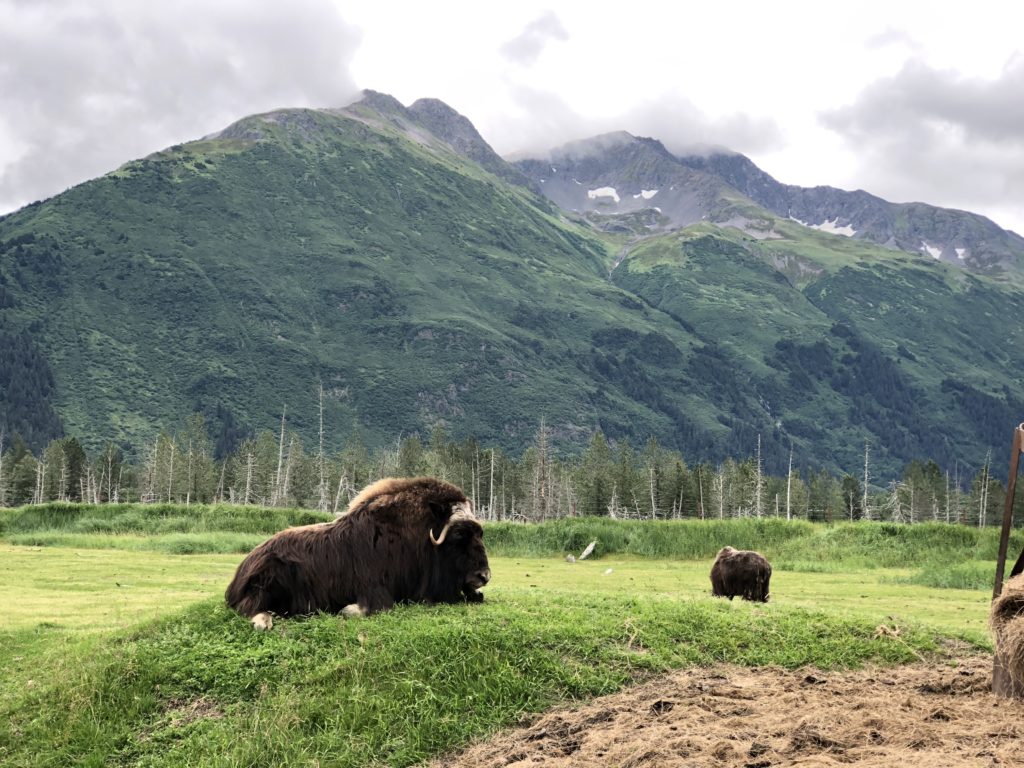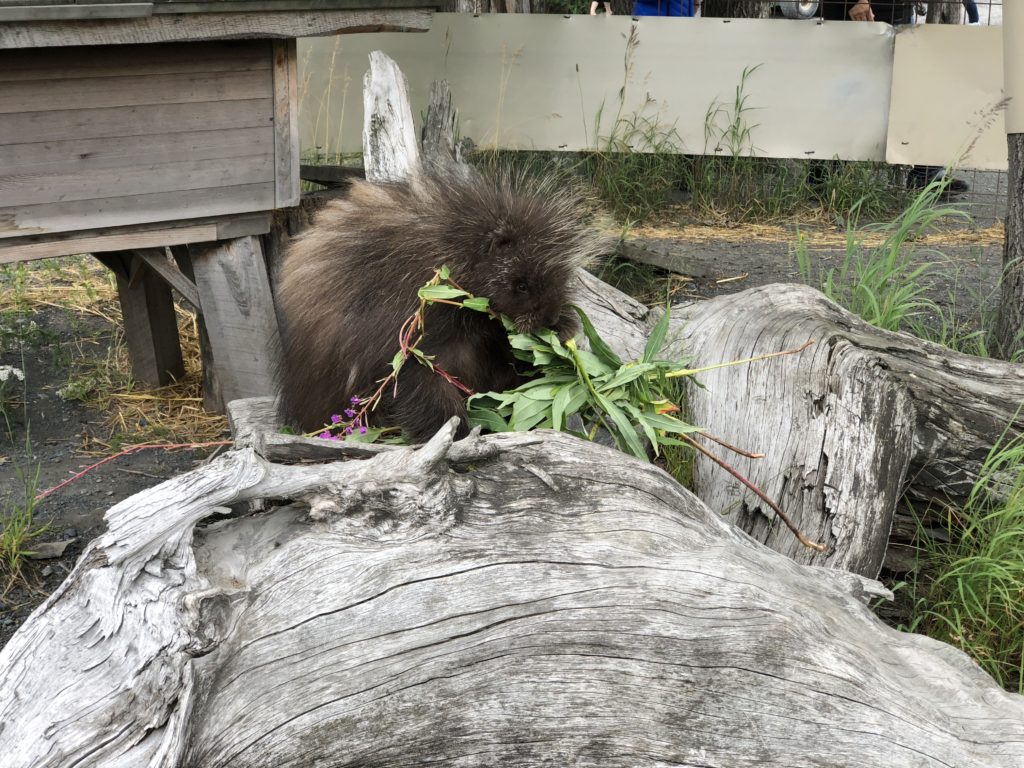 Isnt this guy totally adorable???
I love how the porcupine uses his/her hands. SO CUTE
That night we spent the night in a cabin at the Brown Bear saloon just outside of Anchorage. Let's just say it was a place with a lot of character. Haha. We went to the saloon for dinner and enjoyed some original music by a band from Seattle. They had spent about 12 days, like us, exploring and playing their music in Alaska. Ironically, pretty much in the same towns that we have been in. This seemed to me to be a very Alaskan experience. A rustic bar and saloon and hotel with a live band.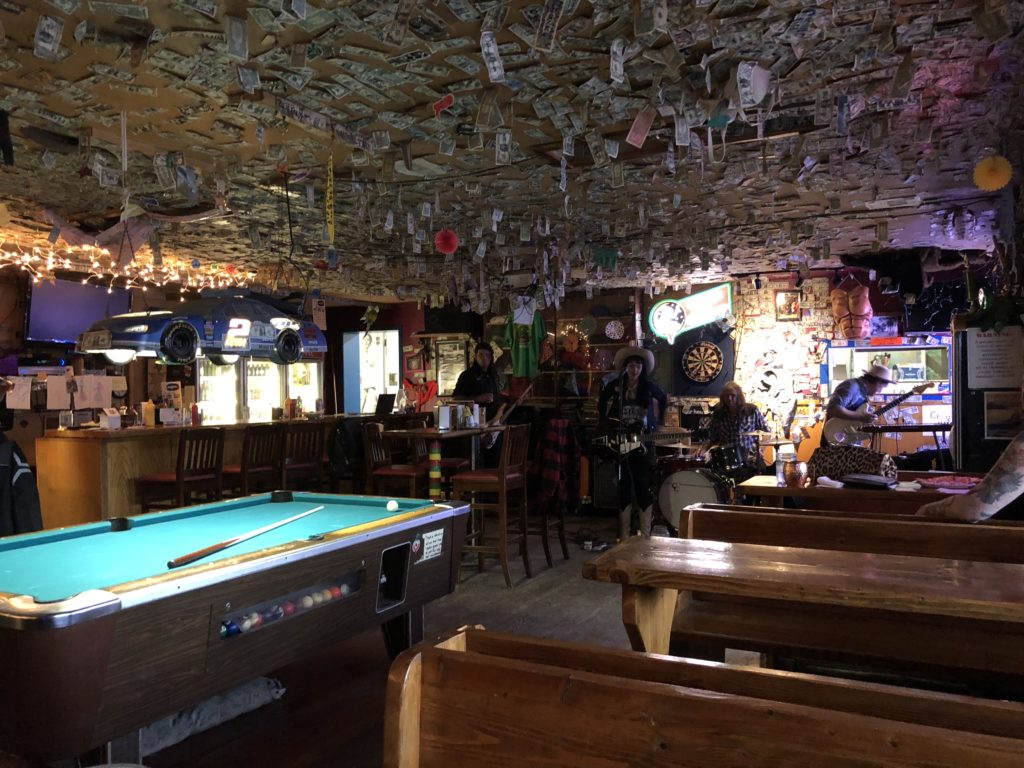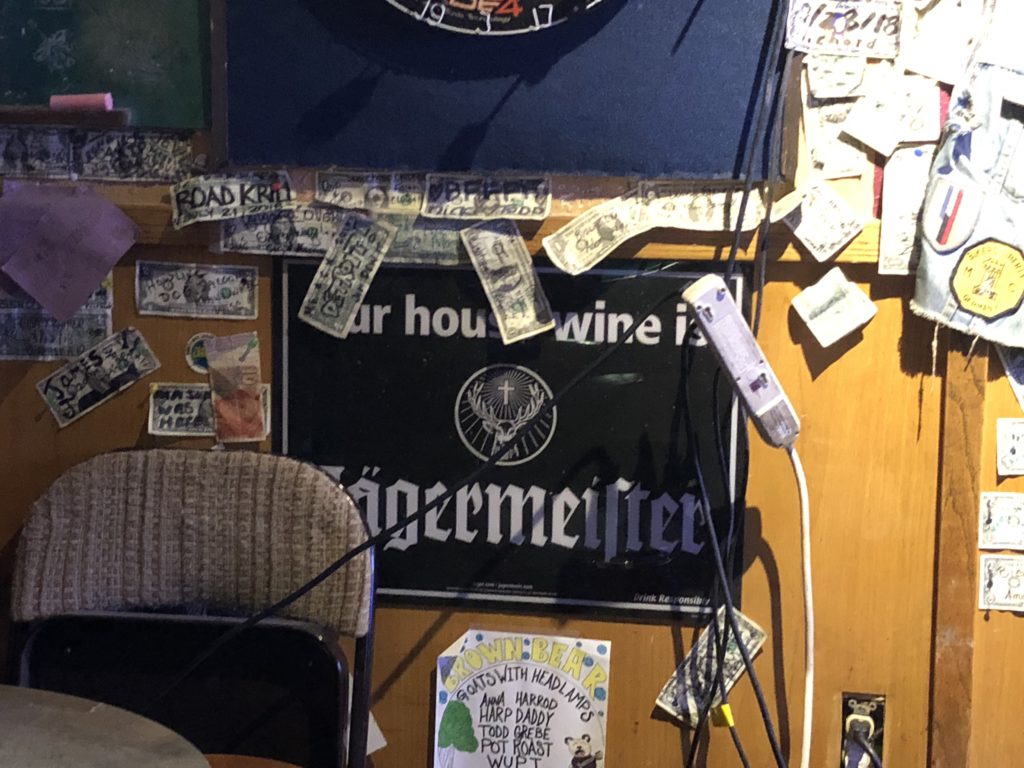 Loved this sign. So very 'not fussy' Alaska. Where flannel and boots IS getting dressed up.. HA
Jenni Don't Band playing at Brown Bear Saloon near Anchorage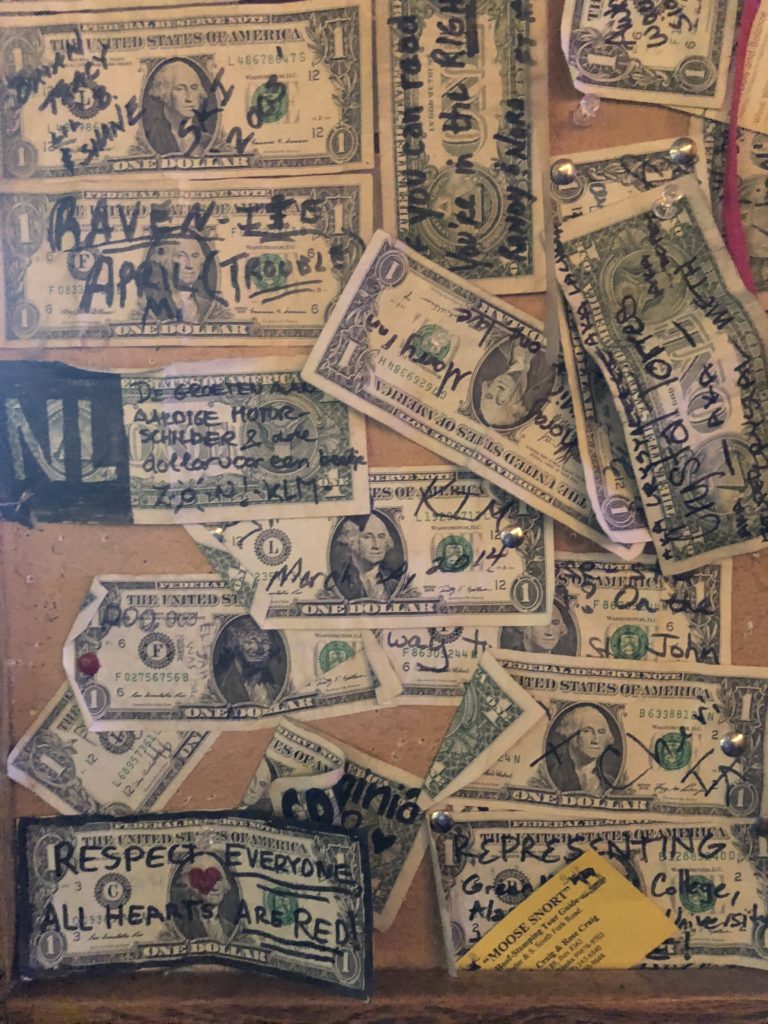 The entire place was papered with dollars, so we added some too!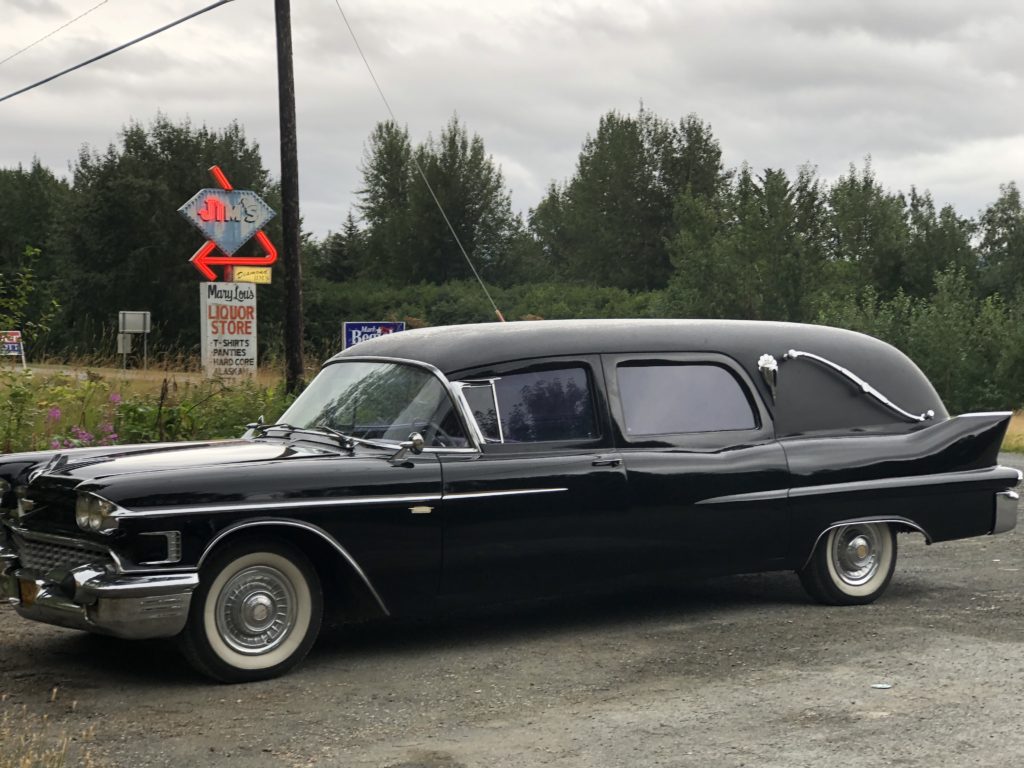 Really cool car out front. Perhaps (likely) belonging to the band.
That was about it for Alaska – next stop Canada! Lane and I were both very excited to meet up with our friends Pat and Emily, who we had met in Paris an entire year before. They were kind enough to host us at Pat's home in Victoria.
Goodbye again USA! See you soon!