We arrived in Rome via train, once again.
We took a taxi to our apartment, which turned out to be on the 7th floor of a building. The elevator took us to the 6th floor, thank goodness. Why the 6th floor? Well, like most of Europe, this is an old building probably 'retro-fitted' with an elevator long after the building was built, and so the mechanics of the elevator require some space at the top (or bottom, or both) and so the elevator car itself can't go all the way.
This is something I've noticed in so many European buildings. Whether for historical reasons or practical ones, they are all very old and EVERYTHING in them has to be 'retro-fit' to work. Like windows, and bathrooms, etc. I can see that many things have to be designed 'custom' to make them work in the specific scenario. It must be very expensive to renovate these spaces. Not to mention the logistics!
Everyone was pretty tired from a day of travel. We unpacked, chilled out, enjoyed the A/C (not so common in Europe, even when a place says it has AC, it's not like we're used to in the US) and enjoyed the deck. What an amazing view!!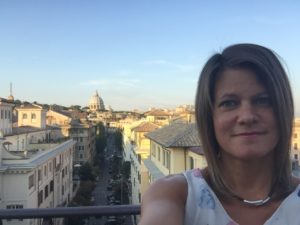 That's St Peters (Vatican City) behind me.
We then found a restaurant on the list from our host that was walkable, got dressed and headed out. The restaurant was very busy when we got there (at like 845pm) – so we settled in the bar area for some awesome drinks while we waited for our table.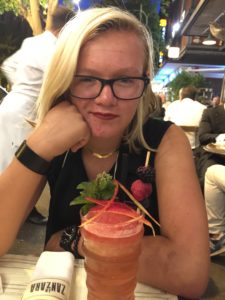 We were pleasantly surprised the hostess managed to get us a table outside (could be the $$ we were spending at the bar, ha). It was a beautiful night and we all had wonderful food and drinks!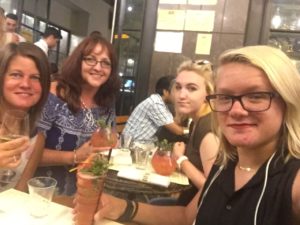 On the way home we stopped at a grocery for a few essentials. There I saw what looked like a zucchini or cucumber except it had spikes on it, almost like a cactus. I have no idea what it was. HA.
Getting home late, we had a slow start next morning.  I spent a couple hours booking a hop-on-hop-off bus tour (we were pretty tired of walking around cities, ha). As well as tickets to the Vatican (and Sistene Chapel), and the Coliseum. We had a bit of a mis-hap getting to the meeting point for the 'skip the line' Vatican entry, but it all ended up OK. Overall, the Vatican was VERY impressive, but, honestly, with all the people and crowd and aggravation, I'm not planning to do it again. HA.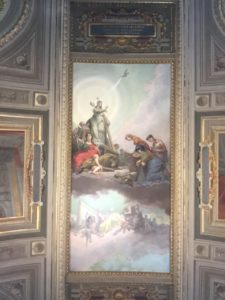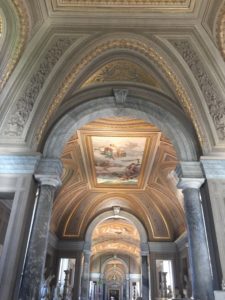 Once you're inside the Vatican, it's a long way to the Sistine Chapel. You go through many rooms of what I am sure is breathtaking art. But I'm no expert and it all kind of looks the same to me.
I almost didn't post these pics, because I think I look terrible. I think I'm hot, aggravated and a bit stressed by the whole thing. HA.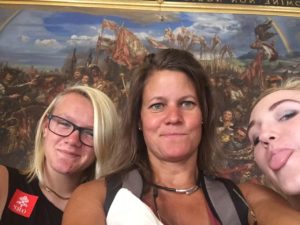 This guy, below, tho, makes it all worthwhile. HA. I have no idea what it is, but it made me laugh. I'm probably going to go to hell for that. HA. It was in the souvenir shop. For 191 EUROS! That's like $230!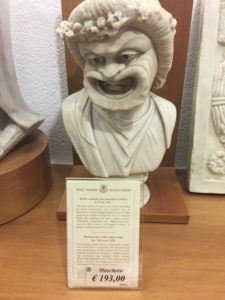 Below, this is one of my favourite pictures. It's the staircase as you leave the Vatican. Isn't it beautiful!?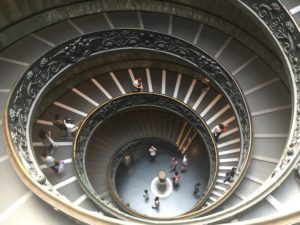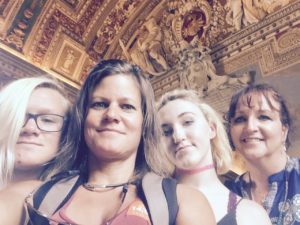 There are no pictures allowed IN the Sistine Chapel. I'm sure you can get some if you google it.
After that (and another walk in the hot sun, more gelato I'm sure – I can't keep track of the gelato stops HA), we went to our Big Bus Stop, to get on the Big Bus. That's what it was called. By the end of the tour we were chanting "I like Big Bus, I cannot lie…". A little punch-drunk perhaps, but it was fun.
The main thing we wanted to do on the bus was get to the Coliseum. The Coliseum was AMAZING! The history and the visuals were so cool.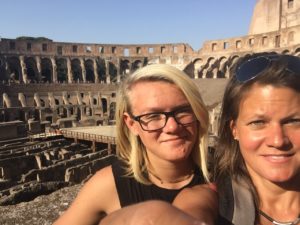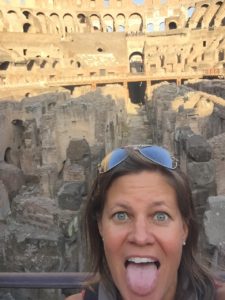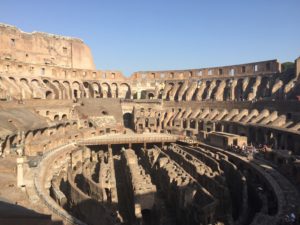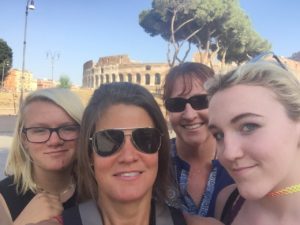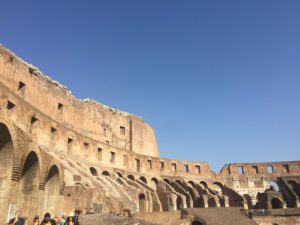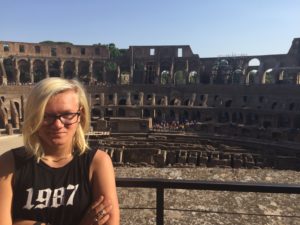 After the Coliseum and some other sites on the Big Bus (I like Big Bus….), we returned to the Vatican area. We found a cute family-owned restaurant down a small alley. The food and wine were amazing!
We had amazing gelato and crepe on the way home.
The next day, Laney and I would say "Ciao for now!" to Becky and Kaitlyn.  And Rome. We had decided to alter our plans a bit. Instead of staying in Rome for 3 more nights, we were headed out to the Amalfi coast for a couple nights. We were in need of some beach time! Some R & R!