As you can tell, I've got some down-time and I'm catching up on the blogs!
Our travels to Desanzano were pretty uneventful. We arrived by train and took a taxi to our apartment.
It was so beautiful, open with a great deck! (and a washing machine – MUCH NEEDED LOL)
And a beautiful view!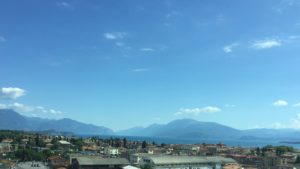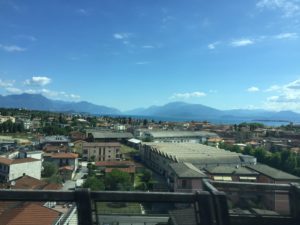 In between loads of wash 🙂 we went down to the beach. Like, right away. We were hot and a swim sounded great! When I say down, I mean DOWN. It was a walk down some steep hills. But OMG it was so beautiful!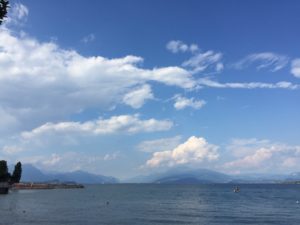 The beach was smooth stones, not sand, and for feet sore from walking Venice, it was a little tough at times! We swam and chilled for a bit, then had dinner at this great place right on the beach. The restaurant employs people of unfortunate circumstances in order to help them out. We never found out the exact details of the types of circumstances, but the food was amazing! (as always).  (here)
The next day, Becky and I went to the grocery store and on the way back saw these cool peddle boats with slides, so we reserved one for later in the day. The girls were pretty excited when I told them about it.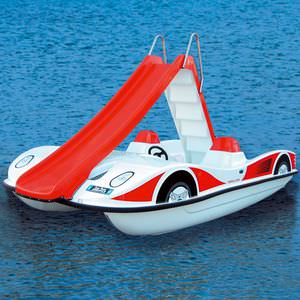 We had a great day between our lounge chairs and the boat. The water was the perfect temperature, although I never could quite get used to the fact that it wasn't salty!! That afternoon we had Doner Kabob sandwiches for lunch, at Becky's suggestion. We saw these all over Germany, and apparently they are in Italy as well. SO SO GOOD.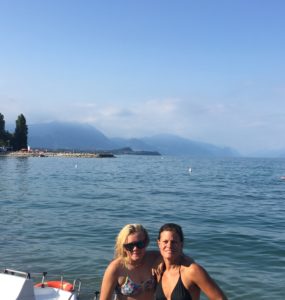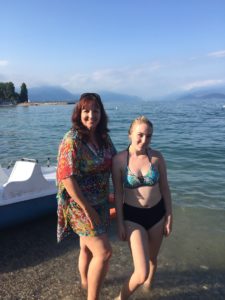 That night we went right from the beach to dinner on the pedestrian street. Great Italian food, again. HA. I think Laney had carpaccio for the 5th time. LOL.
There was such great scenery and lovely places there. We really enjoyed this frozen coffee dessert a couple nights, too!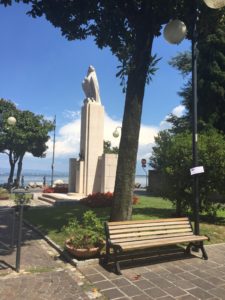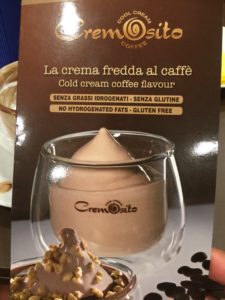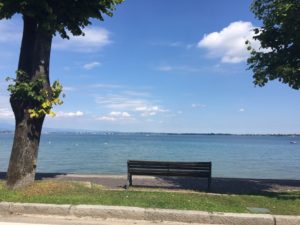 On the way to the beach the next day, Laney and Kaitlyn made a new friend. This little cat was making SUCH A RUCKUS in the entryway of our apartment. Screaming his head off! he was stuck inside, I guess. Laney and Kaitlyn let him out, pet him a bit and then he followed us for quite a while!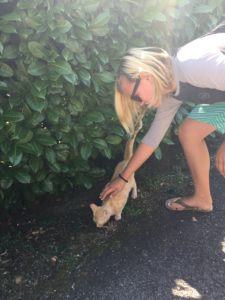 We also saw another set of ducklings.  There were two sets wandering around the beaches. They were really not afraid of people at all and would come really close!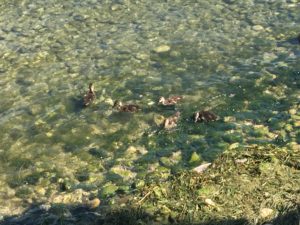 We had one last day on the beach, we rented another paddleboat for the girls, and Laney also took out a kayak. (that's her on the yellow kayak in the picture below)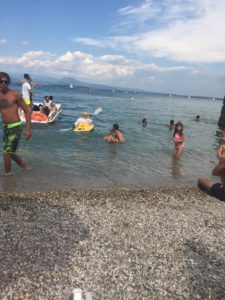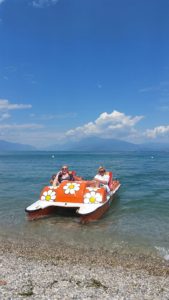 We had another amazing dinner, and we were OFF to Florence!!