Hello! As you may have read in my post from Copenhagen, we decided to make a stop on the way to Amsterdam, because the train ride would be 11-12 hour otherwise. And, if we can avoid that, I guess we should.
The stop in Bremen was mostly a rest. We stayed in an Airbnb, again. This time we had a room in a lovely lady's house. I don't think there were any other 'rooms' – there weren't any other guests, though it had the feel of a B and B. She even made us breakfast. It was my first time eating a soft-boiled egg in one of those egg-holder cups. I was glad there was no one but Laney there to witness my clumsy attempt at figuring all that out! HA! I loved it though. I may need to add that to my food repertoire on a regular basis. I do eat a lot of eggs. Tho, I will need one of those special cups. Hmm.
The first day there, we arrived in evening. After settling in a bit, we wandered down the street for dinner. I had a great piece of fish. Laney had a steak that she couldn't really eat, it was so grisly. Oh well.
The next day we mostly chilled. Worked on blogs and future plans. By afternoon, we decided to head into the main part of Bremen, get some dinner, etc. Again, with the tram system. HA. it worked out fine. In doing just a little reading, I decided on a 'funky eclectic' area. Those are usually the most entertaining. This was no exception. Laney picked the restaurant, and she did a lot better than I had the night before. The prices were better, the people were nicer, the beers were great, and Laney had a GOOD steak for a lot less money. HA.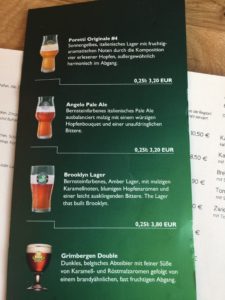 I was surprised to sere they serve the Brooklyn Lager. HA. I didn't have that. I had something German, of course.
Before our dinner was served, I checked with the waitress and found out they didn't take credit cards so I wandered out to find a Bankomat (that word seems to work in all European countries, by the way). I wandered a while and, not seeing anything, I asked a group of people sitting outside a convenience store. It was clear they didn't speak much English, but they pointed to a building down the street  and said 'Red'. Well it had a red logo, and it turns out it was a bank. I waved on my way back.
As our dinner was wrapping up, the restaurant got very busy (it was empty inside, but busy outside when we got there). Then, there was some kind of march or something. A group of people, walking down the street (blocking traffic), chanting. I was not frightened, but I was glad we were inside. When we left? The group came back the other way. I backed Laney into a wall until it all passed. It was a little unsettling, not having any idea what they were saying. There was maybe 100 people? And, typical for the area, they were not the most wholesome looking people. HA. It was getting dark so we headed for the tram stop. We saw a few cool things on the way, then hopped on the tram to get home.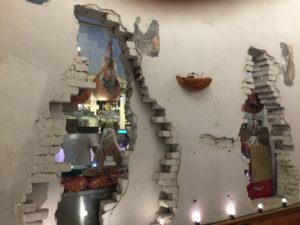 Cool 'hallway' that leads back to a restaurant, but on the side was some openings to a deli. There is glass in the openings. I thought it looked really cool.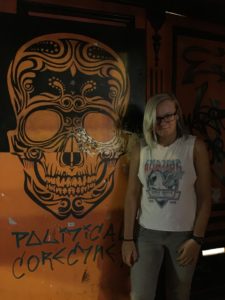 Skull. Laney. 'Nuff said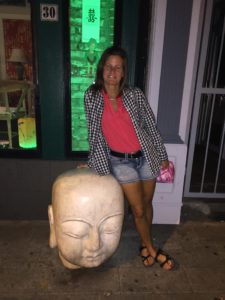 More my speed. Namaste.
The next day, our hostess called a taxi and we were on our way to Amsterdam. So excited!