Authors Note: Sorry it's been so long since I've posted – I had very little connectivity in our last location (South Africa!!)
Barcelona…. The only thing that matter about Barcelona is that Matt joined us in Barcelona. HA. And by us I mean me – because Laney took full advantage of the fact that I had someone else to hang with – and she vegged almost the entire time. HA. Hey – everyone was happy, so who cares?
Laney and I arrived much later in the day than Matt. So Matt handled checkin at the apartment and also some grocery shopping! Yay! We arrived In the evening.   So Matt and I headed out for a drink and a bite. Matt had already walked around during the day so he had a good sense of where the Gothic Quarter was. We wandered that way, taking in the sights. We were a bit hungry so we decided to stop at a beautiful second floor bar/restaurant. We had to wait a few minutes for a table but it was worth it. We had great sangria, some paella and grilled veggies. It was a wonderful evening and we were so busy talking and catching up and so excited for the next few days that we were going to spend together.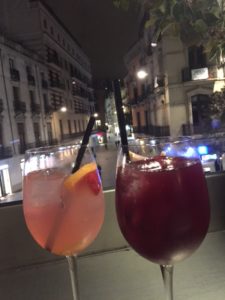 The next day we decided to take a walk around an area someone had mentioned to Matt. We had looked into seeing the beautiful church of Segrada Familia but couldn't  get tickets until the next day. Our walk wandered through a park with multiple fountains and it seemed directly uphill to a castle. From there we could see the Mediterranean Sea. This of course made us wonder if there was a beach nearby but I will get to that later. Ha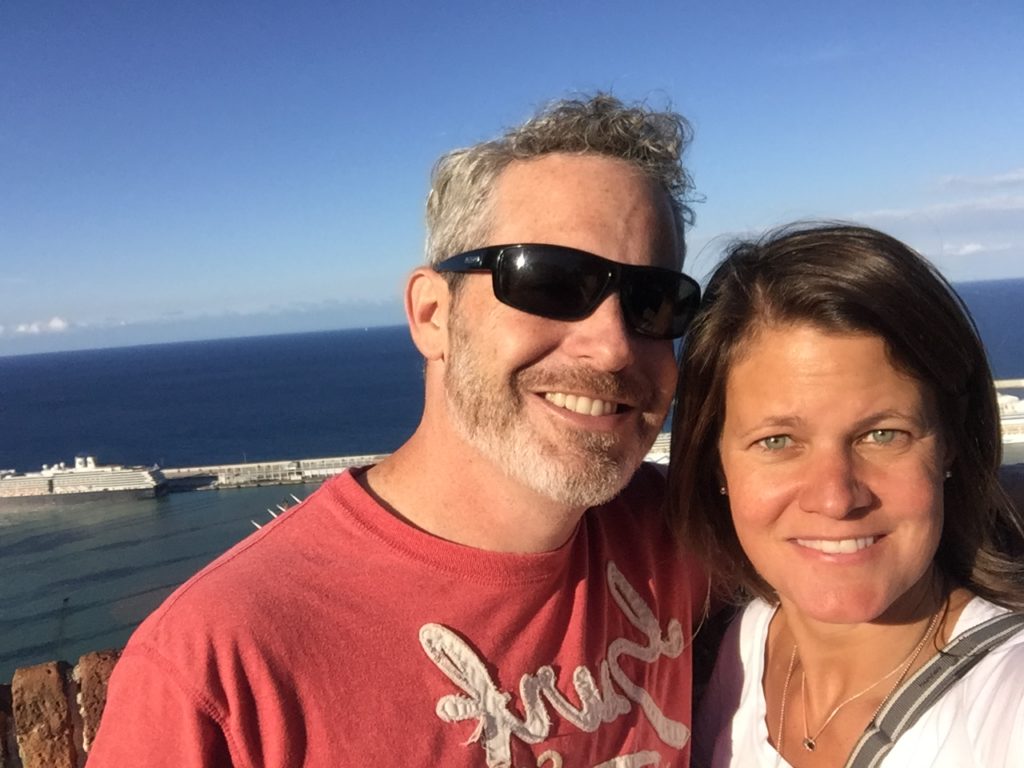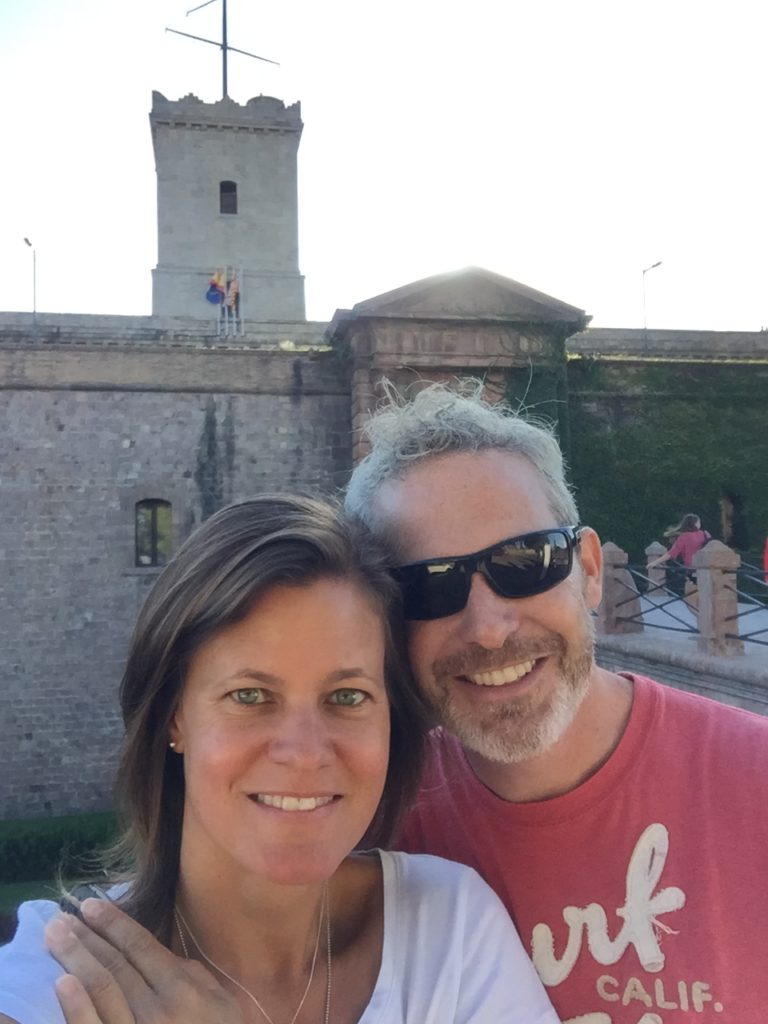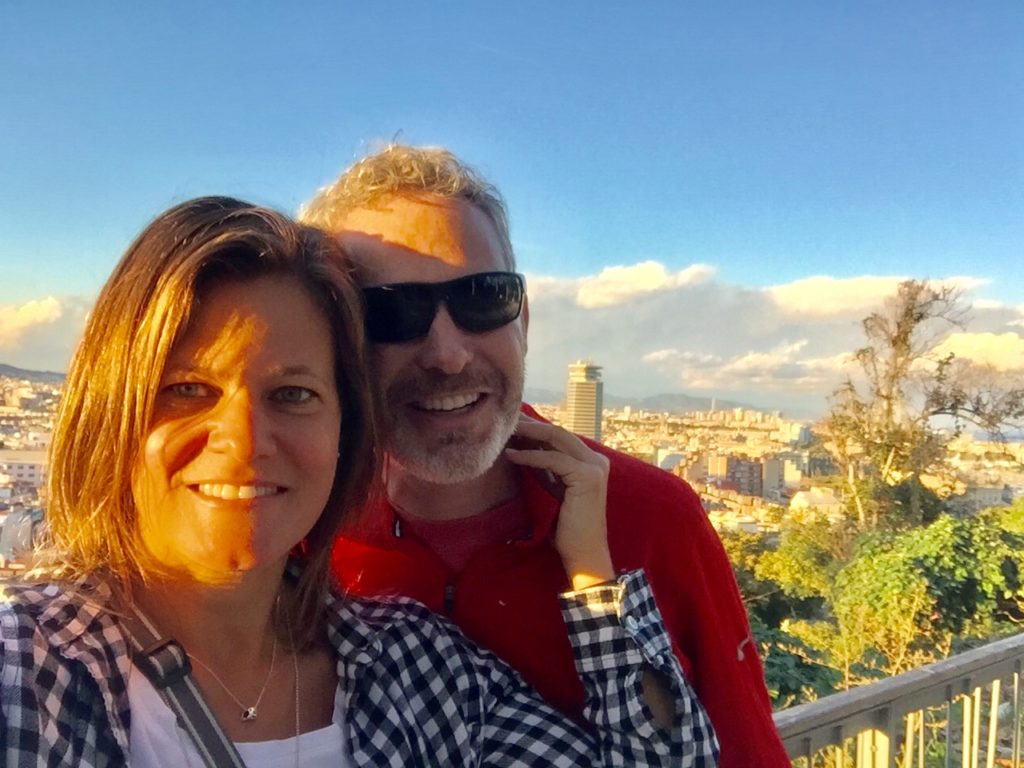 We stopped for a mojito on the way down and managed to wander our way, a slightly shorter route, back home again in time to get changed for dinner. A funny thing happened while we were sitting on a bench drinking our mojitos. A group of people from India came up and asked to take pictures with us. Weird right? First a woman, then another woman, then a guy. I would say in their 40s and 50s. We obliged, but I wasn't sure what the draw was??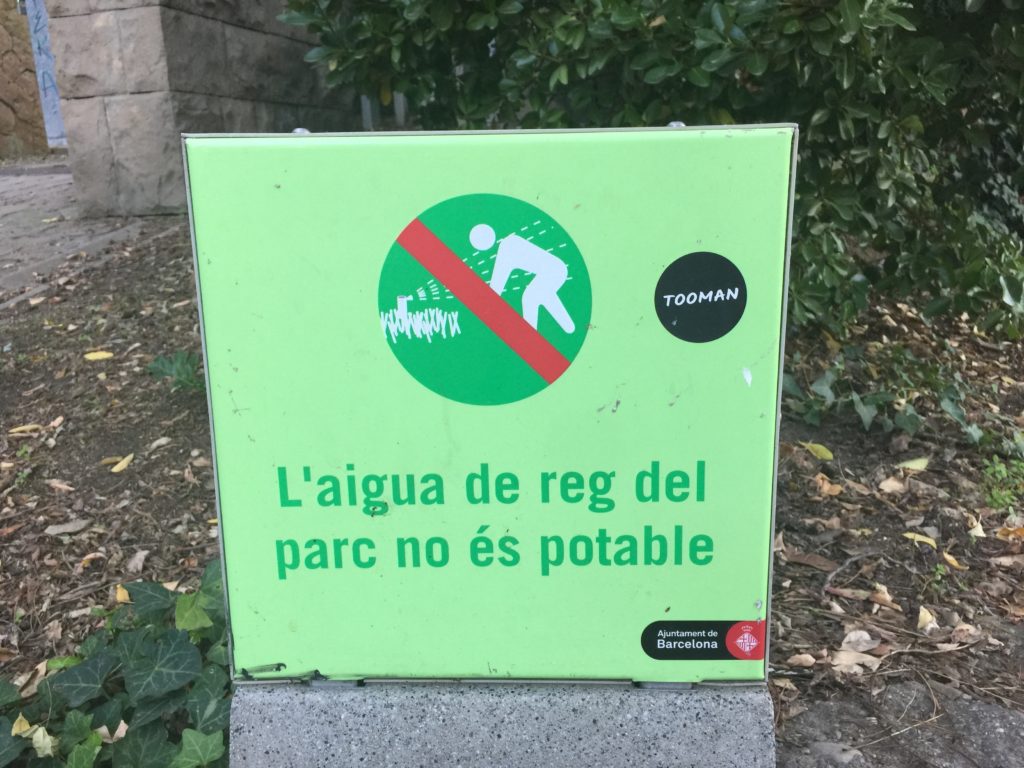 Saw this sign on the way home. Not sure why it's necessary to tell people NOT to drink from the sprinklers, but…..
On the way home we texted and asked Laney is she needed anything. Dinner. Ha. She wanted to stay in rather than head out with us. Ok! Empanadas on delivery!
Matt and I had a great dinner at an outside table. We tried some new and fun things.
The next day we headed in a different direction. First to the sagrada familia, which was so different and stunning. And this coming from someone who has had enough of churches. Ha.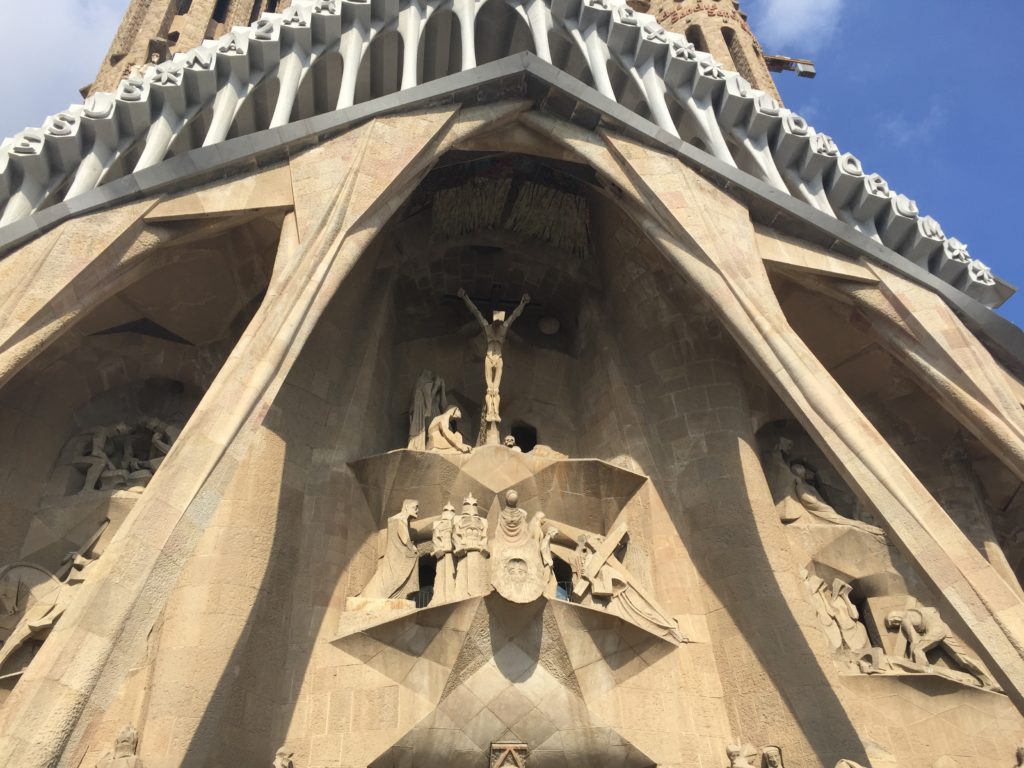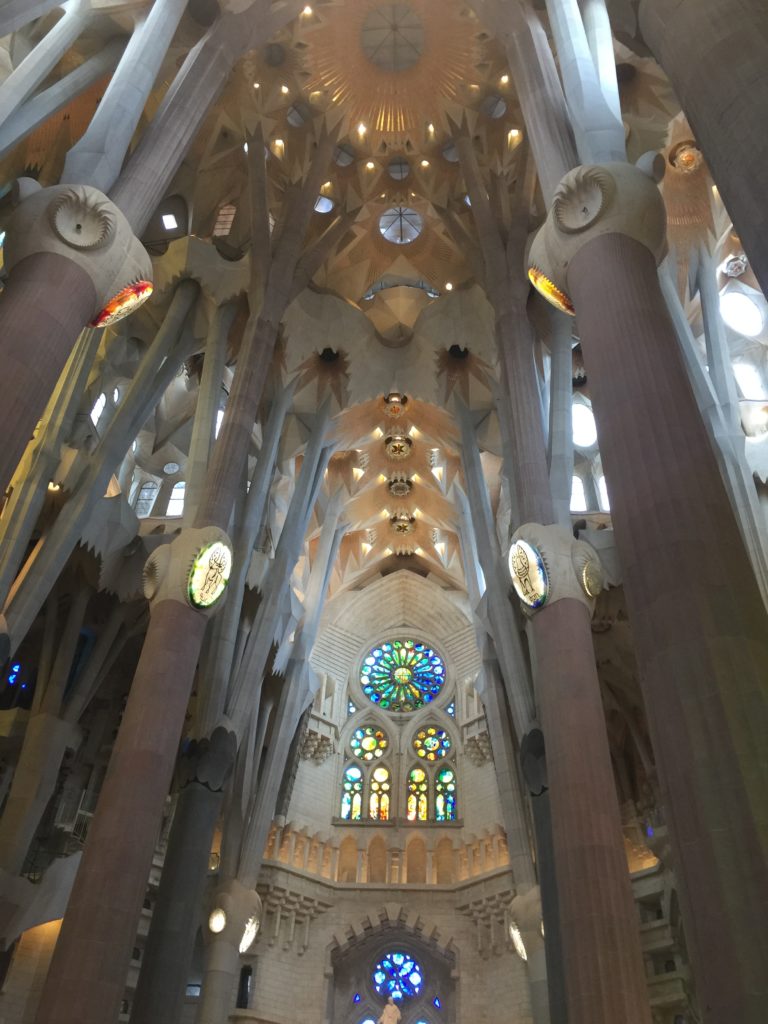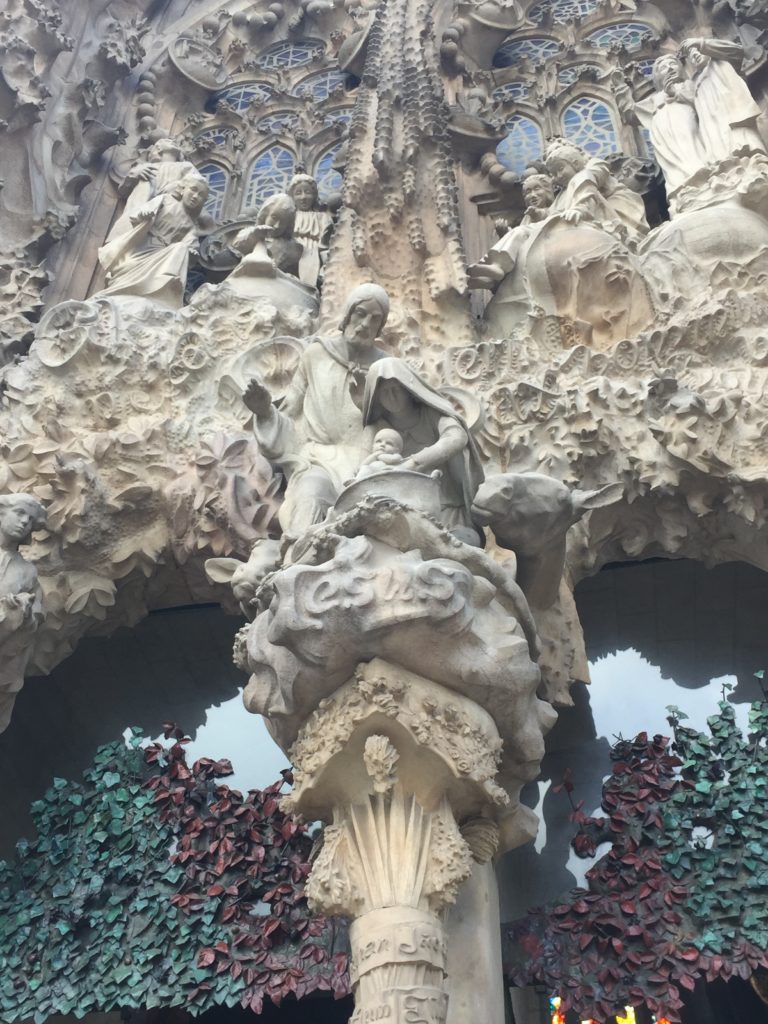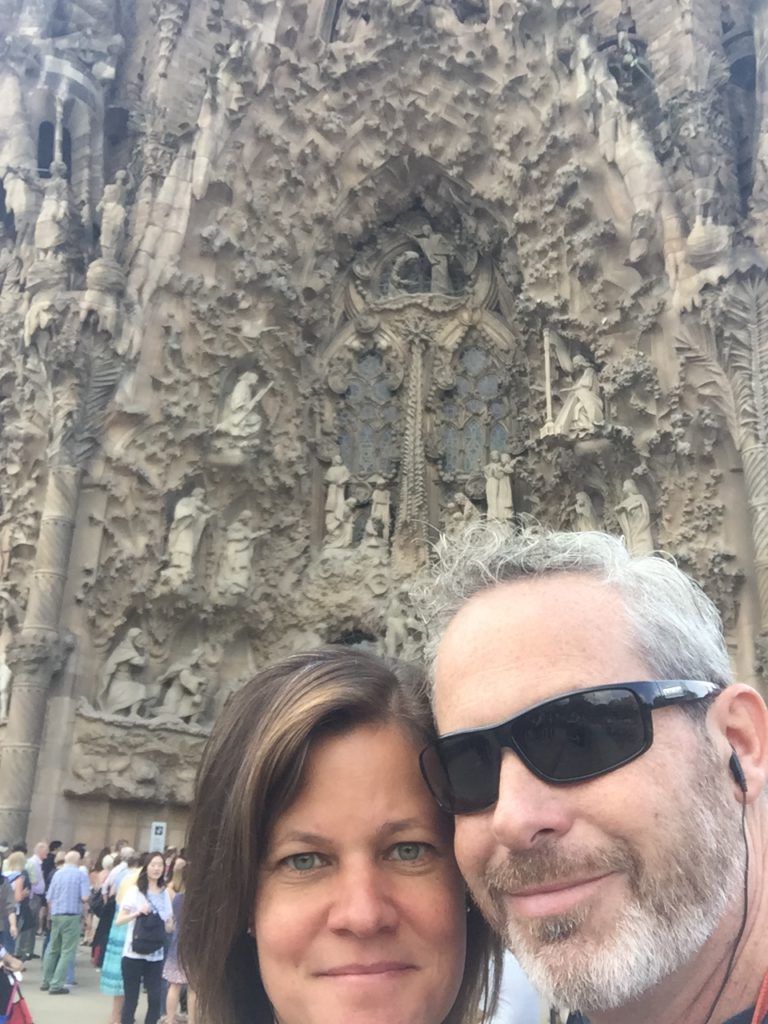 After that we had a little break and then headed to the Guell Park. Unfortunately, when we got there, the tickets had been sold out. But we had a nice walk around the park anyway.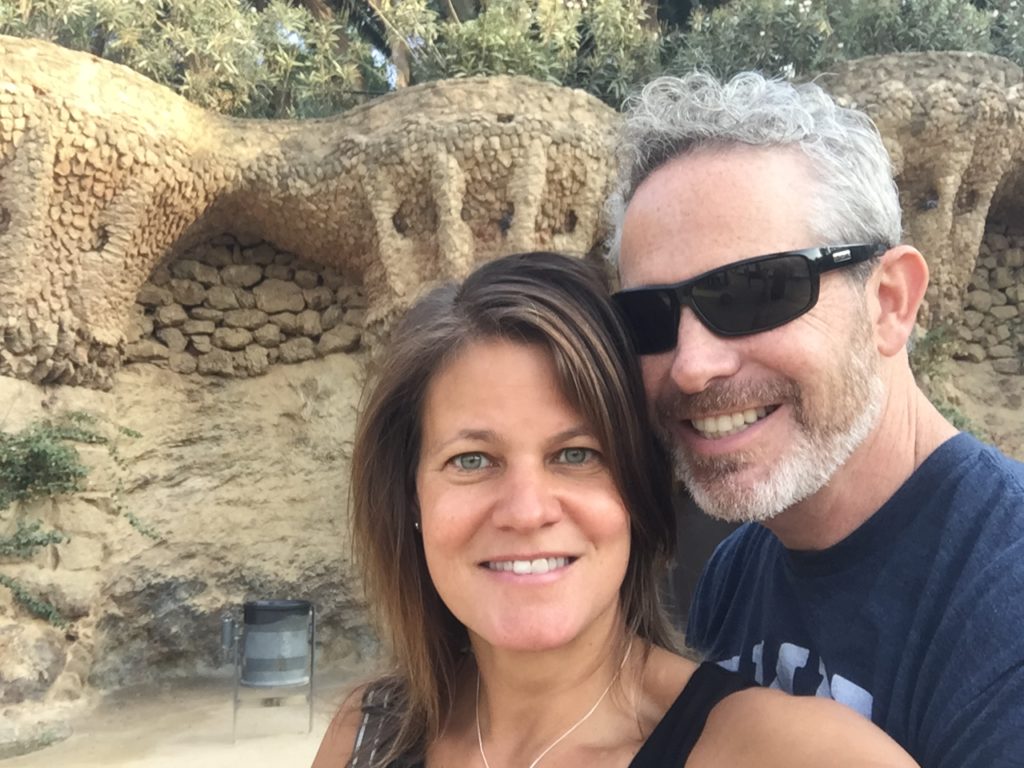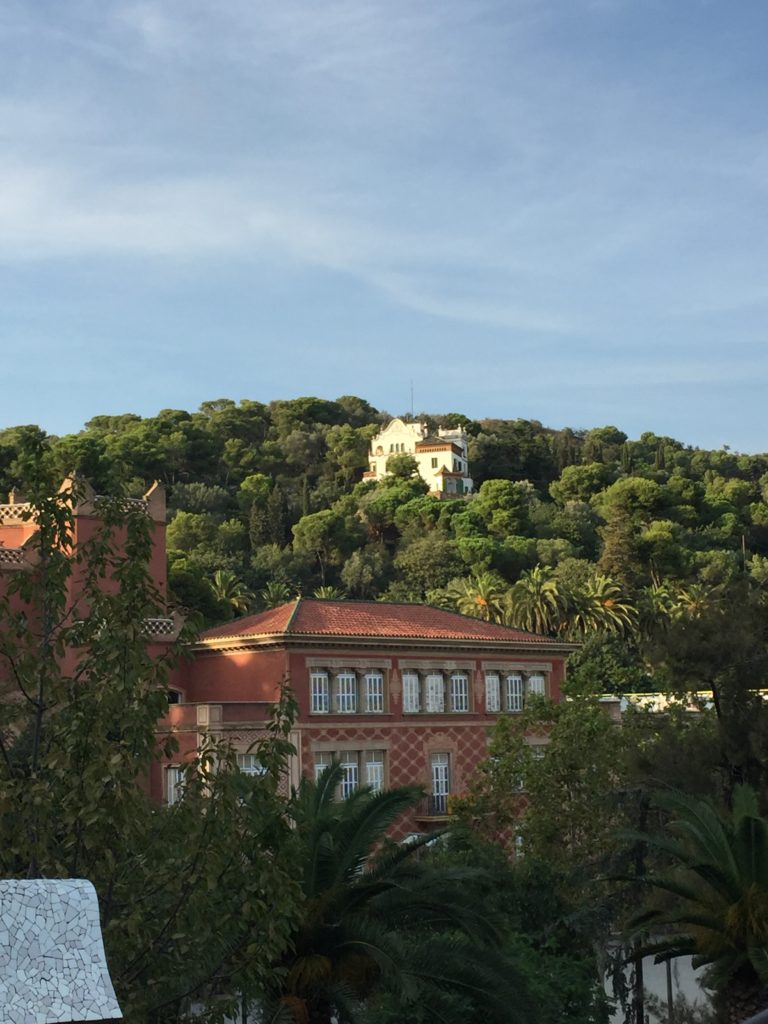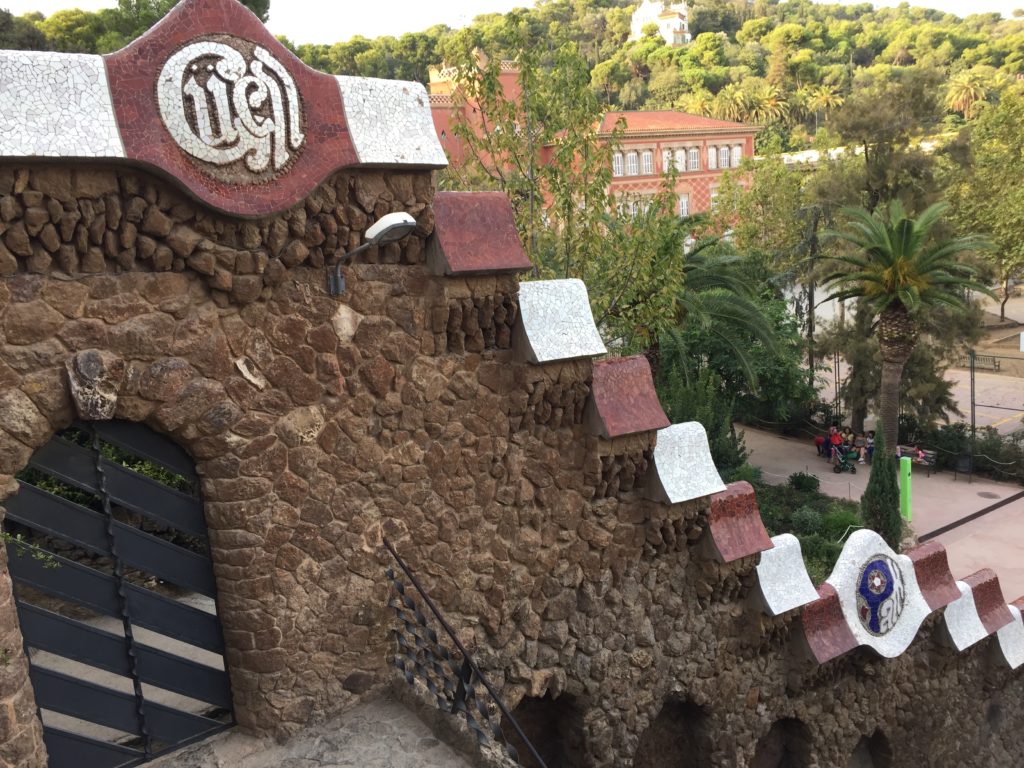 After all that walking.  Yes more uphill, I made a command decision to get a taxi home to save some time and energy for dinner.
The next day we played it low-key. We had a tapas tour schedule for the evening so we just wandered around the Gothic Quarter, and Las Ramblas for a while.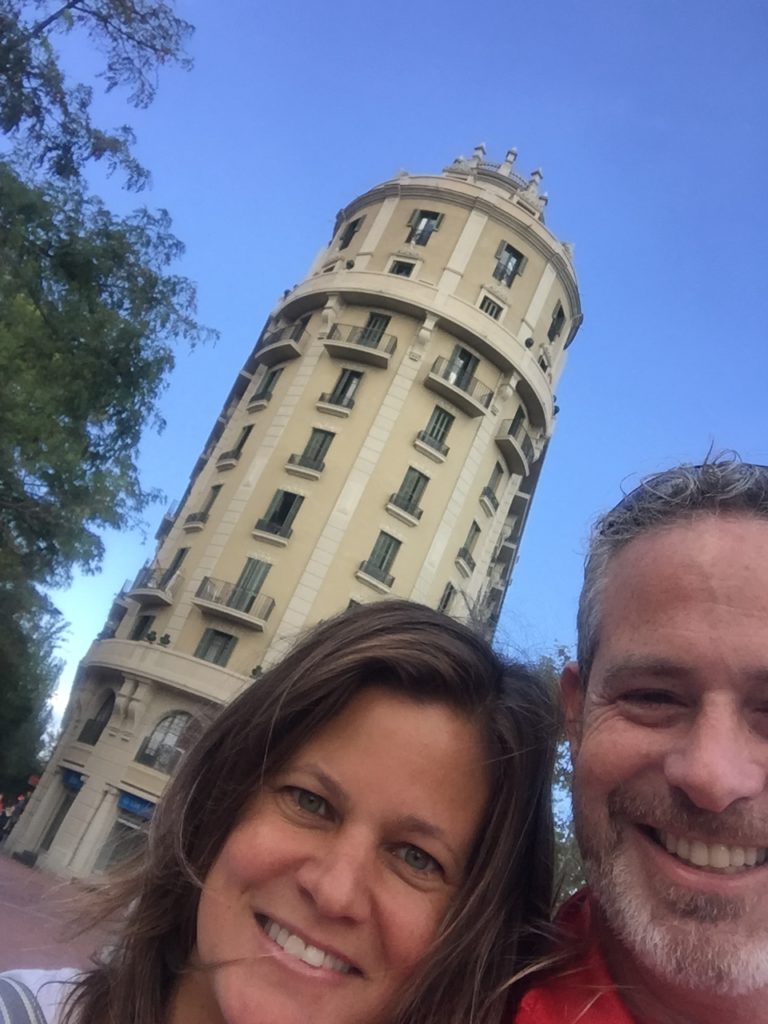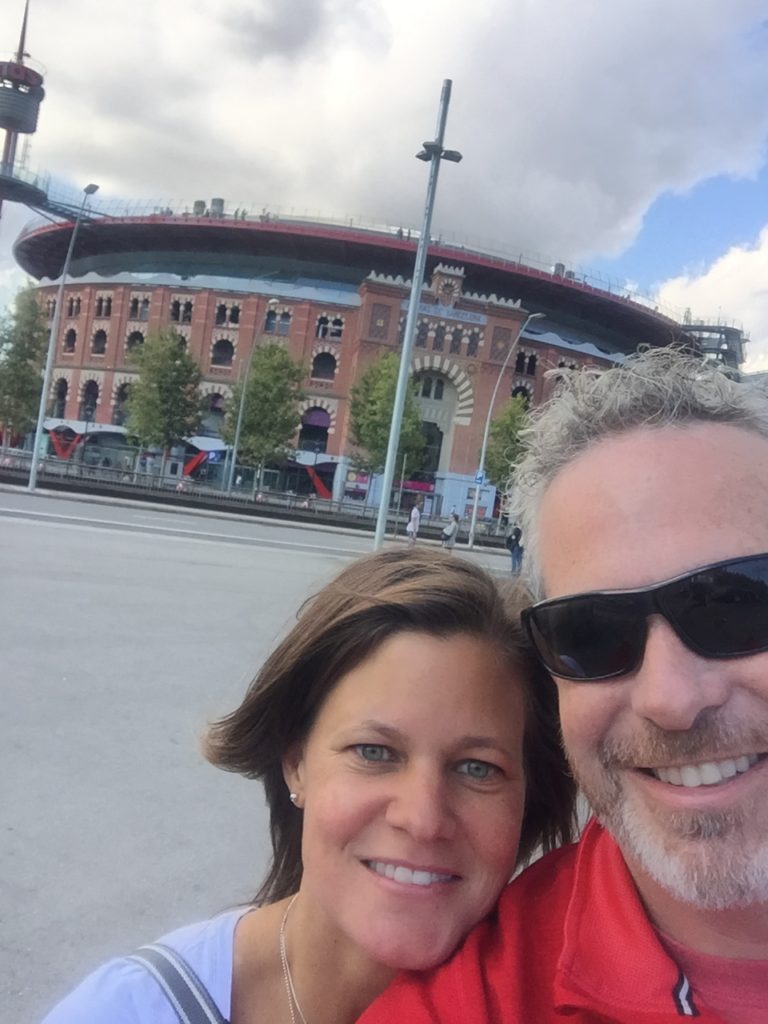 The tapas tour was great. As usual with a tour, I learned a lot. But, also as is typical, we had to tolerate some less than ideal conditions. In this case a rather obnoxious American guy. Uggg. Anyway the food was amazing. We learned there are different types of tapas for the different regions of Spain. Mountain or rustic. Ocean/seafood. Traditional. And Pintxos (pronounced pinch-O's).  We got to try all different kinds of tapas and a drink at each place. It was really neat. At the last place we were served ice cream and drank dessert wine from a special carafe – called a porron –  designed to do what kids call 'water-falling' a drink. Which means to drink without touching your lips on the container. Matt and I were the only ones to do it together. Ha. This is a random picture from Google. We didn't get any pics at the time.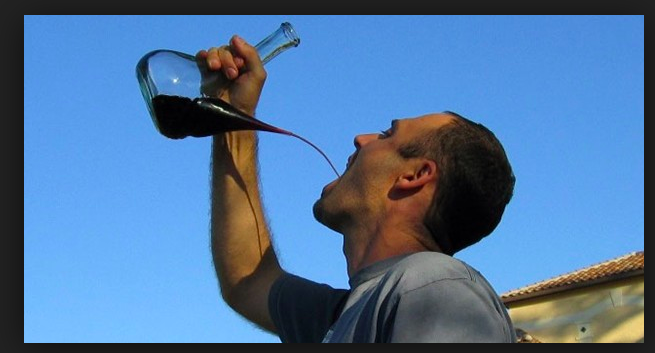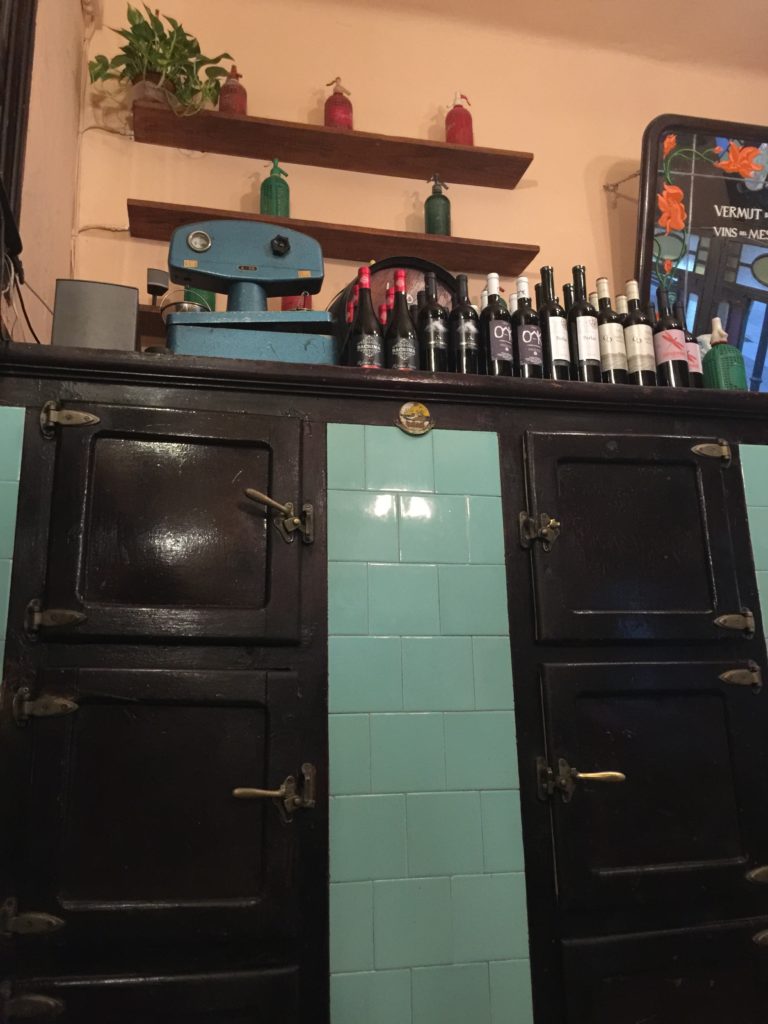 Above, a pic from one of the oldest tapas bars in Barcelona. These are the original 'refrigerators' – ice boxes.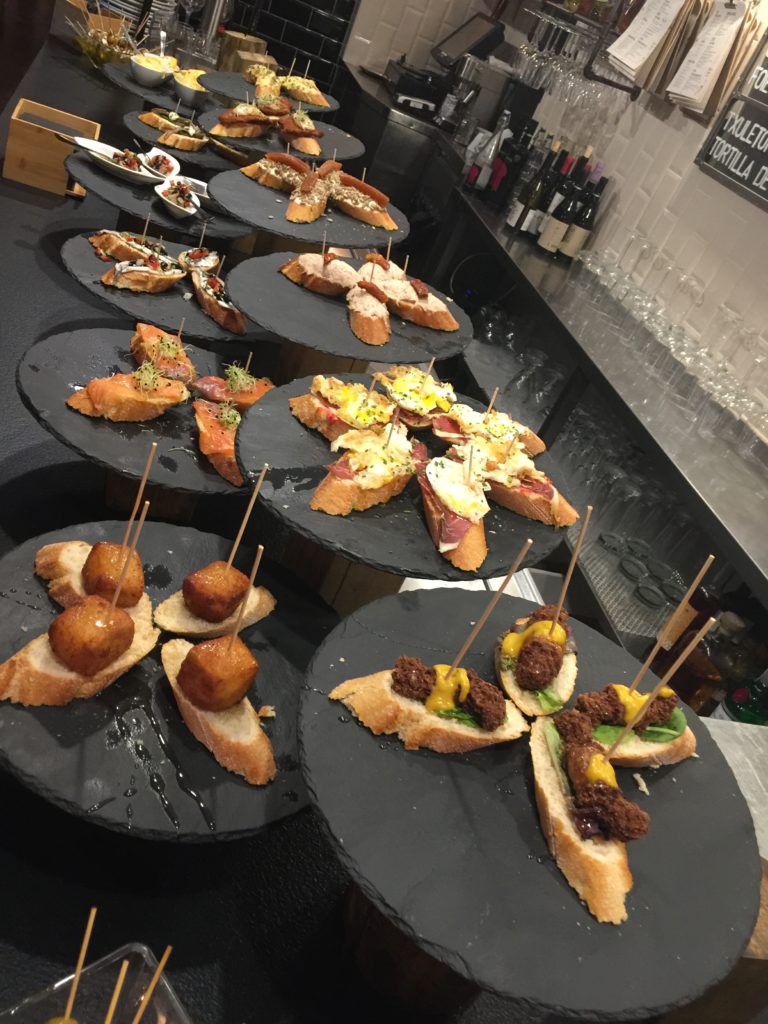 LOOK at that spread! HA
The next day was our last day in Barcelona. Laney and I had decided to send the skateboard home with Matt along with some other things including the big blue duffel we had been using. So I definitely needed to get a new suitcase. Once that was accomplished we had an afternoon left. We researched the nearby beaches and decided we could use a break from the city so we grabbed a taxi and headed out. The traffic was particularly bad probably having to do with some of the political issues at the time ( this was leading up to the Catalonia vote and there had been many signs of "Si" in support of the vote. And also some pot and pan banging at least 2 nights from 10 to 1015pm.
Anyway we arrived at the beach and it was beautiful! And quiet! Hardly anyone around. We made ourselves comfortable in a couple lounge chairs and ordered sangrias and mojitos until we got hungry.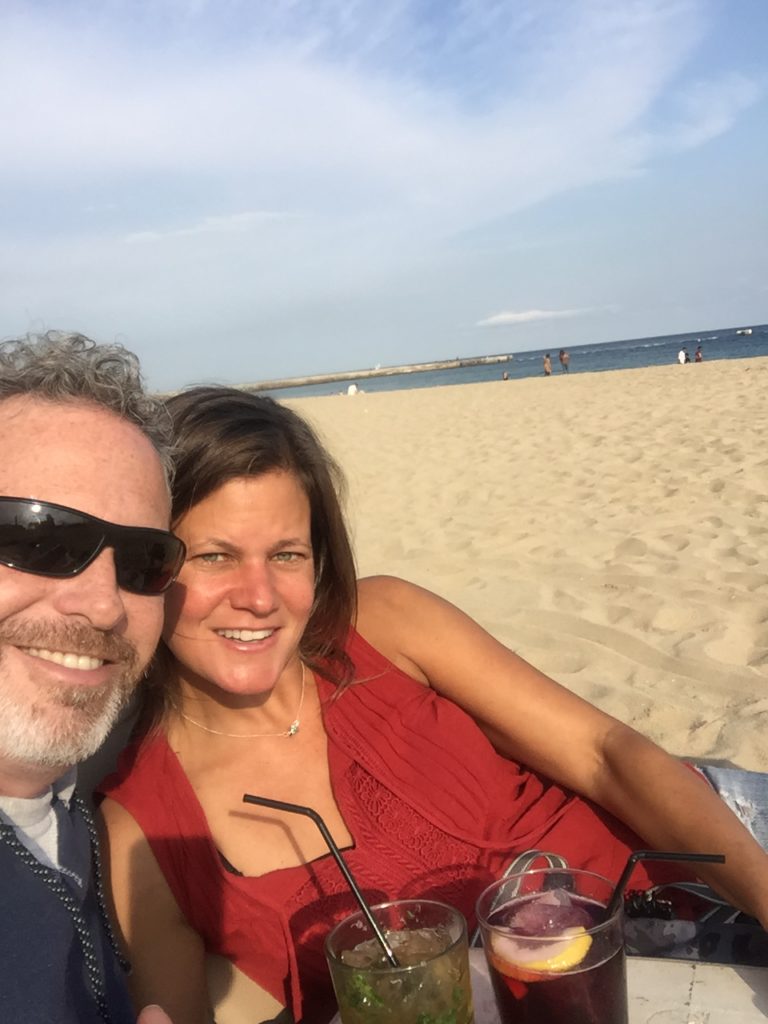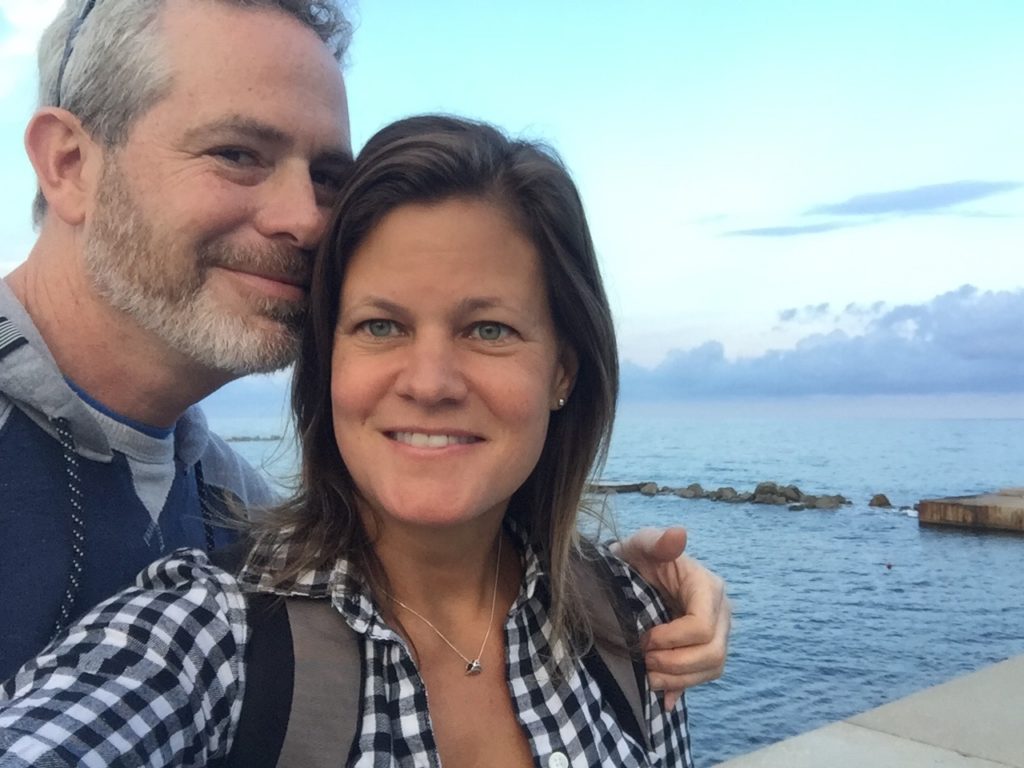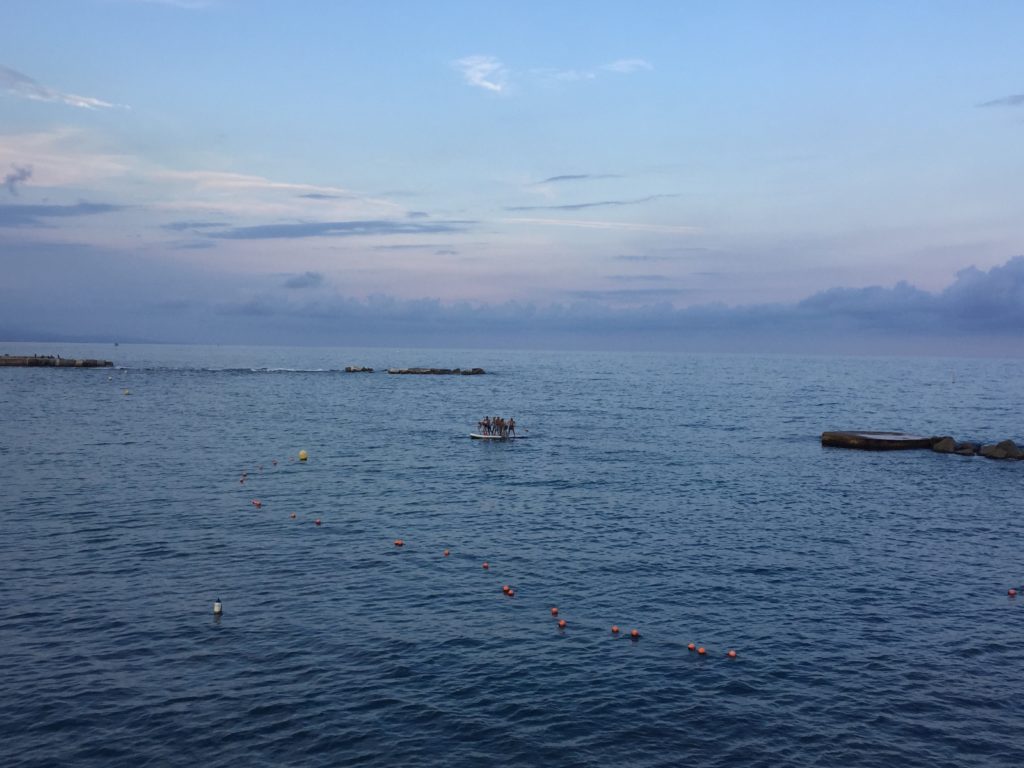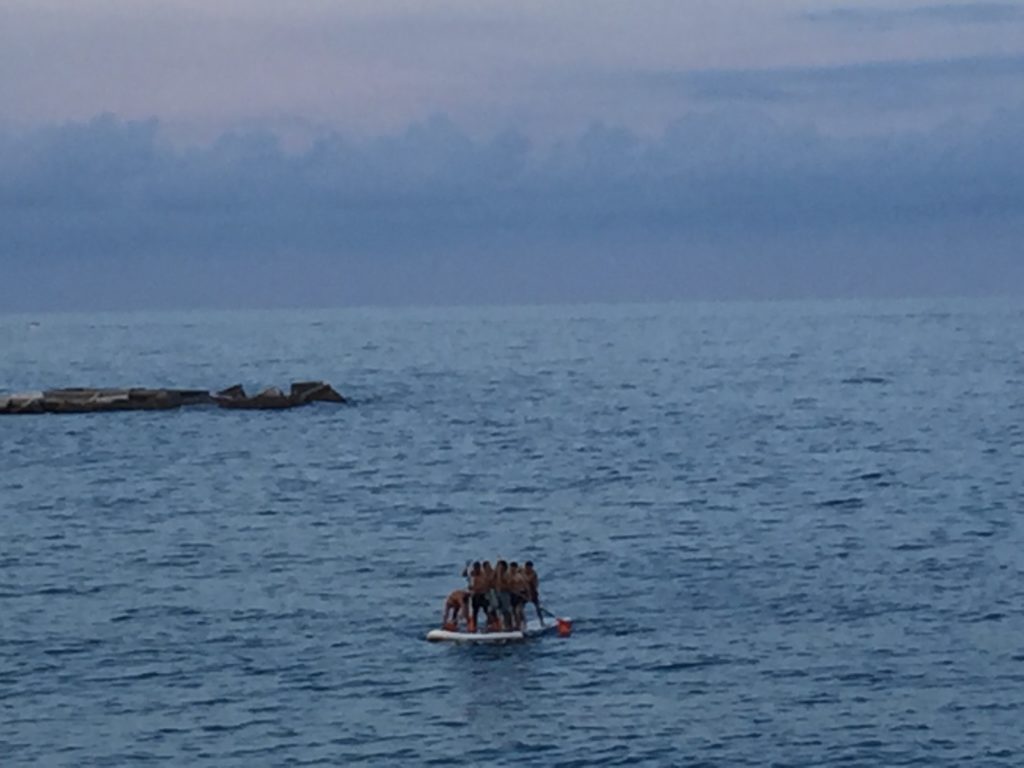 Have you ever seen so many people on one paddleboard? Let alone all men. HA!
We asked Google – and the waiter – for suggestions for dinner. We walked to the end of the concrete pier, then wandered back on the lower level which was at a big marina. There were so many restaurants to choose from! Most of them had crazy seafood displays.  We ended up at one the waiter had recommended and it was amazing. We had our own version of surf and turf. I ordered a couple kinds of seafood. Razor clams and mussels. (Funny, I have seen razor clam shells on the beach in Ocean City my whole life – but had never eaten them. I don't think they serve them in the states.)  Matt ordered a steak. The staff were crazy friendly. We had the best waiter. When I inquired about a particular seafood that I didn't recognize he immediately got us a sample to try. Barnacles!! Crazy. Big ones. They are eaten raw. And are so sweet. Like a very firm clam. But pink and small. I didn't get a picture before I ate it but I got a picture of the shell afterwards (I still have the shell – it smells a bit funny. HA!)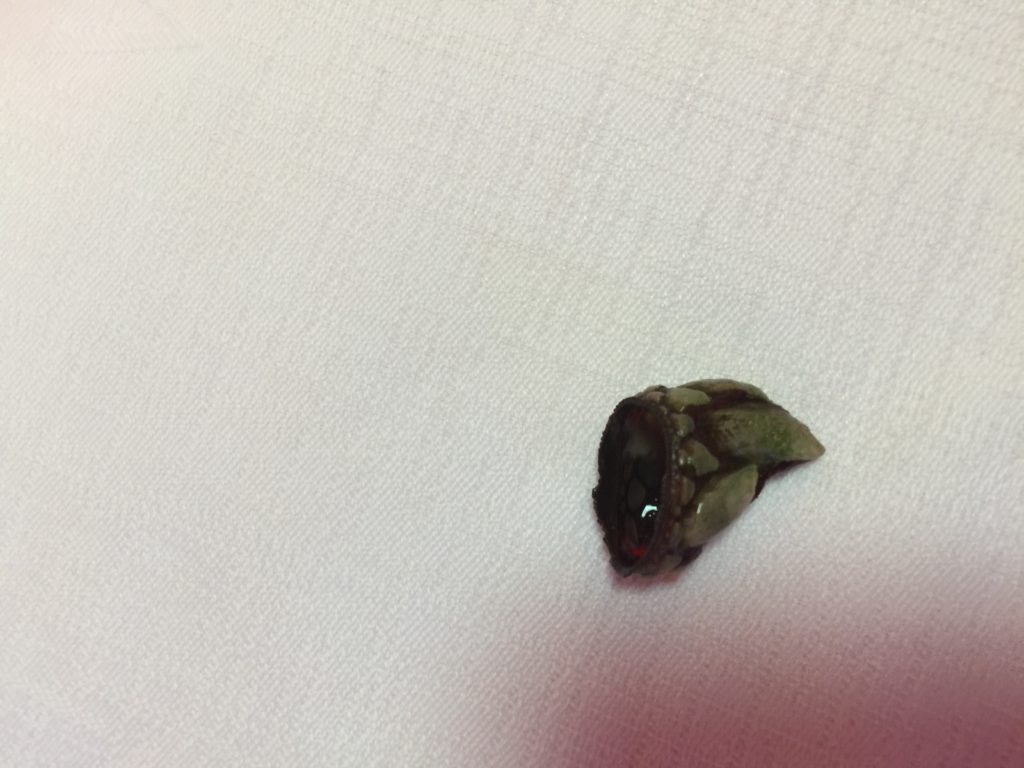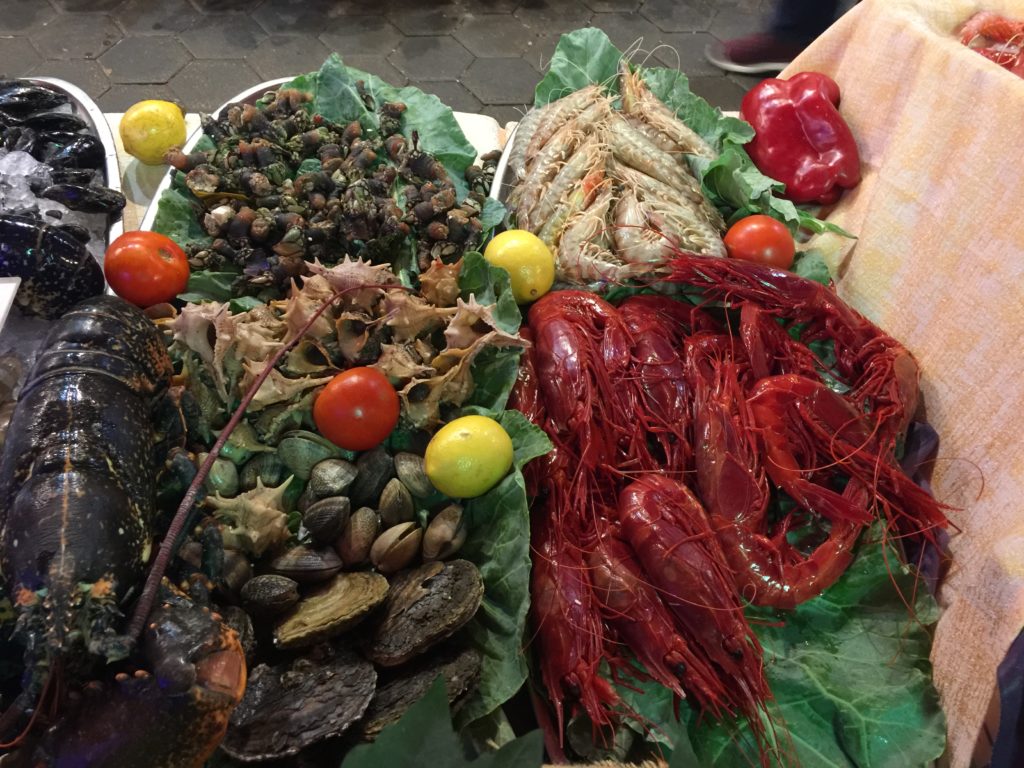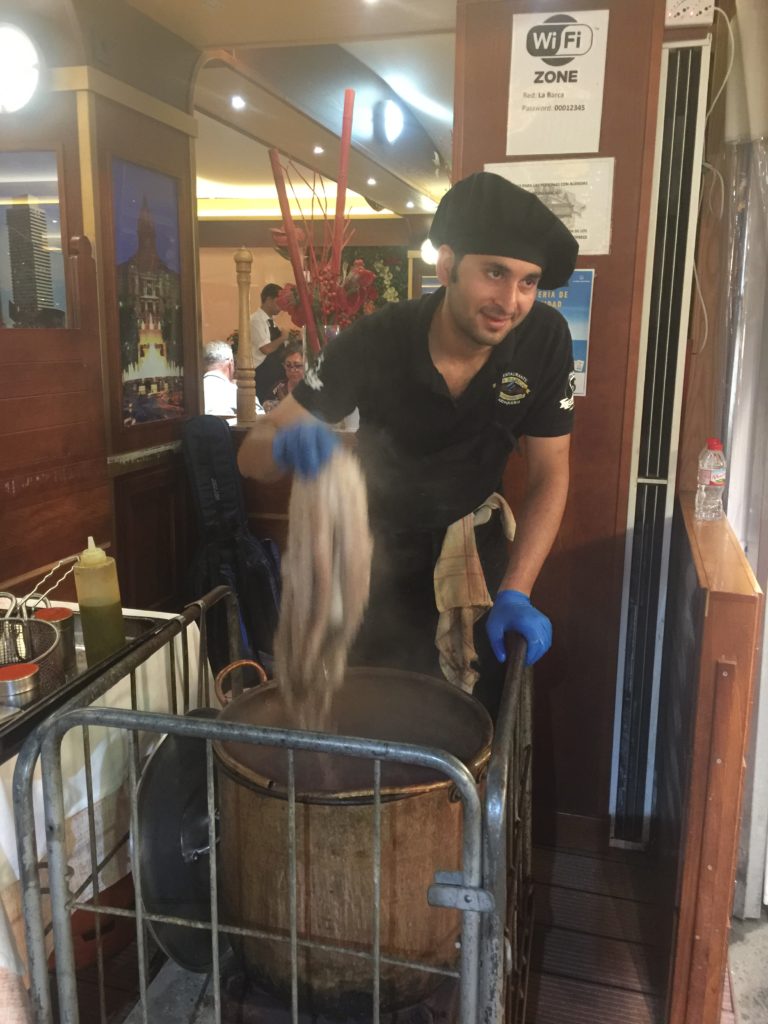 The man above was dunking octopus into a steaming pot of water.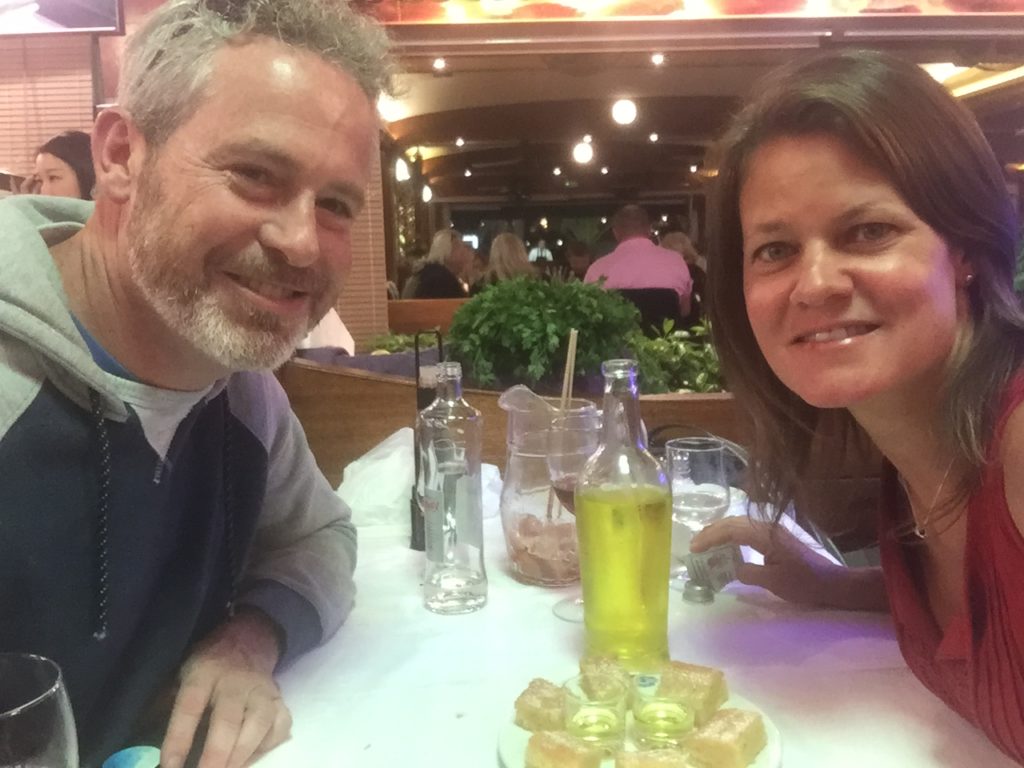 The waiter was kind enough to bring us some Limonchello-type dessert liquor to finish off our night.
YUM!
What an amazing day.  And night! We went home, packed, and were trying not to think about the fact we had to leave the next day. Good bye was really. Really. Hard. That's all I'm going to say about that. 🙂
Laney and I were off to Porto, Portugal!