Switzerland is beautiful!! In nature and otherwise.
(Authors note: I've added some pics, and when I get the others organised, I may add more).
Everything here is 'just so'. From chocolates to hiking paths, the Swiss do everything 'right'. And by that I mean, in my fathers expression, nothing is 'half @$$'.
We had a wonderful time staying with my dear friend Leslie. Her place is as beautiful as she is herself!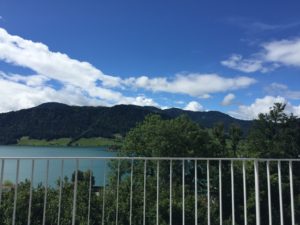 This is the view from Leslie's porch/deck and living room/kitchen. Amazing right?
Our first day in Switzerland we headed out from the Zurich airport to Zug where Leslie picked us up. We went to the grocery store on the way home and bought some supplies. Food. Beer. Wine. At home we chilled, I took a nap (it was a 245 wake up for the flight from Iceland!! yikes!) and then we went to dinner. The town of Zug is just gorgeous. Dinner was amazing although I started to feel a little off and didn't eat much. But the RATATOUILLE SOUP!! OMG!!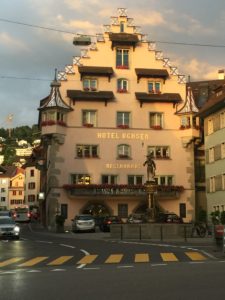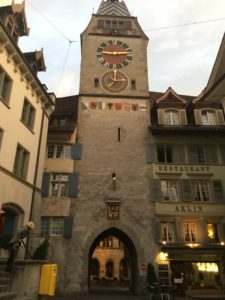 This is in the area of Zug where we had dinner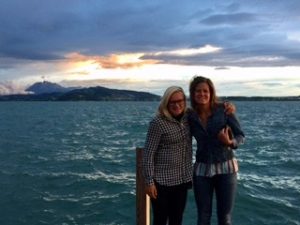 After dinner, Les took this great pic.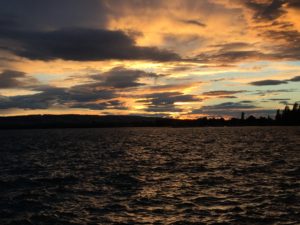 The next morning I was still not feeling too well. Combination of tummy issues and muscle soreness and slight fever. I ended up sleeping until noon. Oh and did I mention the small pebble that had been embedded into my foot from the hot spring swim in Iceland? Not that big of a deal – Just know that all is well now!!
Once I finally got moving, we headed into Zurich for the day. We took the bus and the train and it was lovely!
Zurich is a great city.  Beautiful, clean, vibrant ,with lots of shops and restaurants and of course a Victorinox. Yes. Swiss Army knives. We almost didn't get Laney out of there! She got a wonderful knife. It has a cork screw. That's all I cared about.
After that we went up to a rooftop restaurant And had a lovely drink done JUST SO. And some dumplings.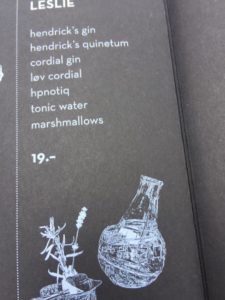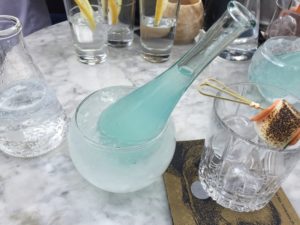 The Leslie Drink with toasted marshmallow!!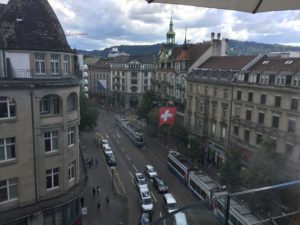 View from the rooftop terrace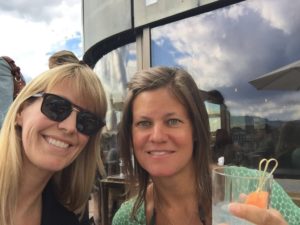 Me and Leslie!!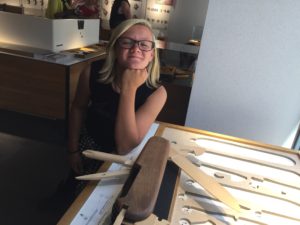 Laney at the Swiss Army store (Victorinox)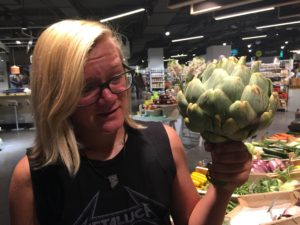 Awesome market – the artichoke was bigger than Laney's head! We cooked at ate some that night 🙂
(The produce in Switzerland is unique and amazing in that it's so fresh and so tasty. Most 'regular' markets only offer produce that is 'in season' and often 'bio', meaning organic. In my limited experiences there, I found every bit of produce to be exceptional.
After some more walking and shopping in Zurich, I was ready to go back to the house. I still wasn't feeling 100%. But FIRST the outdoor store. The backpack I bought before I left was just not cutting it. I was thinking to buy one with hip straps. But I ended up with one with wheels. As my carry on bag, I was putting in too many miles with that thing to keep lugging it the way I was.
On the way home, we checked out this gorgeous little chapel in Zug. Totally awesome and adorable. Check out the detail on the dark brown – it's scalloped-shaped cedar (I think). WOW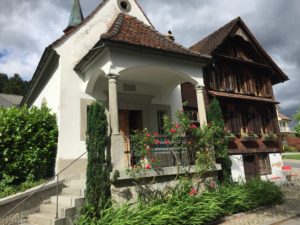 Back at the house Les and I whipped up a quick dinner and later, Laney and Les played some mini Uno.
The next day we headed out for a nice long hike. It ended up being about 20k steps (5 hours, with some photo and breather breaks) –  almost all uphill!!  OMG. I was tired, but it was so so great!
The Swiss do a ridiculously great job at their recreational areas. The paths are cleared and not just well marked but the signs even tell you which direction to which town and how long it will take to get there. Plus, whether it's appropriate for road bikes or mountain bikes.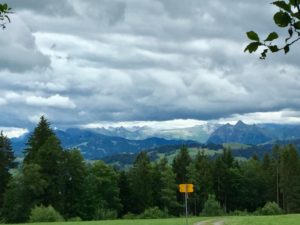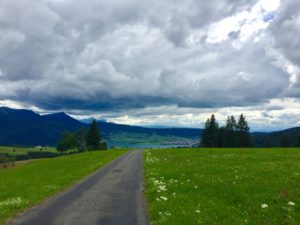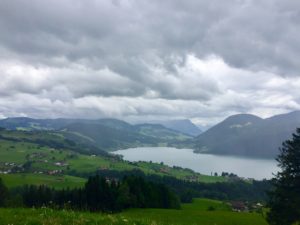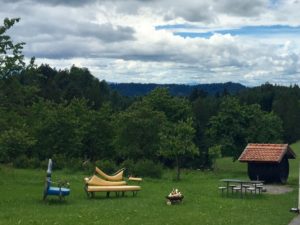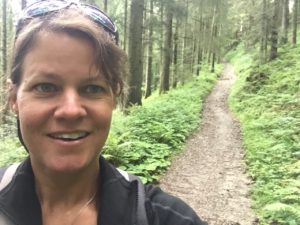 LOOK at that path!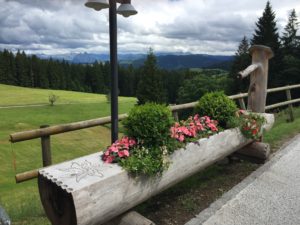 how cute is this?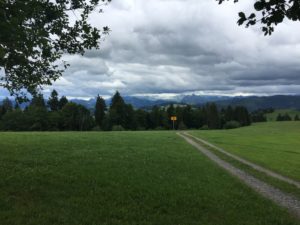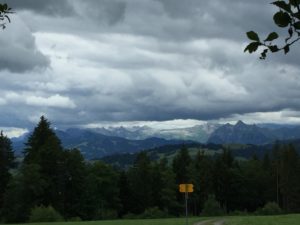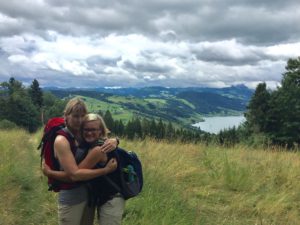 There are also nice spots to take a break. A bench or two set where the view is perfect or a fire circle like this one with benches, water (yes drinkable) and a grate over the fire for cooking. Awesome. I just love this.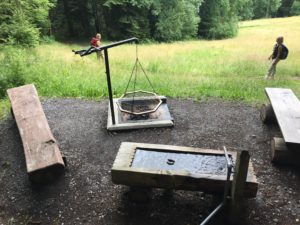 The hiking paths include local as well as national routes, and there are beautiful farms with the expected farm animals, and some not so expected. Cows, goats, chickens and beautiful bunny rabbits.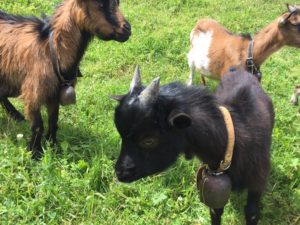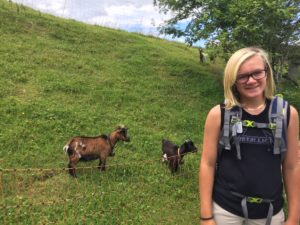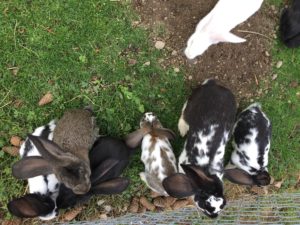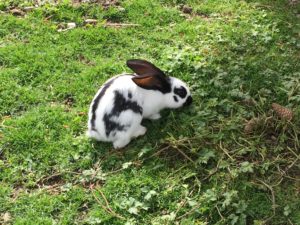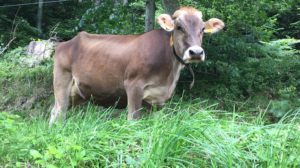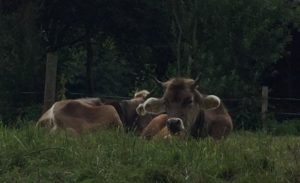 Some farms have added restaurants in a formal way. Other farms just put up a tent or flag to indicate that they offer basic food and drink when they are home. Still others offer overnight accommodation. As far as I can tell this might be a beautiful room in the house or a spot in the barn. Priced appropriately. 😊
Farms also sell typical wares like eggs and milk. Sometimes in a small box on the side of the road. With an honor box to leave the money.
All of this amounts to an epic hiking experience and must make it so amazing to do multi day trips. In fact, maybe that's what Laney and I will do when we come back around to Switzerland in October!! A few days of hiking and camping 'rough'.
After about 5 hours of uphill hiking we stopped  to eat our very Swiss picnic lunch. Nuts and berries. Cheese and bread. Pate. More cheese. And Chocolate!! Oh, and by the way, the most epic yogurt ever. Rhubarb. OMG awesome.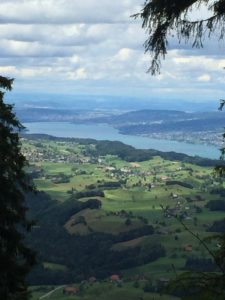 This is the view from the bench where we had our lunch. Awesome right?
When we were done our hike, Exhausted, we hopped a bus back to the house and enjoyed some wine on the porch. Great day!!! We slept well for sure!!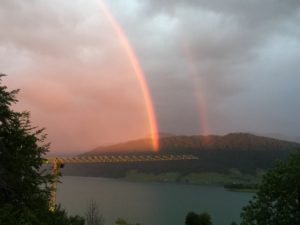 This is outside our window. WOW.
On our last day in Switzerland unfortunately it was raining quite a bit. So we headed to Lucerne to get a pic of the famous covered bridge and then went to the transport museum. Lots to see and do with trains, cars and gondolas. And a fun outdoor area to play in. Plus gelato!  Last but not least we did the Chocolate experience and learned how Chocolate is made. Free chocolate at the end didn't hurt!! Lindt of course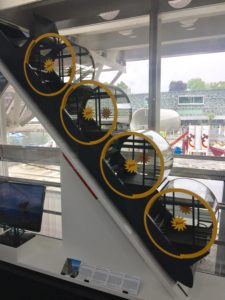 Check this out – a new style of funicular. You are inside the circle, and it rotates as the angle of the incline changes, so the people – 'you' – stay level with the ground/gravity. These are being built on some steep Swiss Mountains. Awesome engineering right?
More pics of Lucerne.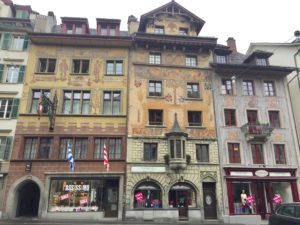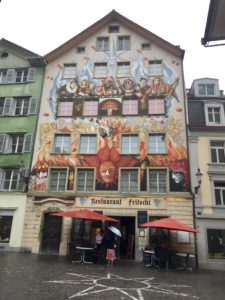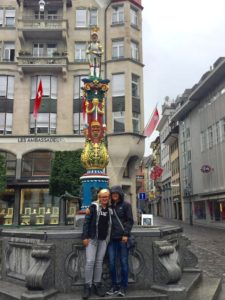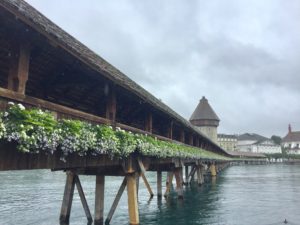 Beautiful right?
We headed Back to the house kind of early. It's Sunday and Les has to prep for her week and we needed to pack and get some rest to head out for Munich early the next morning.  Fortunately, knowing we are coming back we weren't too sad to leave and we were able to leave some things behind.  Like 9 months of medications and the clothes for the Africa/SEA portion of our trip.
Ciao for now Switzerland!!  See you in a few months!!
We are on to Munich, then Berlin! In Munich, we will meet up with Becky and Kaitlyn. Becky's mom, Dottie, was my Aunt Dot and my mom's best friend. Becky and I continue the tradition as friends, and so do Laney and Kaitlyn! YAY. Mother-daughter trip x2!!